The Second Annual ANNY Best of Fest Invades NYC
The 2017 ANNY Best of Fest is a two day symposium (September 29-30) featuring animation screenings, virtual reality experiences, professional panels, and industry events in the Seaport District of NYC.
Enthusiast Packages (FREE) and Industry Packages ($30) are available now! Reserve your tickets, today!
Location: 180 Maiden Lane, New York, NY 10038
Screenings: Saturday, Sept 30, 7pm & 8pm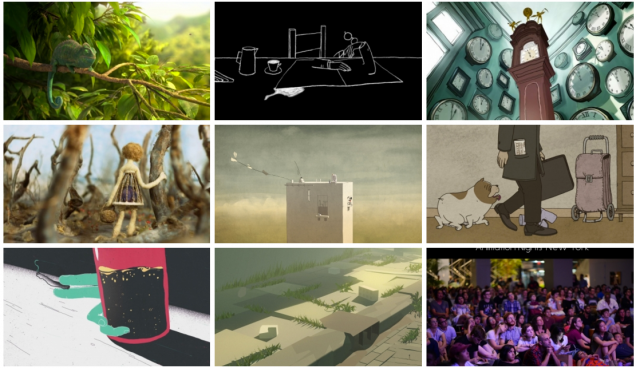 2017 ANNY Best of Fest Filmmakers:
YÙL AND THE SNAKE. Gabriel Harel. France, 2015. 13:00
SISTERS. David Chontos. United States, 2016. 3:58
PUB CRAWL. Hayden Browne. Australia, 2016. 1:37
OSSA. Dario Imbrogno. Italy, 2016. 3:55
GINGER BEER. Macchia Ornella, Medard Simon. Belgium, 2016. 2:39
RADIO WAVE. Ryotaro Miyajima. Japan, 2016. 3:09
MOVING OUT. SeoHee Choi, John Han. United States, 2016. 2:56
HANGING. Nick LeDonne. United States, 2016. 5:37
PACKAGE OF MOVIE TRICKS. Nemjóova. Czech Republic, 2015. 2:00
ALL THEIR SHADES. Chloé Alliez. France, 2015. 5:46
SCAPEGOAT. Gal Haklay, Shulamit Tager. Israel, 2015. 8:28
ORCA. Shulamit Tager. Israel, 2014. 2:36
OUR WONDERFUL NATURE – THE COMMON CHAMELEON. Tomer Eshed. Germany, 2016. 3:32
ONCE UPON A LINE. Alicja Jasina. United States, 2016. 7:05
TICKING AWAY. Michael Sewnarain. Netherlands, 2015. 9:25
AS A LITTLE BIRD I… Yyhely Hälvin. Estonia, 2016. 7:05
IN THE DISTANCE. Florian Grolig. Germany, 2015. 8:00
IT'S A DOG LIFE. Julie Rembauville. Canada, 2012. 7:47
BEER BY CHARLES BUKOWSKI. Nerdo. Italy, 2016. 2:15
CHANGES. Bob Los. Netherlands, 2016. 3:41
2017 ANNY Best of Fest Panel Judges are Debra Solomon (Independent Animator, Academy Member), Phil Weinstein (Disney), and Dayna Gonzalez (Jumping Tadpole Productions, Former ASIFA East President)
2017 ANNY Best of Fest filmmakers are up for our Grand Prize Award selected by Andrew Gordon (Pixar), our Animation for Adults Award selected by Chris Perkins (AFA), and our Art in Motion Award selected by Ronni Anderson (Anderson Contemporary).