Barnaby Roper Dresses Gwendoline Christie
Paris VFX shop St-Louis helps New York photographer Barnaby Roper push his visual experimentation into riveting new territory wrapping English actor/model Gwendoline Christie (Game of Thrones, Star Wars: The Force Awakens) in digital creations from Dutch fashion designer Iris van Herpen.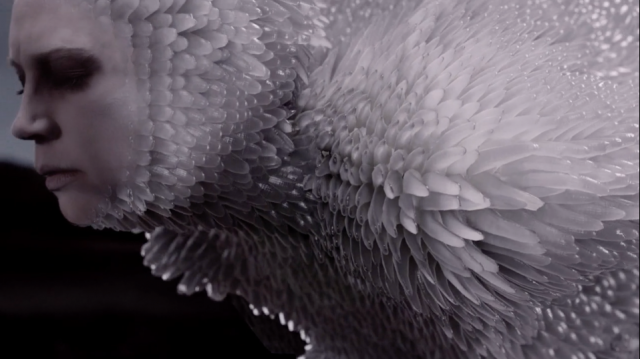 Barnaby Roper via Nowness: "I wanted to explore the idea of a morphing virtual dress, and after meeting Iris I quickly understood that her designers are organic, their structures taken from nature.
"So despite the film being very heavy in post-production, the texture of the garment had to be fluid and feel like it was from nature. I wanted to show the dress of the future—to have it literally growing out of the ground.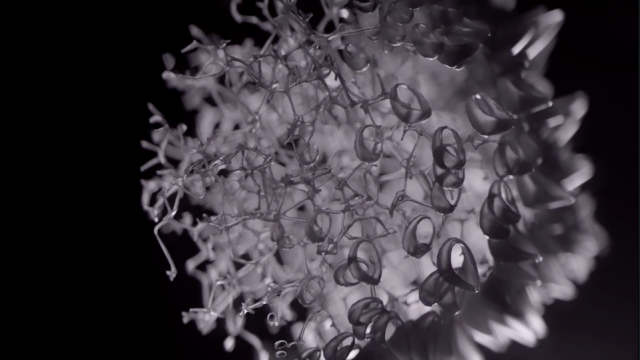 "All my films start with the basics: the subject, the environment and the way of shooting are all very traditional, but with each film I try to explore new ways of seeing by using a mixture of new and established values and crafts—lighting is a craft, editing is a craft, acting is a craft. Then I add layers to create my own vision."
Production: Premiere-Heure / U-Turn / St-Louis
Director: Barnaby Roper
Concept: Barnaby Roper & Iris Van Herpen
Starring: Gwendoline Christie
Directeur de la Photographie: Baptiste Chesnais
Monteur: Matt Nee
VFX: St-Louis
Superviseur VFX: Sylvery Bolotte
Superviseur Compositing: Gaston Marcotti
VFX AD: Vincent Chazal
Concept artists: Boris Coyère, Christobal de Oliveiras
CG artists: Vincent Malizia, Yves Bosson, Thierry-Quentin Chiche
Fx artists: Thomas Lefèvre, Jean Lamoureux, Malik Nahassia
Compositing artists: Fabrice Hernandez, Jeanne Loyer, Léo Verdier, Mathieu Caulet, François Gilguy, Sofi Vaillant, Pénélope Vandecave
Compositing assistant: Alexia Ascione
VFX editor: Goulven Jouret
Etalonnage: Sylvain Canaux
Post-producteur: Jean-Marc Raygade
Engineering services: Pierre Masseran, Arthur Georget
Account Manager: Isabelle Cohen