Join us at STYLE FRAMES Nov 7-8 in NYC
Pitching is often the most exhilarating part of the creative process – and the most frustrating.
Join Stash and 35 outstanding speakers Nov 7-8 in NYC at the STYLE FRAMES Design Conference for an inspiring look at where everything starts and where it's all going.
Stay inspired, stay competitive, stay connected, with two days of insightful speakers, in-depth panels, and intense socializing at the second edition of STYLE FRAMES: Art of the Pitch.
Grab your Early Bird tickets now (and save some cash) before prices go up!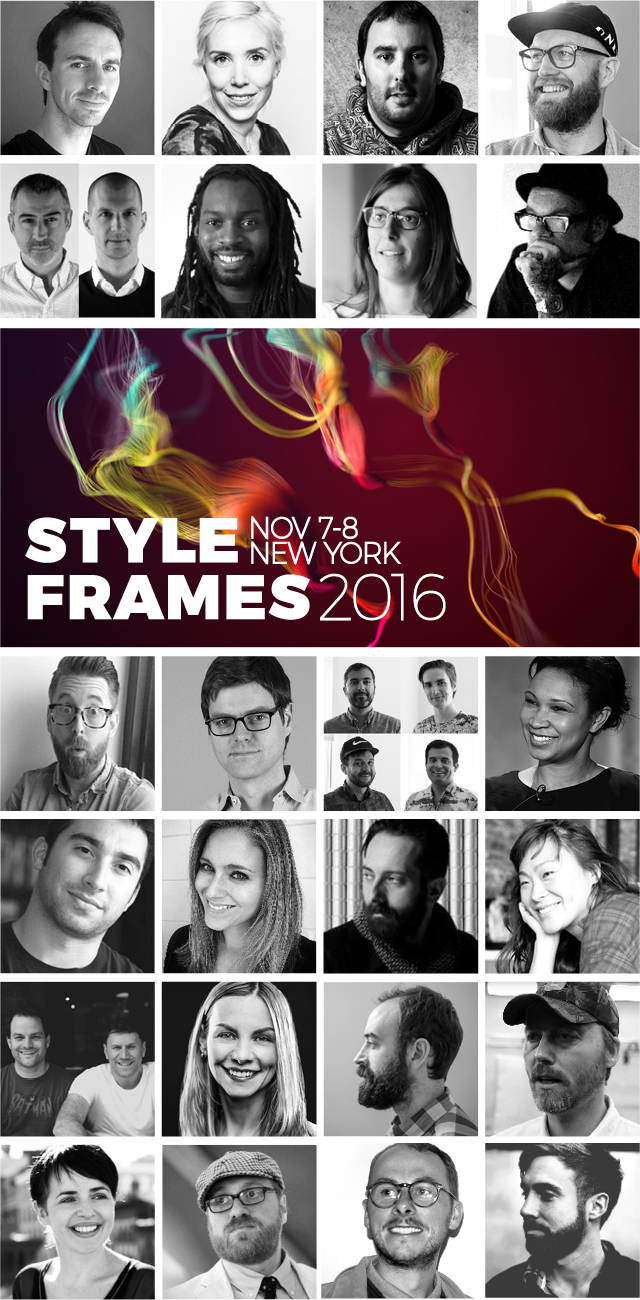 CONFIRMED SPEAKERS
Mike Alderson, Co-founder & ECD @ ManvsMachine
Chris Bahry, Alexandre Torres, Leo Mateus, Vini Nascimento, CDs @ Tendril
Frank Balson, Director @ Blur Studio
Chance Bassett, Executive Producer @ McCann NY
Zander Brimijoin, Creative Director @ Red Paper Heart
Maryanne Butler, Creative Director @ Framestore
Patricia Claire, Managing Partner @ Free Agents
Dan & Jason, Directors @ Hornet
Camila De Biaggi, EP and Alan Bibby, Creative Director @ MPC
David Footman, Cinematics Director @ Ubisoft
Gabe Garner, SVP Business Planning & Dave Snyder, SVP ECD @Firstborn
Jennifer Giddens, SVP Marketing & Digital @ NBCUniversal
Greg Hahn, Founder, ECD, and Ryan Moore, Creative Director @ Gretel
Liz Kiehner, Global Design Services Director @ IBMiX
Sue Lee, Executive Producer, Los York
Shannon Lewis, Development Producer @ Passion Pictures
Dan O'Rourke, Founder, Creative Director @ Not To Scale
PES, Director @ PESFilm
Ben Radatz, Co-founder/Director @ MK12
Adina Sales, Founder and Managing Director @ Blacklist
Nick Setounski, Head of Production, Wieden+Kennedy NY
Kibwe Tavares, Director @ Nexus
Steve Viola, SVP of Design, FX Networks
Alan Williams, Creative Director @ Imaginary Forces
GRAB YOUR TICKETS NOW (and save some cash) before prices go up!


STYLE FRAMES is presented by Stash Media, Inc. and FITC