Field Day Presents Vincent Peone "The Sea Is Blue"
Inspired by a life-threatening family tragedy, New York director/writer/cinematographer Vincent Peone (who co-founded the video team at collegehumor.com) leads a stellar crew on a seven-month, stop-motion and CG journey to reveal the magical story behind just why The Sea is Blue.
Vincent Peone: "A decade ago, my life was almost unrecognizable. My family was thrust into turmoil when a fire tore through my childhood home, badly injuring my mom and kid sisters. There aren't words for the feeling I had when I thought I might lose my family.
"My mom, Doreen was alright, and while Angelina had suffered severe injuries, she was on a clear recovery path.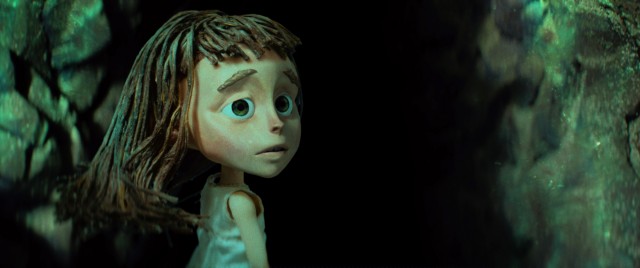 "All attention then turned to the middle kid, Dina, who had sustained third degree burns to nearly seventy percent of her body. Months of harrowing uncertainty lay ahead as Dina fought through a drug-induced coma – my mom, Angie, and the rest of our family waiting patiently by her side.
"To make painfully slow-moving minutes go by, I decided to write a story. I imagined Dina was off on a profound adventure, struggling to make her way home.
"After three long months, Dina woke up. She grew strong again. Both of my sisters have gone on to pursue their dreams these past ten years, making me the proudest brother. Their strength and confidence inspires me to this very minute!
"Somewhere along the way, I decided I was ready to share the story I wrote by Dina's bedside.
"Thank you to Josh Ruben, who's been an advocate of the project from the get go. We made a pact when we formed Josh and Vince a few years back that we were going to use it to tell stories we couldn't tell anywhere else.
"Thank you to Mike Healey, who's dedication and immense patience for this project is directly responsible for bespoking it into existence. Thanks to friends Kathleen Gerber + Lori Nix for their tireless work fabricating stunningly detailed miniatures, Andrés Cardona for making it look beautiful, Noella Borie David for breathing life into lifeless puppets, the Jerome Foundaion for believing in the project, Garrett Fennelly, Alex Schepsman and the rest of Field Day for getting behind it, Mike Ritchie and Gloo Studios, Big Block Media, Dream Machine Creative, to name a few."
Written and Directed by:
Vincent Peone
Executive Producers:
Josh Ruben + Vincent Peone
Mike Healey
Garrett Fennelly
Alexander Schepsman
David Kornfield
Animation Director:
Mike Healey
Director of Photography:
José Andrés Cardona
Production Design:
Kathleen Gerber + Lori Nix
Associate Producer:
José Andrés Cardona
Lacy Wittman
Alex Kurze
Steve Intrabartola
Storyboard Artist and Character Design:
Daniel Dussault
Underwater Character Design and Fabrication:
Kathleen Gerber
Character Facial Design and Sculpture:
Jon Payne
Body Sculptures:
Lisa Frost
Clothing and Hair Design:
Molly Light
Armatures:
Julian Clark
Additional Puppet Sculpting:
Brandon Grether, Maxwell Sorensen
Main Title Design:
Jackie Russo
Lead Stop Motion Animator:
Noella Borie
Stop Motion Animator:
Mike Healey
Matt Christensen
VFX Producer:
Steve Intrabartola
3D Animation:
Jamil Lahham
Spencer Noble
Compositor:
Navid Bagherzadeh
Mike Healey
3D Character Rigging:
Spencer Noble
Han Hu
2D Animation:
Zack Williams
Pete Ahern
Additional Animation and Rotoscoping:
Dylan Steinberg
CG provided by Gloo Studios
Photometric Scanning:
Mike Ritchie, Tianlun Jiang
Modelling and texturing:
Mike Ritchie
3D Tracking:
Anita Kwan, Josh Brune, Tianlun Jiang
Cam Slusar, Mike Ritchie
Lighting and rendering:
Mike Ritchie, Josh Brune
"Bean":
Sarah Natochenny
"Uncle Wolfie":
Jim Donaldson
Narrator:
Roger Babb
Sound Design and Mix:
Heath Raymond
Evan Mangiamele
Stefano Campello
Original score by:
Ramona Córdova
Colorist:
Jaime O'Bradovich
Special Thanks:
Corwin Carroll
Kenny Solomon
Tucker Voorhees
Brian Steinberg
Fred Hashagen
Zach Poots
Chelsea Manifold
Corwin Carroll
Andrea Allen
Laura Turner Garrison
Katie Andrews
Hana El-Assad
Paul Lowey
Jason Hujber
Adrian Walker
Doreen Peone
Natalie Camarda
1st Ave Machine
YouTube
Vimeo
Abel Cinetech
Gloo Studios
Big Block
Company 3
Heard City
Dream Machine Creative
Shriners Hospitals for Children
The Town of Saugerties, NY
The Glasco Fire Department
Made possible in part by a contribution from The Jerome Foundation.