Interview: Aardman Finds Love in New York
After a string of insanely fun video teasers, the worst-kept secret in the animation world is finally official: UK animation powerhouse Aardman has acquired a majority share in NYC animation studio Nathan Love to establish their US production entity called Aardman Nathan Love.
Heather Wright, executive producer of partner content at Aardman answers a few our questions about the news:
Stash: Why is this the right time for Aardman to open a studio in North America?
Heather Wright: Our decision to establish ourselves in New York has been a long time in the making. We know that our US based clients and agencies are fans of our work but in recent years we have noticed that clients and agencies have been more reticent to travel to UK for their commercials.
With production schedules and budgets both really tight, spending time and money travelling or even waiting to talk to a company in a different time zone can be a bit of a worry.
Stash: What are the strategic and creative advantages of teaming with a local NY studio?
HW: We spent quite a long time researching different business models and working out how to expand the business with integrity. Tapping into an already successful and highly creative animation studio gives us a running start at growing our business in the US.
This is not about driving work from the US to be produced back at our studio in Bristol, this is about servicing New York agencies in New York. We are actively looking for great US directors, producers and CGI artists to come and join us.
Creatively, for us it's exciting to have new voices and new energy in the mix. Joe and the team at Nathan Love are some of the most talented creatives we've come across and have the ability to attract and identify directors and artists for the future.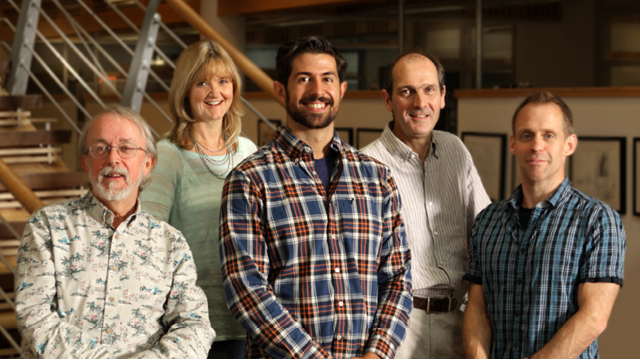 From left to right:
Peter Lord (Co-founder and Creative Director, Aardman)
Heather Wright (Executive Producer & Head of Partner Content, Aardman)
Joe Burrascano (Founder and Creative Director, Nathan Love)
David Sproxton (Co-founder and Executive Chairman, Aardman)
Kerry Lock (Finance Director, Aardman)