Arno Salters and Mathematic Paint a "Different Blue"
Like some love child born of Devo by way of OK Go, this video for French pop project General Elektriks combines camp performance with complex production magic (motion control and ambitious compositing) to deliver a whole lot of fun.
EP Rebecca Rice at Mathematic in Paris: "We first created an animatic to plan out the shoot and the band's actions, then motion control was used to replicate the same movements over 43 different passes.
"Some of the passes we were able to use green screens that followed the band members around.
"The longest part was combining all the passes, doing rotoscoping and finalization. A lot was done in Flame and roto in Nuke."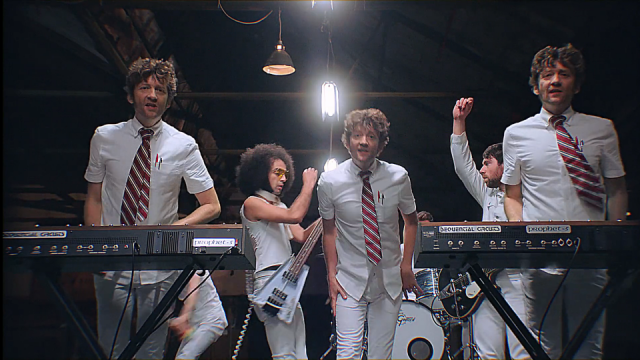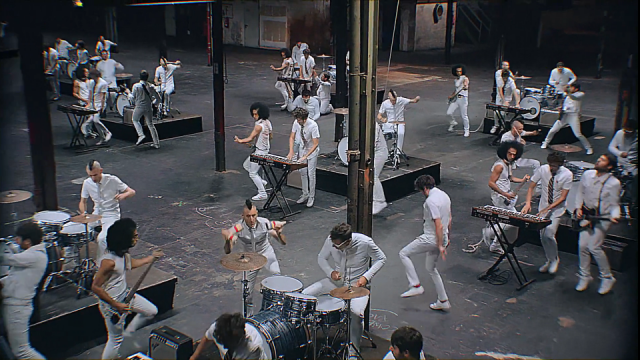 Produced by Iconoclast Germany
Directed by Arno Salters
MD/EP – Nils Schwemer
Producer – Nicolas Blankenhorn
PM – Justus Toussaint
DoP – Cezary Zacharewicz
1st AC: Alan Smithee
2nd AC: Alina Albrecht
DIT: Jeremie Pujau
VTR: Daniel Böse
Gaffer: Jens Thurmann
Best Boy: Sebastian Zinburg
Electricians: Tom Sperling, Kevin Klein, Sascha Görlich, Ronald Deter, Sina Blume
MakeUp: Elena Schmerberg
Post Production by Mathematic
Executive Producers: Guillaume Marien, Rebecca Rice
Post Producer: Gouna Logan
Grade & Vfx Supervision: Anthony Lyant
3D supervision: Jehan Bouazza, Julien Lambert
Flame operators: Rime Murday, Fred Brandon, Martin
Nuke: Maeva Sol, Sylvette Lavergne
Offline: Vincent Martin
Art Department: Marie Patzer
Art Department Assistant: Max Zahl
Motion Control by Mastermoves
Milo Operator – Heiko Matting
Assistant – Pascal Rossow