Experience Solitary Confinement with the "6×9" VR Project
Powered by first person accounts of time spent in solitary confinement, the haunting and claustrophobic nine-minute VR experience called "6×9" produced by The Mill for UK newspaper The Guardian gives viewers the chance to simulate what 100,000 people in US prisons endure for 23 hours every day.
The Mill Creative Director Carl Addy: "How do you build empathy around an issue as contentious as this? "The task was to give a sense of what isolation feels like. By giving people a visceral experience of solitary confinement we were able to emotionally connect them to the cause.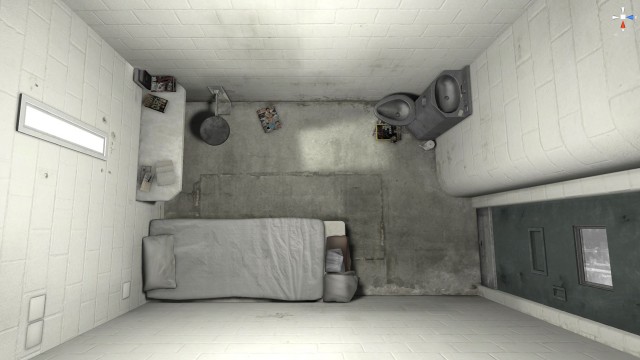 "The Mill worked from first-person accounts and documentaries as references for both cell design and spatial audio capture. The cell was designed in Maya and further developed in Unity. Environmental binaural audio was also used which ensured the audio was anchored to the environment, enhancing the sense of space and ensuring the sound continually moved with the viewer.
"Part of us trying to build empathy was to give a user agency; the ability to make choices and interact with the experience makes you invest emotionally in the narrative and outcome. VR puts you in the cell without any of the safety one gets from the detachment of a screen. This is not like watching a documentary, you are in it."
Access the full VR experience here.
The Guardian Project Creators
Director: Francesca Panetta, Lindsay Poulton
Executive Producer: Aron Pilhofer, Xaquin G.V.
Creative Technologist: Andrew Mason
Sound Engineer: Peregrine Andrews
Mill Team
Executive Producer: Stephen Venning
Creative Director: Carl Addy
Producer: Jarrad Vladich
Lead Creative Technologist: Kevin Young
3D Lead: Ed Thomas
3D Modeller: Will Burdett, Marta Carbonell
Designer: Alex Thursby-Pelham, Charles Bigeast
Motion Graphics: Jessica Tan, Diogo Pinheiro
Concept Design: Aurelien Ronceray, Jiyoung Lee
Editorial: Hugo Vaughan-Hughes
Original Concept Team
Creative Director: Rama Allen
3D Lead: Justin Diamond, Tim Kim, Raymond Leung, Wyatt Savarese, Olivier Varteressian
With special thanks to those who contributed their experiences
Doloroes Canelles
Five Omar Mualimmak
Johnny Perez
Marcel Neil
Steven Czifra
Tyrell Muhammad
Victor Pale
With special thanks to supporters
Google News Lab
Tribeca Film Institute
Chicken & Egg Pictures
Frontline
Solitary Watch
Sundance Institute