Global Women "Career-Limiting Move" IWD Spot by Anna Mantzaris
The unmistakable stop-motion charm of Passion Animation director Anna Mantzaris energizes the dry comedy of this spot marking International Women's Day for Global Women thru Saatchi & Saatchi New Zealand.
Anna Mantzaris: "I just fell in love with this project as soon as Saatchi & Saatchi got in touch with us. It is the most rewarding thing to be able to combine my creativity with a subject that is really close to my heart.
"It is very sad that the pay gap and the way women, or rather mothers, are being treated by the work environment is still the way it is.
"I don't believe that this is something that is happening intentionally but rather a consequence of our culture and failing to see invisible obstacles and discriminations that mothers are constantly being faced within the work area.
"I think International Women's Day is a really good opportunity to shine a light on inequalities that exist today and even though this should not be the only day we talk about these subjects; it gives a good opportunity to highlight some issues and create a discussion around them.
"Because of COVID we had to work around this differently and work with a very small crew. Each puppet is handmade and consists of a lot of materials, including a metal skeleton, felt, tiny beads, wool, and fabrics.
Steve Cochran, CCO of Saatchi & Saatchi New Zealand: "It's a long, and what most people would call tedious, task being in a studio moving small models millimeters at a time to create stop-motion films.
"Those papers flying around the room were on individual wires. Those buttons on those shirts are just one millimeter wide. Those offices are about the size of a hatbox.
"And Anna was doing it in the Covid-19 lockdown environment of London through their winter months of January and February while having to take video calls from a bunch of Kiwis down here enjoying all manner of liberties and glorious weather. She is a star for many reasons beyond just her talent."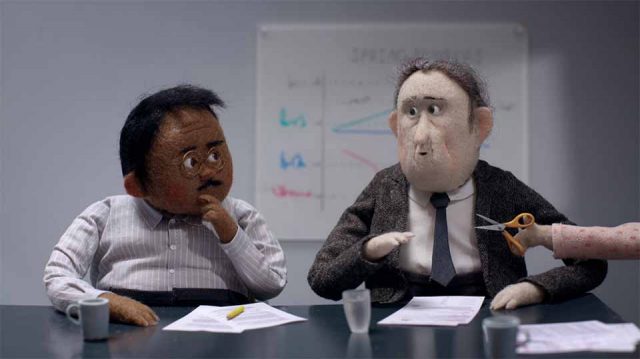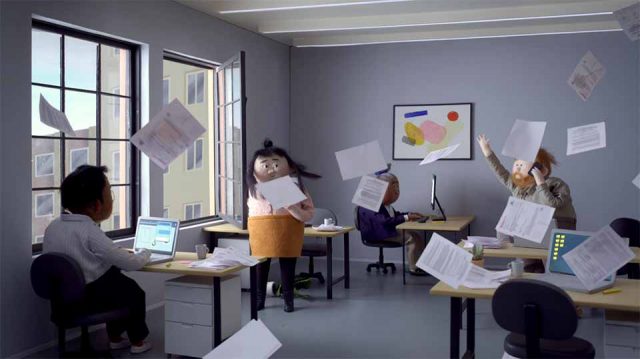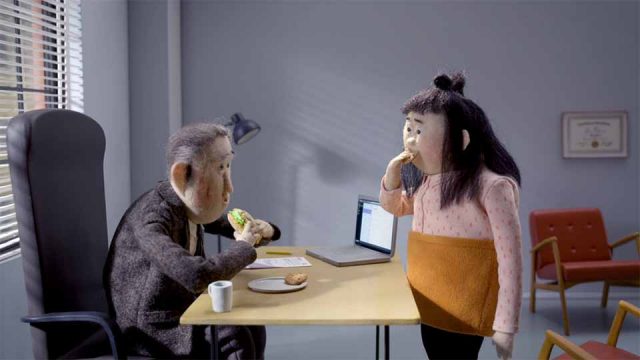 Client: Global Women
Agency: Saatchi & Saatchi New Zealand
CCO: Steve Cochran
Production: Passion Pictures
Director: Anna Malin Mantzaris
Producer: Becky Perryman
Executive Producer: Belle Palmer
DOP: Donna Wade & Jon Muschamp
Animators: Anna Malin Mantzaris, Mark Waring, Tim Allen
Set/Prop builder: Hetty Bax
Costume Fabricator: Kat Probert & Isabelle Riley
Scenic painter: Roy Bell
Post/VFX: Sara Salcedo
Audio: Craig Matuschka @ Liquid Studios
Composer: Peter van der Fluit
Music licensing: Liquid Studios