REEPS ONE "Does Not Exist"
Fun to watch even without the VR headgear, "Does Not Exist" claims to be the first music video for a track composed specifically for mixing in 3D sound. The film features London beatboxer Reeps One (aka Harry Yeff) and spatial audio created by Aurelia Soundworks with production, editorial and VFX by The Mill.
Co-Director Gawain Liddiard at The Mill: "Aurelia came up with the concept of this 360 music video that would not only involve changing environments and hearing how those different environments affect the sonic qualities, but also playing with the concept of where we're hearing the sounds from. The piece is designed to push those technical aspects, but also experiment with what's possible in VR."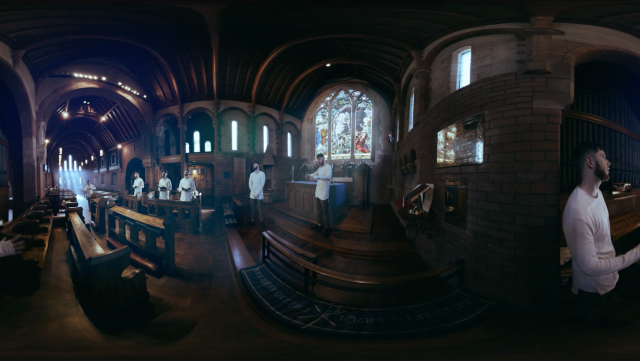 Co-Director John Hendicott of Aurelia Soundworks: "Reeps One's track was composed to fully utilize the 360 sonic and visual space. The range and flexibility of beatboxing is perfect for exploring the possibilities of sound and performance in VR. While the piece is sound-led, I knew the visual component would also be a considerable creative and technical challenge.
"We set about tackling these problems with The Mill and discussed how certain audio effects could be married visually using a range of techniques. Like all good creative projects, one discipline informed the other and fairly quickly we had developed a framework for Reeps to play within."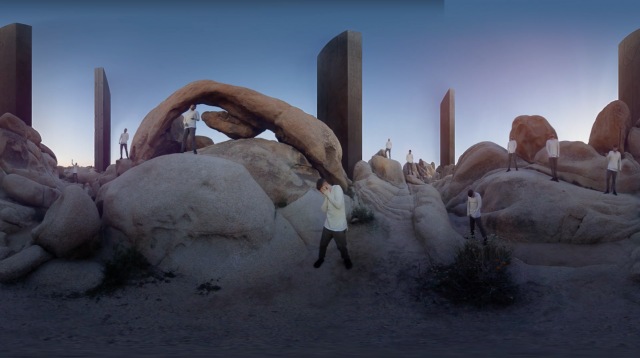 Reeps One: "Innovation in technology is not only inspiring, but it's a huge opportunity to do what has never been done before. Writing for this project was like writing in a lucid dream. From that initial stage to 'That's a wrap,' the whole team wanted to create a first."
Artist: Reeps One
Talent Creative Consultant: Anastasia Niedinger
Production: The Mill, Aurelia Soundworks
Directors: Gawain Liddiard, John Hendicott
Original Concept: Aurelia Soundworks
Producer: Ginny Galloway
Co-Producers: Chris Timpson, Irene Tsouprake Holombo
Supervising Producer: Edward T. Button
Associate Producers: Sharon "Rocky" Roggio
Director of Photography: Edward T. Button
Production Manager: Annie Klein
Production Designer: Sharon "Rocky" Roggio
Construction: Taylor Martin, Jena Serbu
Key Grip: Paul Smith
Swing: Mark Dahl
Production Assistant: James Swindells
VFX & Design: The Mill
Executive Producer: Leighton Greer
Producer: Daniel Midgley
Production Coordinator: Sardor Kaziyev
Shoot Supervisor: Gawain Liddiard
Creative Director: Gawain Liddiard
Technical Director: Tawfeeq Martin
Lead Artist: Patrick Heinen
2D Artists: Brett Lopinksy, Peter Sidoriak, Kelsey Napier, Daniel Lang
Design: Greg Park
Editing Company: The Mill
Editors: Natalie Wozniak, Victor Jory
Sound & Mix
Original Music Composed & Produced by: Reeps One, John Hendicott
Sound Designer & Spatial Sound Mixer: John Hendicott
Spatial Audio Technologist: Chris Timpson