Alessandro Pacciani + Juice = BMW M4
Tokyo-based director Alessandro Pacciani travels to Shanghai to capture BMW's M4 then conjures 90 seconds of vehicular adrenaline called "Factory Trailer" with the help of editor Marco Battiloro and the VFX skills of Warsaw post house Juice.
Director Alessandro Pacciani: "A unique car with unique performance (425 horsepower, 0-60 in 4.1 seconds and 7:52 Nürburgring lap). In order to highlight all of its beauty, the team decided to place the car in a very industrial environment.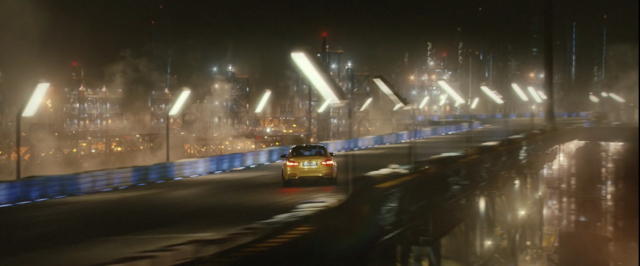 "After filming the machine on a race track – specially prepared and set up for the shoot – the entire location was recreated in 3D to make it look like a very large refinery. Extremely detailed surroundings with the number of lights reaching tens of thousands.
"The goal was to seamlessly blend the footage with a carefully generated night scenario, sparingly lit by foggy lighting. To create the mysterious, slightly dark mood of Nowhere City without losing the realism and distracting the viewer from the main attraction.
Director: Alessandro Pacciani
Production: P.I.G. China
DOP: Paul Meyers
EP: Nick Dodet
Editor: Marco Battiloro
VFX: Juice
VFX Supervisor: Jakub Knapiki
VFX Producer: Natalia Lasota
Art Direction: Jakub Knapik, Michal Misiński
Compositing: Arkadiusz Leszko, Jakub Knapik
Compositing Support: Sylvester Lipiński, Krzysztof Lucki
CG artists: Łukasz Dziedziński, Michal Gościniak, Jakub Knapik, Arkadiusz Leszko, Daniel Niszczota, Mateusz Polechoński, Artur Szymczak
Matte Painting: Wojtek Magierski, Michał Misiński, Daniel Niszczota
FX: Piotr Suchodolski
IT: Tomek Kruszona
Sound Design & Mix by Source Sound Inc. L.A
Supervising Sound Designer & Mixer: Charles Deenen
Sound Designer: Csaba Wagner
Sound Editor: Braden Parkes
Car Recordists: John Fasal & Charles Deenen