Ayrton Senna Institute: "The Heart of Brazil"
Blazing and emotional animated film from Sao Paulo studio Le Cube helps legendary F1 driver Ayrton Senna deliver his heartfelt message of encouragement to fellow Brazilian athletes competing on their home turf at the Olympics in Rio de Janeiro this summer.
Ralph Karam, Creative Director at Le Cube: "The animated film portrays Senna's emotion during one of his most memorable moments. In the 1991 race at the Interlagos speedway in Sao Paulo, after car trouble and suffering from muscle spasms, he won the race, leading the crowd into a frenzy.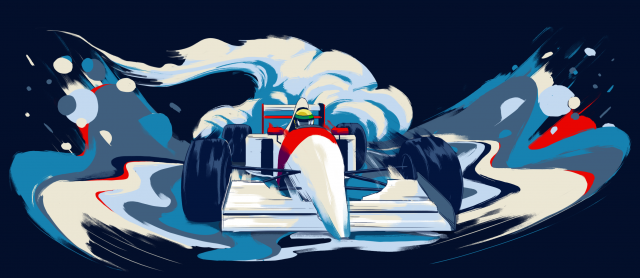 "The challenges for the animation team – made up of 15 people, between illustrators, animators, and assistants – were portraying the driver's emotions, working with scenes at high speed, and making a film about overcoming difficulties, instead of about Formula 1.
"It took five months of work to reach the final result. "To give the film a more human touch, we opted for traditional animation, which is drawn by hand frame by frame. The concept we sought for this project was to transform it into a full sensory experience, share the emotion of an idol and move people with a classic victory."

Animated film:

Athlete's video:

Client: Instituto Ayrton Senna
Agency: J. Walter Thompson Brazil
CCO: Ricardo John, Rodrigo Grau
CSO: Fernand Alphen
Head of Digital: Fábio Simões
ECD: Humberto Fernandez
Creative Director: Gustavo Soares
Copywriter: Gustavo Soares, Rodrigo Rocha
Art Director: Diego Vieira, Erico Braga, Pablo Lobo, Pedro Ricci.
Digital Production:: Maisa Delgado, Sergio Costa, Caroline Pivato
Producer: Flavio Colella, João Ricardo

Animation company: Le Cube
Direction: Ralph Karam
Executive production: Gustavo Karam and Juan Manuel Freire
Production: Juliana Millán and Ana Sieglitz
Illustration: Juan Barabani and Mau Lencinas
Animation direction: Daniel Duche
Animation: Daniel Duche, Diego Polieri, Israel Giampietro, Fernando Toninello, Guadalupe Vyleta, Martín Lara, Mau Lencinas
Clean up: Manuela Calderone, Yas Hanna, Juan Huarte, Guadalupe Vyleta
Composition: Ralph Karam and Nicolás Piccirilli
Sound production company: Cachorro Loco
App: Bolha
Client Approval: Bianca Senna, Larissa Mrozowski

Athletes Video
Production Company: Vetor Zero
Direction: Luiz Evandro, Coi Belluzzo
Production: Vandreia Ribeiro
Sound Production: A9