Ekipa "Na Zajawce" Music Video by Rafał Blecharz and Studio Pigeon
Polish pop band and YouTube stars Ekipa and their dinosaur doppelgangers are launched on a post-apocalypse romp in this animated frenzy by director Rafał Blecharz and Studio Pigeon in Kraków, Poland.
Rafał Blecharz: "Ekipa just published their first music album and our job was to create the animated music video for "Na Zajawce" ("It's a thrill"). We had complete creative control of the project from the creative concept, script to execution.
"The video takes place after the fall of the gigantic radioactive meteorite that covers the whole Earth with water. Ekipa's members survived the apocalypse but mutated into the dinosaurs because of the radiation. Now they travel the ocean in a mech that looks like a giant sumo wrestler.
"The colors and the type of dinosaur were chosen to fit the real band members. Attributes are based on their interests when it comes to shoes, outfits, hairstyles, and accessories.
"To attract the teenage audience, the video had to be fast-paced and engaging from the get-go. Even though we're showing the world after the disaster, the colors were bright, neon-like, and cheerful to fit Ekipa's image."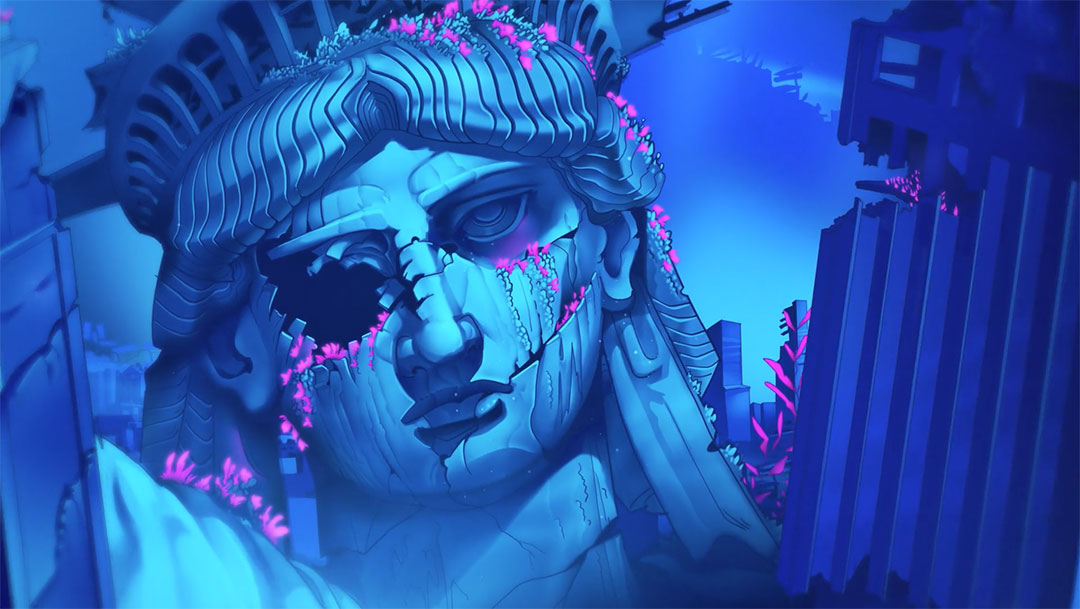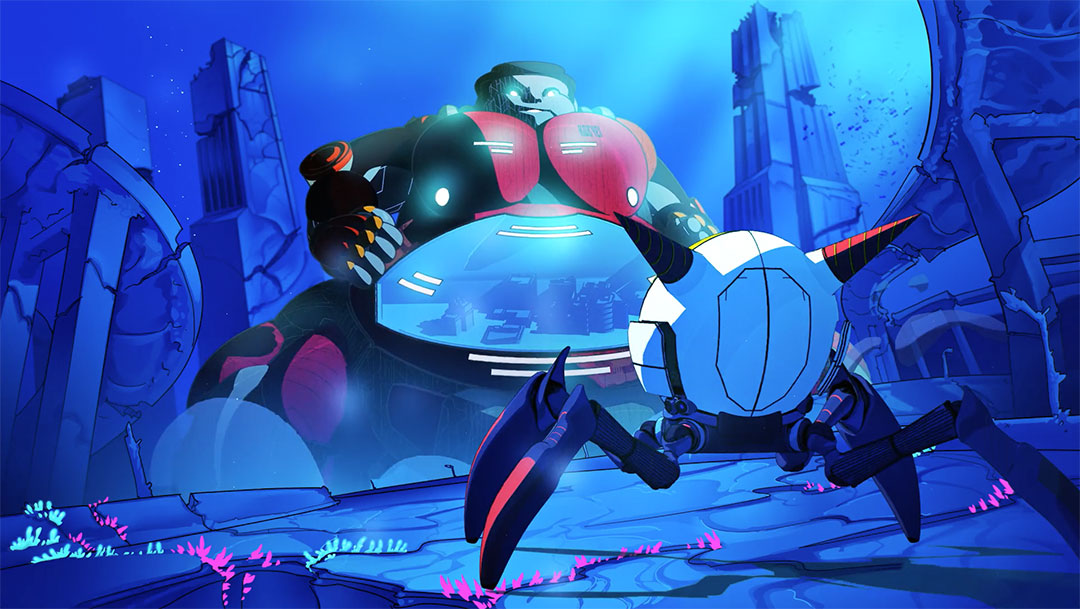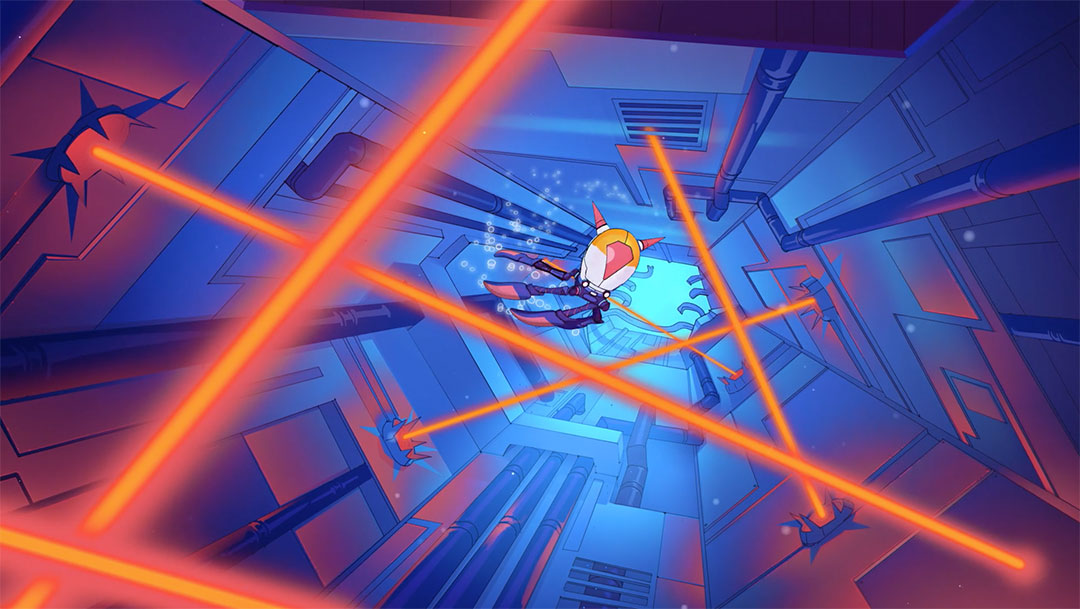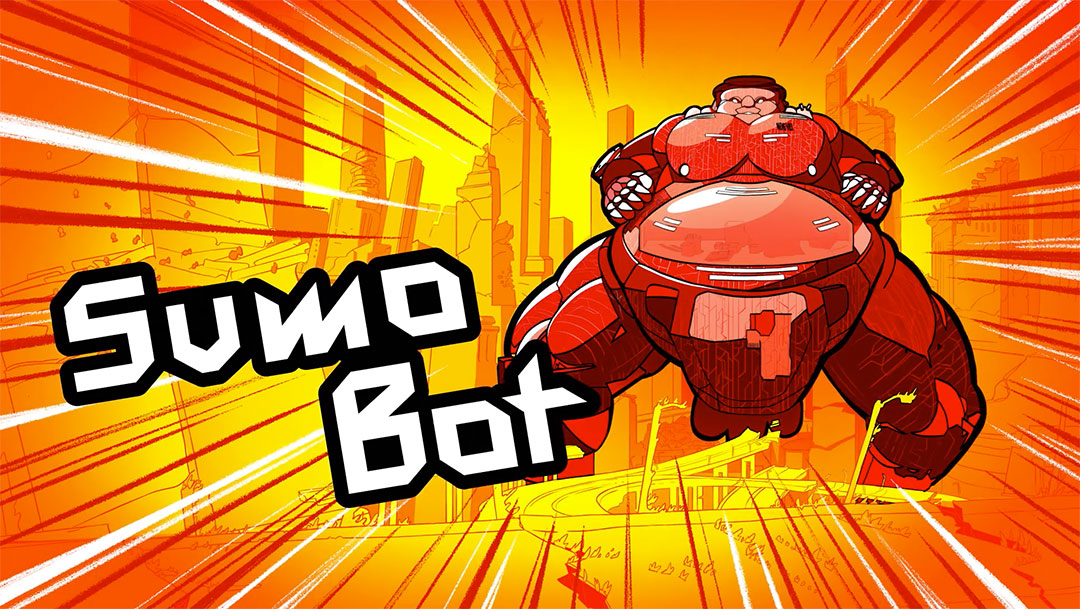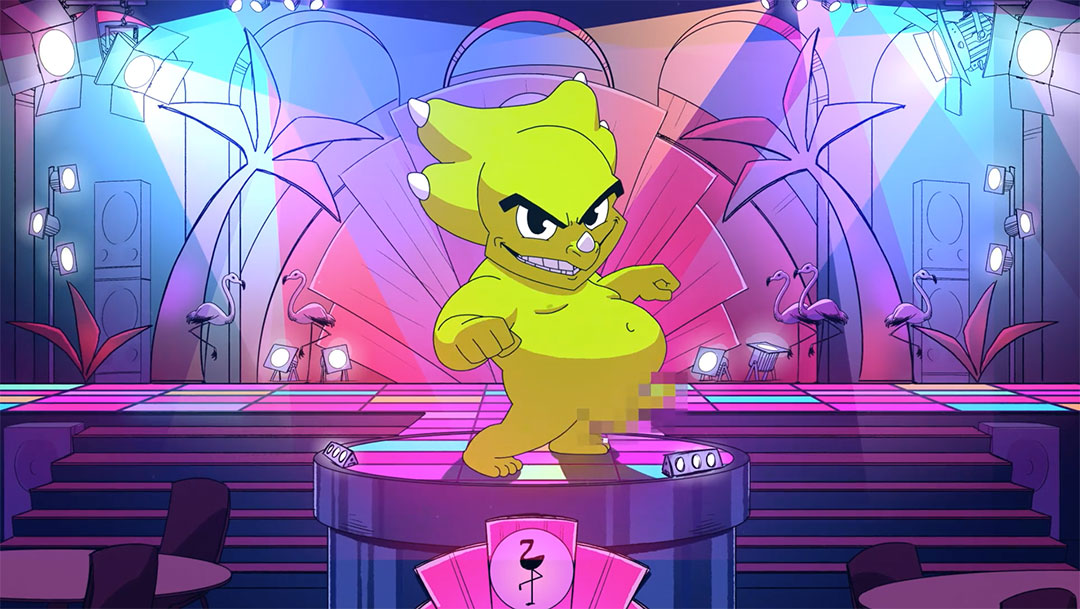 Artist: Ekipa
Production: Pigeon Pictures
Director: Rafał Blecharz
II Director: Sławek Wydra
Executive Producer: Pigeon Studio
Production Manager: Dawid Gaweł
PM: Dawid Gaweł, Kasia Kucaj, Lena Ślósarczyk
Script: Rafał Blecharz, Sławek Wydra
Art Director: Sławek Wydra, Rafał Blecharz, Paweł Starz
Animatic: Rafał Blecharz, Sławek Wydra, Wojtek Siejak, Sara Marinoni (Szymocha), Gosia Jeniec, Paweł Starz
Colorscript: Sławek Wydra, Darina Lapkovskaya, Marta Szudyga, Gosia Jeniec
Concept artist: Sebastian Komorowski, Sławek Wydra, Gosia Jeniec, Sara Marinoni (Szymocha),
Beata Krzywdzińska, Krzysztof Nowak
Character Designer: Monika Szewczyk, Marta Szudyga, Sławek Wydra
2D Animation Supervisor: Rafał Blecharz, Wojtek Siejak, Sara Marinoni (Szymocha)
2D Animation: Karol Szczepankiewicz, Igor Woźnicki, Sabina Kipa, Alicja Grotuz, Maria Kulpa, Julia Hazuka, Dudek Pulit, Agata Patoła, Sara Marinoni (Szymocha), Katarzyna Radecka, Wojtek Siejak, Rafał Blecharz, Karolina Kajetanowicz, Agata Perszutów, Michał Kowalczyk, Julia Marchowska, Krzysztof Dublański, Piotr Ciereszyński, Jakub Baniak, Bogusz Żelech, Viacheslav Nazarenko, Radek Kleber
3D Modeling: Sławek Wydra
3D Animation Supervisor: Sławek Wydra
3D Animator: Sławek Wydra, Wojtek Siejak, Maciej Miszkiel
FX animator: Adrian Fijałek, Sergey Saavvin, Simona Cala, Kacper Zamarło, Jakub Baniak, Wiktoria K, Ekaterina Solomina
Illustration/backgrounds: Bartłomiej Różycki, Sebastian Komorowski, Ada Głowacka, Dagmara Darsicka, Dominika Kwiatkowska, Monika Szewczyk, Sławek Wydra, Gosia Jeniec, Maciej Perkowski, Aleksandra Bylica, Irena Korol, Ludmiła Kaczmarek, Marek Tamowicz
Compositor: Sławek Wydra, Sara Marinoni (Szymocha), Wojtek Siejak, Rafał Blecharz
SFX: Robert Ostiak