Nina Gantz and Blinkink Spin "An Otter's Tale" for LOEWE
Director Nina Gantz and the Blinkink crew team with acclaimed puppeteer Josie Corben (Isle of Dogs) on this dreamlike stop-motion fantasy to launch a new range of fashion and accessories from Spanish luxury brand LOEWE.
Nina Gantz: "The Brief from LOEWE was to create a film that brings the world of British Arts and Craft ceramicist William De Morgan to life. It was an amazing world to dive into!
"A team of over 60 people worked on the spot, while the variety of sets – including a forest, valley, flower bush, and skeleton cave – were made with fabric, cut and sewn by hand.
"Throughout, the action is accompanied by choral music composed for the campaign by Terence Dunn and recorded with The Brighton festival chorus, consisting of 120 singers."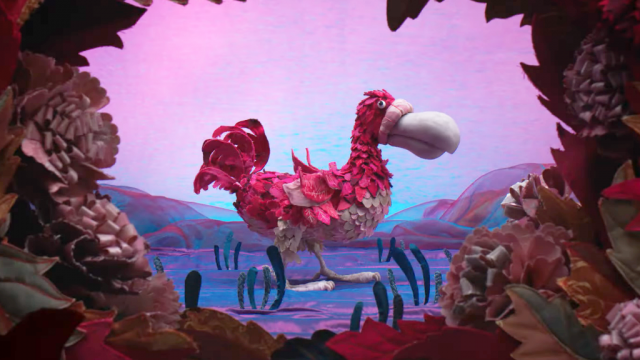 Client: LOEWE
Production: Blinkink
Director: Nina Gantz
Executive Producer: Bart Yates
Producer: Janet Smith
Production Manager: Jack Bingham
Animators: Steve Warne, Andy Biddle, Adam M. Watts
Animation Rigger: Robin Jackson
VFX Supervisor: Quentin Vien
Post Production Manager: Rosanna Morley
Compositors: Emre Samioglu, Turker Tuncer
DoP: Malcolm Hadley
1st AD: Rory Shaw
Location Manager: Ross Kirkman
Focus Puller: Toby Goodyear
Steadycam: Jon Kassell
Gaffer: Tim O'Connell
Electricians: Jonathan Woodard, Billy Boston, Robin Brigham
DIT: Nat Valente
CCTV: Ewan Macfarlan
Art Director / Production Designer: Gordon Allen
Assistant Art Director: Jasmine Nixon
Needleworker: Eden Allen
Puppet Maker: Josie Corben
Assistant Puppet Maker: Isobel Irwin
Tapestry Maker: Rose Popham
Set Maker: Yossel Simpson Little
Set Dresser: Brin Frost
Model Maker: Sarah Crombie, Rachel Lloyd
Scenic and Model Painter: Richard Davidson
Making of: Joe Eckworth
Grade: Simona Cristea (Coffee and TV)
Music: Terence Dunn
Performers: The Brighton Festival Chorus