Patrick Clair: Far Cry Primal "Rise Above Extinction" Director's Cut
Stylized savagery circa 10,000 BC envisioned by director Patrick Clair, the design talent at Elastic, A52's creature FX team and DoP David McFarland thru Omelet for the Feb. 23 release of Ubisoft's Far Cry Primal action-adventure game.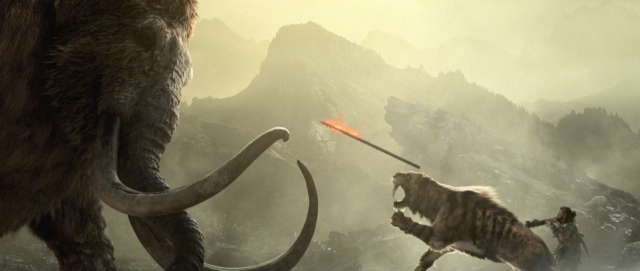 Patrick Clair: "Right from the inception of the project, we knew we wanted to leverage the detail and scope of this world to make a different type of video game film.
"We cast real people to match the characters from the game and forged primitive physical weapons using techniques true the era (10,000 BC). Leather binds and sticky tar held together real pieces of splintered wood and casts of animal bones. A replica of a Leopard skull was combined with fragments of jawbone to become a hero club, while a broken pelvis became a facemask.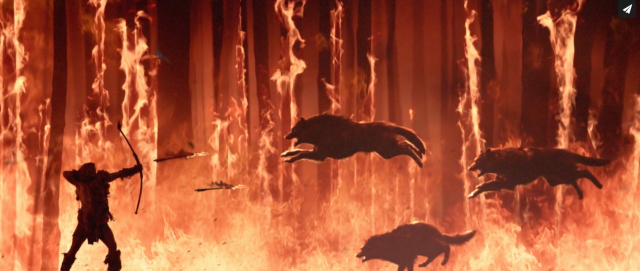 "Our cast were shot in a studio environment, at 900 frames per second – slow enough to defy gravity. For our Shaman, we doubled that, capturing magic dust hanging mid-air at 1800fps.
"In post, we glued these with awesome matter paintings of vast landscape. A team of CGI wizards sculpted ancient beasts, and we threw them through their paces to get their fur rippling through violent leaps and strikes. Fire was created from scratch, simulated and then added to the weapons we filmed.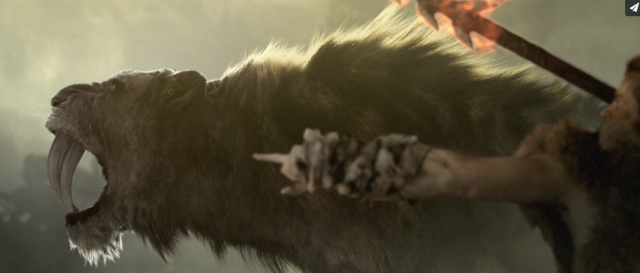 "Every frame was balanced perfectly to imitate the symmetry, negative space and composition of a graphical layout, while texture and atmosphere was added to keep a photographic feeling. We aimed to make something that lived in a strange space between moving photograph and live-action film."
Client: UBISOFT
Scott Sappenfield – Senior Director, Marketing
Thomas Seris – Senior Brand Manager

Agency: OMELET
Raul Montes – Creative Director
Josh Smutko – Creative Director
Kate Eglen – Art Director
Jimmy Barker – Senior Copywriter
Matteo Mosterts – Producer
Dan Ruth – Chief Production Officer
William Mason – Production Coordinator
Grant Holland – Chief Creative Officer
Shannon McGlothin – Executive Creative Director
Production: ELASTIC
Director: Patrick Clair
Director of Photography: David McFarland
Live Action Producer: Kelly Christensen
Production Designer: Dan Butts
Editor: Devin Maurer (JAX)
CG Supervisor: Andrew Romatz
Lead Nuke artist: Shahanna Khan
Matte Painter: Maxx Burman
Storyboards: Lance leblanc
2D Nuke Artists: Maciek Sokalski, Edward Anderson
3D Artists: Andrew Romats, Joe Paniagua, Ken Bishop, Christian Sanchez, Adam Newman, Josh Dyer, Jon Balcome, Adam Carter, Andy Wilkoff, Miguel Salek, Ian Ruhfass, Abel, Salazar, Josh Kohlmeir, Michael Bettinardi, Sam Ortiz, Joe Chiechi
Designers: Paul Kim, Jeff Han
Motion Designer: Raoul Marks
2D Animators: Yongsub Song, Raoul Marks
Flame Assistants: Kevin Stokes, Gabe Sanchez, Chris Riley
Producer: Zach Wakefield
Head of Production: Kim Christensen
Executive Producer: Belinda Blacklock
Managing Director: Jennifer Sofio Hall
Music and Sound Design: ECHOLAB
Music Producer : Gavin Little
Composer : Steve Lynch
Sound Design + Final Mix : Gavin Little
Sound Design Assistant : Joe McHugh
TV Cutdown Sound Mix: LIME STUDIOS
Matt Miller – Re recording mixer
Lisa Mermelstein- Audio Assistant
Susie Boyajan- Executive Producer