Einar Baldvin Faces Madness in "The Pride of Strathmoor"
Raw technique, nightmare imagery and themes of race and madness made Icelandic director/animator Einar Baldvin's intense USC thesis film "The Pride of Strathmoor" a favorite on the fest circuit: recognized at Annecy and Ottawa and awarded the Jury Prize for Best Animated Short at Slamdance 2015.
Einar Baldvin: "The biggest challenge was to make sure that the film honored the memory of those lynched, instead of being a cheap or sentimental film. I did extensive research of the period to make sure it was an accurate but unflinching look at the times and then I tried to capture the feeling it gave me.
"It was hard at first to get into the mindset of the main character when writing his words but eventually he took on a life of his own and the whole film took on his essence."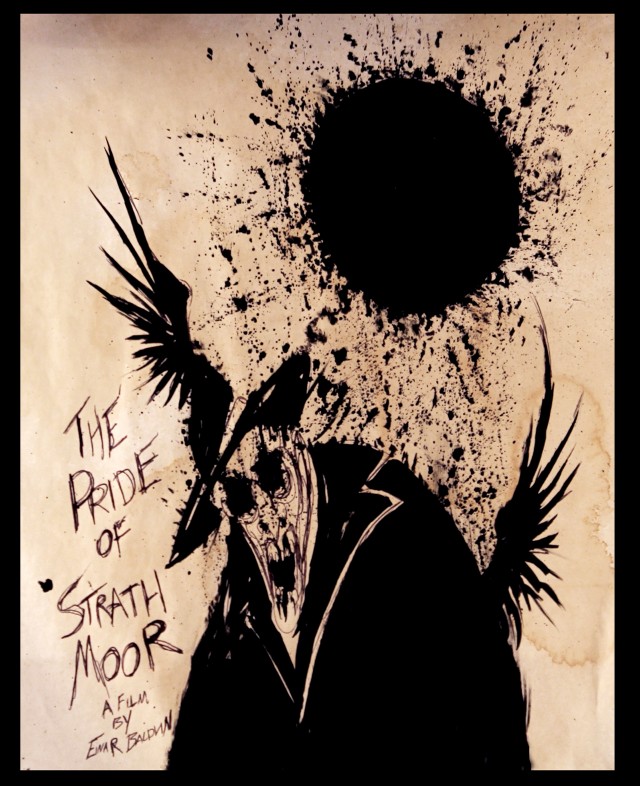 A film by: Einar Baldvin
Pastor John Deitman played by Geoffrey Gould
Music: Atli Arnarson
Sound design: Einar Baldvin
Recording engineer: Bethany Sparks
Production supervisor: Mar Elepano
Faculty Advisors: Christine Panushka, Thomas Sito, Kathryn Smith, Sheila Sofian.
Title design: Jeanette Bonds
Production assistant: Jeanette Bonds
Thank you:
My loving wife and family, Peter Chung, Mary Sweeney, David James, David Fain, Lisa Mann, Eric Hanson, Mike Fink, Michael Patterson, Candace Reckinger, Christine Panushka, Thomas Sito, Kathryn Smith, Sheila Sofian and my classmates. Angelique Spaninks and MU Gallery, Fabio Quaradeghini, Skúli Ármansson, Jeff Sacha and all my sparring partners at The Reykjavík Boxing Club, Jakaból and the USC Boxing Club
Winner: Jury Prize for Best Animated Short, Slamdance 2015
Winner: Grand Jury Award for Best Animated Short, Florida Film Festival 2015
Winner: Best Nordic Short, Nordisk Panorama 2015
Winner: Best International Short, Animasivo Festival 2015
Winner: New Talent Award, Fantoche International Animation Festival
Official selection Telluride Film Festival 2014
Official selection Ottawa International Animation Festival 2014
Official selection 'Best of Ottawa Programme' 2014
Official selection Slamdance Film Festival 2015
Official selection Annecy Inernational Animation Fetival 2015
Official selection Stuttgart Festival of Animated Film 2015
Official selection Holland Animation Festival 2015
Official selection Animafest Zagreb 2015
Official selection Melbourne International Animation Festival 2015
Official selection Florida Film Festival 2015
Official selecton Fantoche 2015
Official selection The Kurtzfilmtage Winterhur 2014
Official selection Anim'est International Animation Festival 2014
Official selection KLIK! Amsterdam Animation Festival 2014
Official selection Sommets du cinéma d'animation 2014
Official Selection Minimalen Short Film Festival 2015
Official selection Glasgow Short Film Festival 2015
Official selection Tehran International Animation Festival 2015
Official selection BendFilm Festival 2014
Official selection Reykjavík International Film Festival 2014
Official selection Diabolique International Film Festival 2014
Official selection Special program 'Film Roulette' at the 27th Filmfest Dresden.
Official selection Animix, Tel Aviv Animation festival
Official selection LISFF Wiz-Art
Official selection Fest Anca International Animation Festival 2015
Official selection Sydney Film Festival 2015
Official selection ANIMANIMA 2015, the International Animation Festival,
Official selection Beirut Animated 2015
Official selection Nordisk Panorama 2015
Official selection Tacoma Film Festival 2015
Official selection Nevada City Film Festival 2015
Official selection New Chitose Airport Int'l Animation Festival 2015
Official selection London Animation Festival 2015
Official selection Anilogue International Animation 2015
Official selection International Film Festival Bratislava 2015
Finalist The Shortlist, The Wrap's online film festival 2015
Semifinalist The Student Academy Awards 2015