Behind the Scenes on Death Wish Coffee Superbowl Spot
A tiny upstate New York coffee company is going to Super Bowl 50 with a big league commercial created by an A list production crew including Prettybird director Isaiah Seret and DP Claudio Miranda (Oscar winner for Life of Pi) with feature-level VFX by MPC.
Death Wish Coffee, located in the sprawling metropolis of Round Lake, NY (pop. 618) won Intuit QuickBooks' "Small Business, Big Game" contest which resulted in "Storm's a-Brewin'," a 30-second piece of brand-exploding hyper-caffeinated cinema created thru agency RPA and starring Diarmaid Murtagh who also played a viking in History's Vikings TV series (which is about Vikings).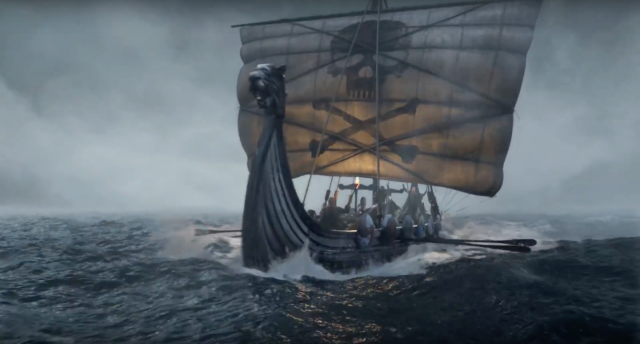 Vicky Osborn, Head of 3D at MPC: "Our first task was to work on the previs to design the camera, boat and water movement. Along with this we also had to do a more technical version of this to figure out exactly how much of this movement could be achieved in the studio and how much we would need to manipulate afterwards in CG.
"The practical boat, which was mounted on a gimbal and the proposed camera rig, which was a 50 ft Technocrane, were both represented in our 3D scenes to plan these moves prior to the shoot.
"Post-shoot we spent a long time animating the boat and camera in the 3D scenes to achieve the shots we planned. The practical boat build was only partial, to cover the interior boat with the Viking men, so we built a matching boat to extend down into the water and up to include the mast and sail.
Behind the scenes

"We would also do a fully CG boat take-over in the penultimate shot as the boat crashes over the waterfall. The boat was then combined with the water simulation and matte painted skies to complete the shots.
There were many quite challenges for this job, but the two biggest were translating the limited movement achievable in the studio into more dramatic moves in our 3D world, and also creating realistic water sims."
The finished spot

Client: Intuit, QuickBooks
Agency: RPA
EVP, Chief Creative Officer: Joe Baratelli
SVP, Group Creative Director: Adam Lowrey
SVP, Group Creative Director: Nathan Crow
Copywriter: Eric Aldama
Art Director: Lauren Geschke
VP, Executive Producer: Carolyn Casey
Assistant Producer: Namrata Abhyankar
Production: Prettybird
Director: Isaiah Seret
Co-Founder/Executive Producer: Kerstin Emhoff
Vice President/Executive Producer: Ali Brown
Head of Production: Tracy Hauser
Director of Photography: Claudio Miranda
Producer: Julie Sawyer
VFX/Post/Color: MPC NY
Managing Director Justin Brukman
Executive Producer: Camila De Biaggi
Managing Director: Justin Brukman
Head of CG: Victoria Osborn
VFX Producer: Bindy St. Leger
Color Executive Producer: Meghan Lang
Colorist: Mark Gethin
Edit: Exile
Editor: Matt Murphy
Executive Producer: Carol Lynn Weaver
Music: Extreme Music
Composer: Thomas Bergersen
Composer: Nick Phoenix
Sound Design: Machine Head
Executive Producer: Patty Chow Dewey
Creative Director/Sound Designer: Stephen Dewey
Additional Sound Design: Kip Smedley
Mix: Lime
Executive Producer: Susie Boyajan
Engineer: Loren Silber
Assistant: Mark Nieto
Music Supervisor: Jon Oda