United Nations "Don't Choose Extinction" by Murray Butler and Framestore
Framestore Pictures' director Murray Butler and the Framestore creature VFX team resurrect a 70 million-year-old Utahraptor (voiced by Jack Black) to deliver a message about the dangers of fossil fuel subsidies and their contribution to our own extinction.
Murray Butler, director at Framestore: "We studied the way great speeches were delivered in film and TV and approached this project with the same cinematic language.
"We opted to use two cameras, which enabled us to covertly capture spontaneous reactions and cover action from a variety of levels and angles throughout the Hall.
"The stirring musical score, our computer-generated dinosaur hero, and the UN staff members and delegates who volunteered their time to play the role of the audience each brought this incredible film to life for an important cause."
Timed to air ahead of the COP26 climate change conference in Glasgow and driving viewers to dontchooseextinction.com, the spot was created for the United Nations Development Programme thru Activista in Los Angeles.
From the UN release: "The world spends an astounding US$423 billion annually to subsidize fossil fuels. This is four times the amount being called for to help poor countries tackle the climate crisis.
"UNDP is the leading United Nations organization fighting to end the injustice of poverty, inequality, and climate change. Working with our broad network of experts and partners in 170 countries, we help nations to build integrated, lasting solutions for people and planet."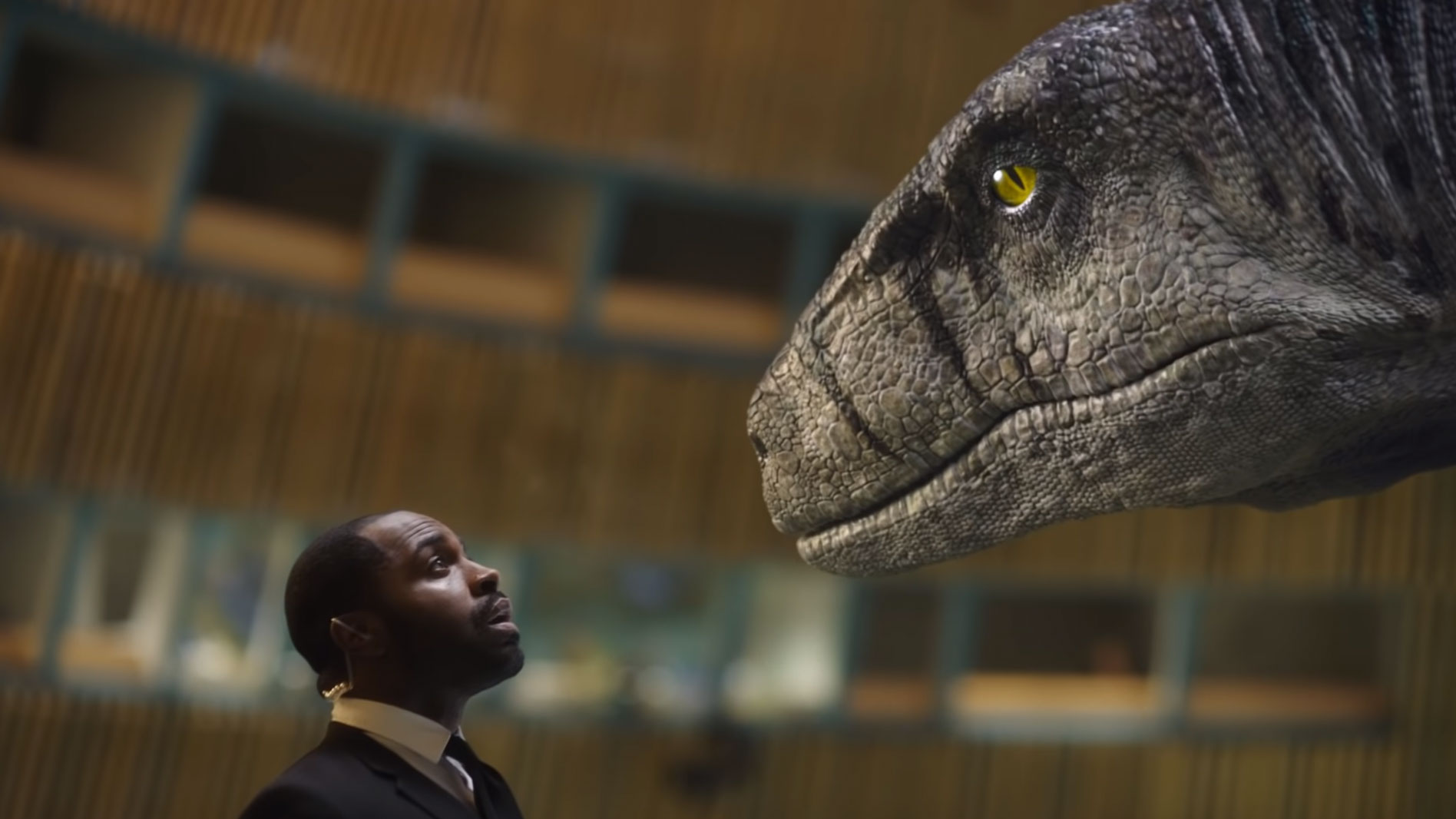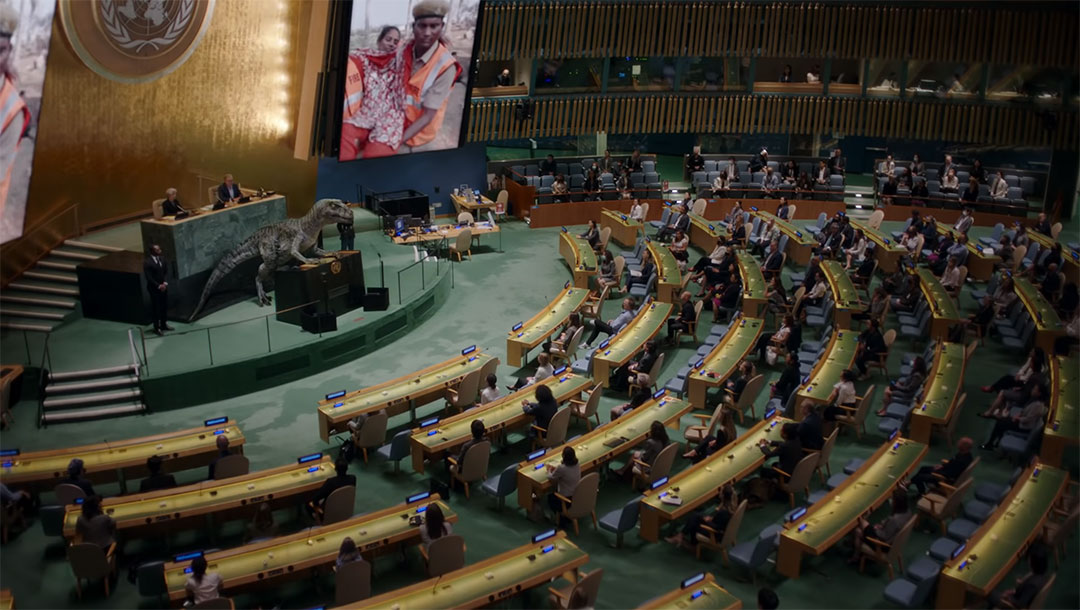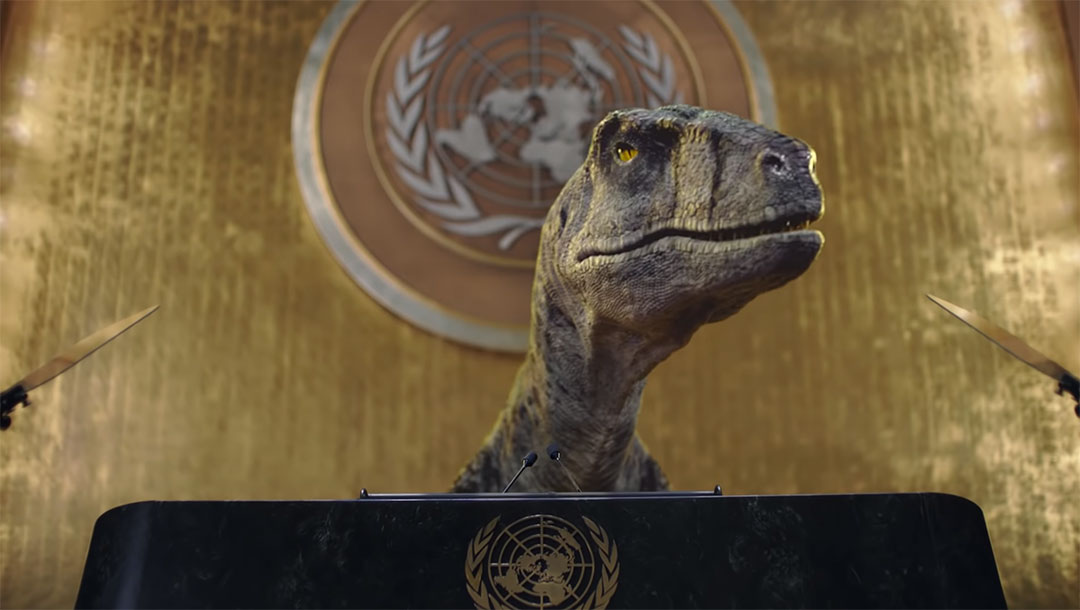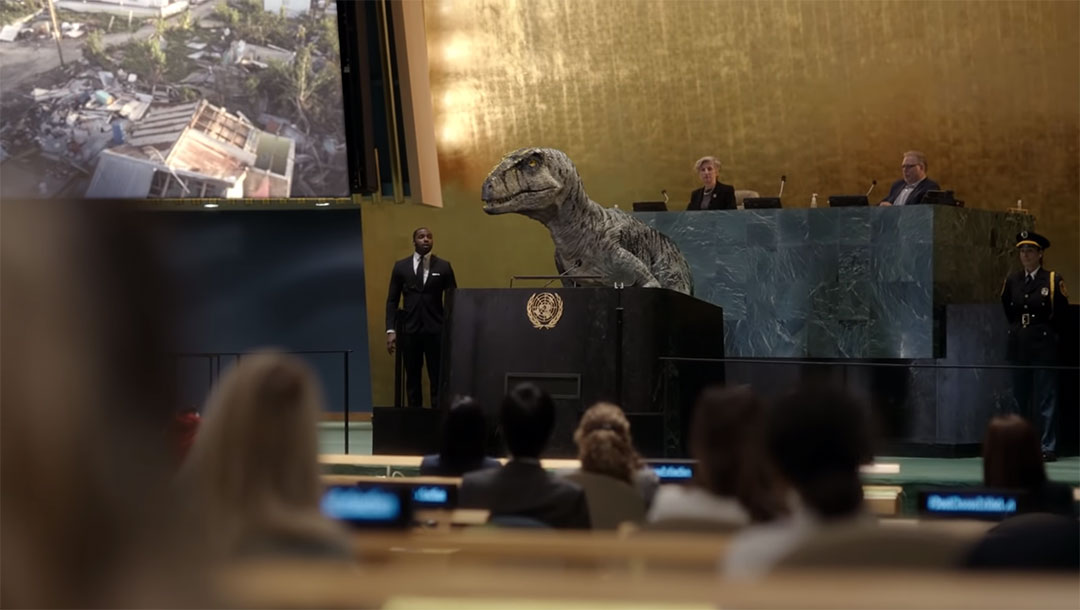 Client: United Nations Development Programme
Agency: Activista
Executive Creative Director: Paco Conde, Beto Fernandez
Director of Strategy: Jon Carlaw
Writer: David Litt
Film Production: FreelanceFor
Film Production: Framestore Pictures
Director: Murray Butler
Managing Director: Jennifer Siegel
Head of Production: Anne Vega
Line Producer: Laura Morris
Director of Photography: Wyatt Garfield
VFX: Framestore
Director of Production: Carla Attanasio
Executive Producer: Pete King
Senior Producer: Chris Harlowe
Associate Producer Jose Alvarado
Creative Director: Marco Marenghi
VFX Supervisor: Karch Coon
Lighting Supervisor: Richard Shallcross
Head of 2D: Woei Lee
Compositor Lead: Mark Casey
Modeler: Oscar Tan
Tracking Supervisor: Todd Herman
Editorial Supervisor: Jacob Sadowsky
VFX Editor: Dustin Indrebo
Colorist: Beau Leon
Editorial: Cut+Run
Editor: Jon Grover
Editorial Producer: Eytan Gutman
Asst. Editor: Evan Bahnsen
Audio Post Production: String and Tins
Sound Design and Mix: Jim Stewart
Additional Sound Design: Joe Wilkinson
Foley: The Foley Barn
Audio Producer: Olivia Endersby
Music Coordinator: COOL Music
Music by Rachel Portman
Music Programmer: Luke Richards