Behind the Scenes with Yves Geleyn for Cabrioni Cookies
The story of a man, his bird and the quest for perfect cookies as imagined by Hornet director Yves Geleyn and illustrator Peter de Sève for Italian food brand Cabrioni.
From Hornet: "Transported back in time to the Italian countryside of yesteryear, Yves Geleyn takes us on the simple journey of a man and his machine.
"This simple film symbolizes Cabrioni's love of good ingredients and traditional recipes combined with modern tools.
"As this film centered on the relationship between these characters, Geleyn enlisted Peter de Sève (known for his emotive feature film work and New Yorker covers) to design the inquisitive stars of the film."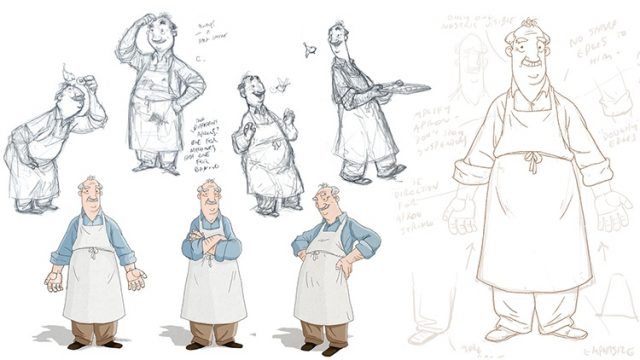 Watch the finished spot:

Client: Cabrioni
Agency: Auge Headquarter Milan
Executive Creative Directors: Federica Ariagno / Giorgio Natale
Creative directors: Angelo Pannofino / Williams Tattoli
Art Director: Veronica Ciceri
Copywriter: Antonio Mitra
Graphic designer: Gianluca Malimpensa
Project Manager: Leonardo Zenoni
Tv Producer: Cecilia Del Favero
Production Co: Hornet
Director: Yves Geleyn
Executive Producer: Hana Shimizu
Head of Production: Sang-Jin Bae
Development Producer: Kristin Labriola
Producer: Anna Lauren Tufekci
Editor: Anita Chao
Colorist: Shawn King
Storyboard Artist: Kendelle Hoyer
Character Designer: Peter De Seve
Environment Designer: Marie Thorhauge
Color Keys: Peter Nguyen
CG Lighting / Rendering / Composite Lead: Dan Fine
Compositor: Herculano Fernandes
Look Dev: Richard G. Kim
Character & Pipeline TD / Animator: Michael Altman
Look Dev / Model / Texture / Shade: Michelle Ko
Jr. Compositor: SeoHee Choi
Animation Lead: Tristan Balos
Animators: Niv Sekar, Dupp Du, Mike Luzzi, Rizaldy Valencia
Cleanup & Color: Angela DeVito, Mina So, Lauren Schmidt, Elena Manetta
Music Composer: Matteo Marson – Stabbiolo Music (Tuscany, Italy)
Sound Design: Roberto Grassi – The Log (Milano, Italy)