Behind the Scenes on Campbell's "Warmth To Share" Spot
Take a look at how director Joe Bluhm, the Tonic DNA crew in Montreal, and Leo Burnett Toronto created this CG heartwarmer for Campbell's⁠ that delivers a hopeful message through the worldview of a firefly.
Tonic DNA: "Our animation for Campbell's is full of contrasts between sadness and cheer, to emphasize the warmth that is central to the brand. The firefly's warm light dims when she feels disappointed with the cold world around her, but her positivity is reignited when she sees a mother and son share a heartwarming moment over a homecooked meal.
"The character designs also strike a balance between appeal and emotion, drawing the viewers to their charming warmth, while also delivering the emotional impact contained in the script."
Watch the making-of video:




Watch the CG breakdown: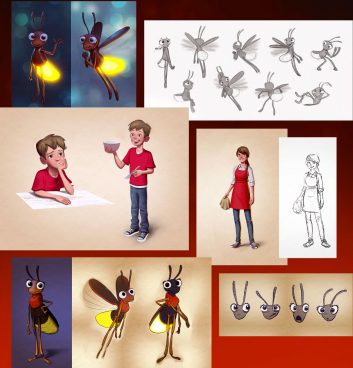 Client: Campbell's
Agency: Leo Burnett
Creatives: Anthony Chelvanathan, Lisa Greenberg
Copy: Evan Wallis
Art director: Dean Hamann
Producer: Franca Piacente, Melanie Palmer
Production: Tonic DNA
Director: Joe Bluhm
Executive Producer: Stefanie Bitton
Line Producer: Jennifer Nadeau
Technical Director 3D: Fabien Fulchiron
Technical Director Composition: Marc-André Bourgouin
Animation Supervisor: Todd Shaffer
Modeller/Modeler: Laurianne Fortin, Vincent Gosselin & Agora Studio
Rigger: Laurianne Fortin & Alex Mann (Agora Studio)
Modeler/Texture/Lighter: Fabien Fulchiron & Lisandre Thériault
Animator: Cayle Ward, Celia Bullwinkell, Jean Banville & Laurianne Fortin
Compositor: Marta Grasso & Marc-André Bourgouin
Illustator: Joe Bluhm, Michael Renaud & Myriam Arsenault
Groomer: Dylan VanWormer
Graphic Designer: Marc-Alain Grenon
Liquid Simulation: Jocelyn Simard
Audio: Grayson Music