"Liminal City" Short Film by Nol Honig
Director/animator Nol Honig: "This film shows how I felt living in New York City during the COVID shutdown. My goal was to push out of my comfort zone both aesthetically and technically and make something very different from my past work.
"A big part of the problem in lockdown was feeling like I had lost my mojo, my joie de vivre. I had little room in my head for playful, creative thoughts — only worry, and anxiety, and client needs.
"I'm happy to say that making this film helped me find a little bit of myself again.
"In early 2020 I worked on a title concept pitch with the always-excellent Hazel Baird at Elastic, for a documentary about online interference in the 2016 election. It didn't wind up happening, but I really liked the work I proposed and vowed to repurpose it someday.
"Then two things happened around Thanksgiving of 2020. For one, I realized I wanted to tell a story about the shutdown, with the city as the main character. Second, Zack Lovatt got involved in the role of technical director and started figuring out the best way to rig these buildings.
"Zack proposed we use the After Effects Beta release to take advantage of the new Media Replacement feature for Essential Properties. This was the first time I'd ever put together a project using the Beta version of AE, but it was worth it.
"From a creative standpoint, the goal was to make the city into a character and display its changing moods through the rhythm and patterns of blinking lights.
"I started animation on December 22nd, and spent four weeks with my head down cranking out the thirty shots needed to tell this story. It was the darkest, most difficult time of the pandemic for me. Stuck in my apartment with little sunlight, cold weather outside, and reading news about a violent insurrection in DC — I was honestly grateful to have something to focus on outside the real world.
"The biggest piece of the puzzle finally fit into place once Cypher got involved. John worked with me very patiently to find the right tones for this strange world. I absolutely love what he did and got chills watching the film with the final mix."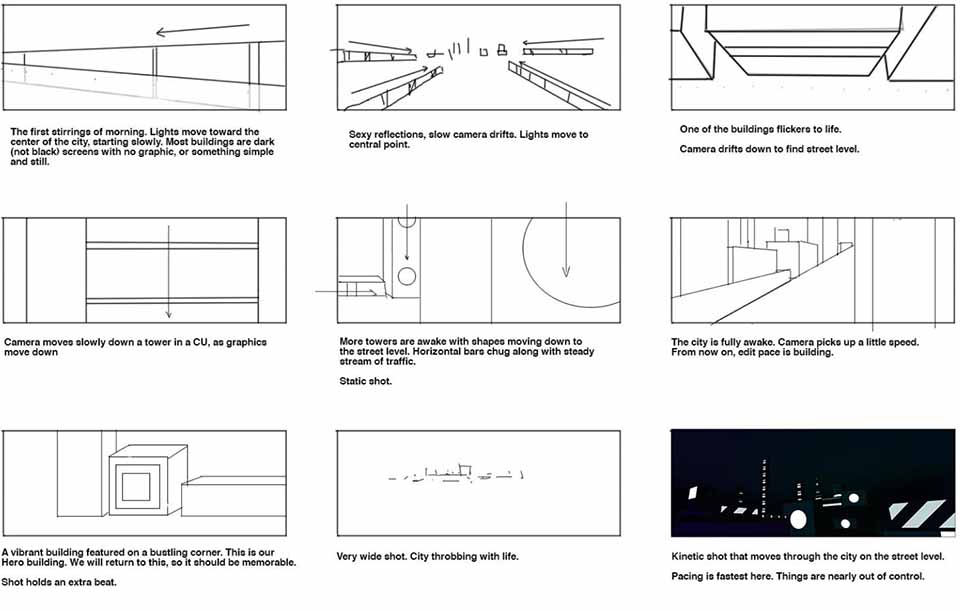 Director/animator: Nol Honig
Technical director: Zack Lovatt
Audio: John Black @ Cypher