Meet Lucky, Your New "Best Friend"
In their "98% Human" spot, PETA made it very clear they don't allow animals to be used in the filming of their commercials, so it was up to German VFX company Mackevision to make sure Lucky the pig was indistinguishable from the real thing.
The VFX breakdown starts at 1:29 of the video.
Julian Körrenz, compositing lead at Mackevision: "It was important to precisely answer the question: How does a real pig behave? The search for reference material started on a farm and ended with an in-depth analysis of countless YouTube videos.
"The pig was finally brought to life by building up an imitation version. This means creating a skeleton, then the muscles, fascia, fat, skin and fur – layer by layer, right up to the finished animal. And all anatomically correct.
"But the biggest challenge of all was ensuring that while Lucky looked cute and lovable, he still looked totally natural.
"We had to be very careful not to turn him into a comic-book character. So the animal's emotions are mainly conveyed through its eyes and by light reflections. A smiling pig would be unrealistic."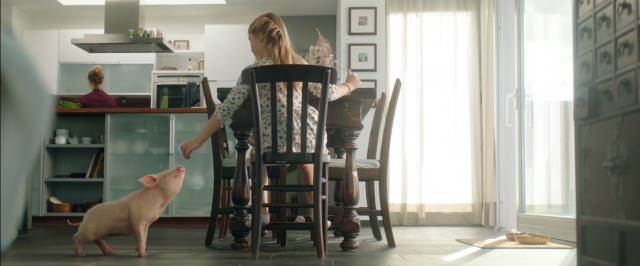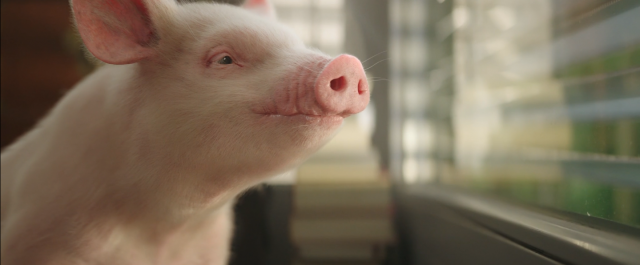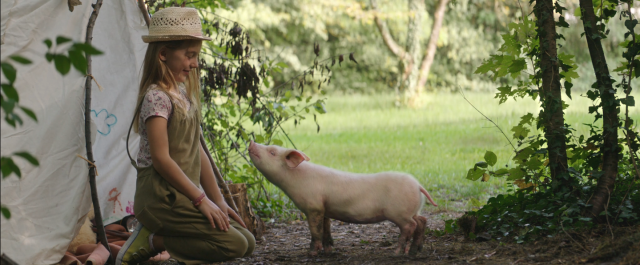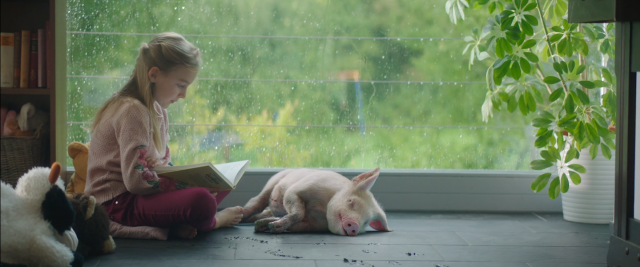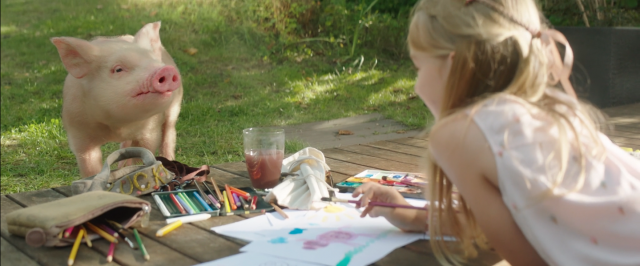 Client: PETA e.V.
Production: Fahle Film UG
Producer: Veith Unger
Director: Nathalie Lamb
DoP: Christoph Schuman
Gaffer: Patrick Lang
Production Design: Jacqueline Lang
Production Design: Christina Mast
Costume: Astrid Hildebrand
Editing: Ann-Kathrin Matthes
Sound Design: Johanna Roth
VFX: Mackevision
VFX Producer: Francesco Faranna
VFX Supervisor: Christian Zilliken
Animation Supervisor: Bernd Nalbach
CG Lead: Emanuel Fuchs
Compositing Lead: Julian Körrenz, Jan Burda
Executive Producer: Heiko Burkardsmaier
VFX Coordination: Paul Maresch, Iggy Rau
Consultant Supervisor: Juri Stanossek
VFX Set Supervision: Rouven Dombrowski
VFX Editorial/Grading: Tobias Pfeiffer
VFX Editorial: Jörg Wohnsiedler
Pipeline Developer: Axel Mähler, Henry Weickert
Matchmove: Frank Rosenkränzer
Character Designer: Christian Leitner
Lighting: Sebastian Plank
3D Generalist: Henrik Soeltzer, Marco Wilz
Rigging: Jakub Krompolc
Hair, fur: Lukas Gotkowski, Jaroslaw Handrysik
Animation: Maciek Wojtkiewicz, Dastin Hoffman, Dorian Knapp, Mariia Prokopenko
Simulation: Lisa Ecker
Compositing: Mauricio de Oliveira, Gus Martinez, Peter Lames, Lukas Fabian, Constantin von Zitzewitz, AnhKhang Huynh