Parasol Island: "Pink Troubles" Online Premiere
Stash is very pleased to present the online premiere of Parasol Island's new animated CG short "Pink Troubles," a tightly choreographed, two-minute tour de force of sunny character chaos.
Director Dino Figuera at Parasol Island in Düsseldorf: "This film started as a really small 10-second intro animation for our showreel. It then escalated into an animatic for a four-minute short film, and at some point we decided it was best to start with a teaser.
"One of the hardest challenges was making a little island with sand and sea water which does not look too realistic but not too cartoonish either. On top of that, we definitely wanted to avoid fluid or sand simulation as much as possible. We have been working with and around these characters for three years now, but the teaser you see here is the result of about a year of work in between projects.
Concept art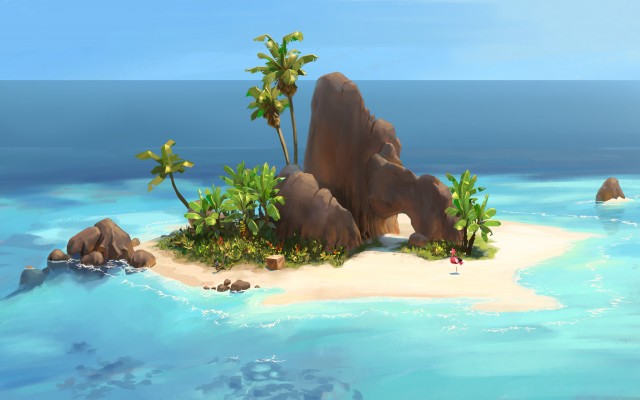 Finished frame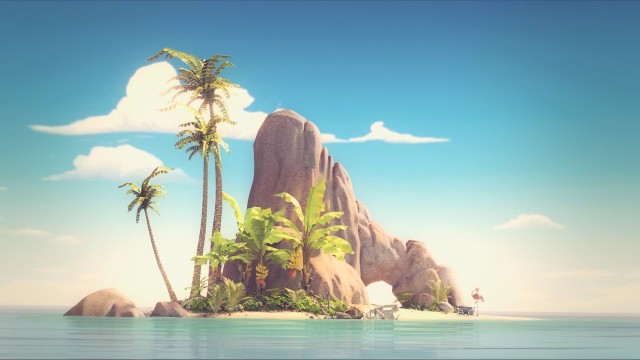 "My animation style is straight forward, I do not do pose-to-pose blocking but I start animating right
away with spline curves, when I finish my first pass I open my curve editor which is usually a
mess, clean it up and start polishing the movements until I feel I can show the result.
"'Pink Troubles' was modeled, rigged and animated in Maya, and rendered with V-Ray. We then used Eyeon Fusion for compositing."
Animation test

Credits:
Production Company: Parasol Island
Heads of Animation: Philip Hansen & Philippe Stalla
Director: Dino Figuera
Lead Character Animator: Dino Figuera
Head of VFX: Paul Dreisen
Concept Art: Charles Bals & Simon Kopp
Lead Modeling : Bardia Afchar
Modelers: Dino Figuera & Leo Quensel & Khoi Nguyen
Texturing: Bardia Afchar & Luca Fiorentini
Lead Lighting TD : Paul Dreisen
Rigging TD: Robert Joosten & Dino Figuera
Additional Lighting and Rendering: Bardia Afchar & Kay Poprawe
Effects TD: Leo Quensel
Compositing: Jonas Uebelin & Gregory Chalenko
Grading: Charles Bals & Fabian Grodde
Original Music: Jonathan Wulfes
Character Voices: Santiago Ziesmer
Voice Recording – Hesse Studios