Saschka Unseld: Chipotle "A Love Story"
Passion Pictures director Saschka Unseld turns the character and narrative talents he honed at Pixar to the latest chapter in Chipotle's ongoing series of heart-tugging, music-driven and multi-award-winning branded short films.
Saschka Unseld: "One of the most important things I wanted to achieve here was to create something that visually feels unique and different to most of the other stuff out there. This had two sides – the first was to really be true to the original designs in CG – because so often the final result is nowhere near the beauty of an original design. The second thing was to be bold with our light, color and shading.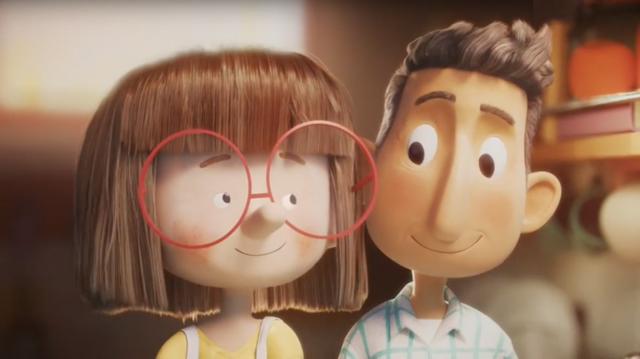 "The character was the first thing we wanted to get right in CG, making sure we hit the emotion. We started from 2D drawings, and then test-modeled them into really simple CG maquettes.
"The transition challenge (from design to CG) was mostly about finding the right volume language of the shapes of these characters, and making sure we kept the simplicity of the designs. Katy Wu, our art director, guided us on textures those characters should have, because in 2D you work so much with textures and shading, and we wanted everything in the world and the characters to have a physicality that is friendly, really staying true to the original look.'
Highlights from Chipotle's archive of animated branded films:
2011: "Back to the Start" directed by Johnny Kelly at Nexus, featuring Willie Nelson's take on Coldplay's "The Scientist."

2013: "The Scarecrow" directed by Brandon Oldenburg and Limbert Fabian at Moonbot Studios, set to "Pure Imagination" by Fiona Apple.

2016: "A Love Story" powered by the Backstreet Boys' "I Want it That Way" redone by
Alabama Shakes' singer Brittany Howard and My Morning Jacket frontman Jim James.

Client: Chipotle
Agency: CAA
Producer: Amanda Jiminez / Jay Brooker
Creatives: Todd Hunter / Tony Fur
Animation: Passion Pictures
Director: Saschka Unseld
Art Director: Katy Wu
Executive Producer: Debbie Crosscup / Ryan Goodwin-Smith
Producer: Sibylle Preuss
VFX Supervisor: Neil Riley
CG Supervisor: Christian Mills
Character & Production Design: Katy Wu / Amandine Pecharman
Graphic Designer: Davide Saraceno
Animation: Wesley Coman/ Chris Welsby/ Aldo Gagliardi/ Cath Brooks/ Catherine Elvidge/ Karin Matteson/ Scott Bono
Texture & Shading: Ian Matthews / Katreena Erin Bowell/ David Domingo Jimenez / Leigh Van Der Byl/ Louise Chassain / Sara Diaz / Stuart Hall/ Arkin Esfref / Alex Holman / David Watson/ Leigh van der Byl/ Camille Perrin/ Patrick Kraft/ Roxanne Martinez
Rigging: Morgan Evans / Matteo Nibbi / Giulia Dell'Armi
VFX: Jamie Franks / Colin Perrett/ Kwai Keung IP/ Junaid Syed/ Antonios Deftarios/ Guillaume Zaouche/ Gabriele Veronese/ Matt Moyes/ Robin Nordenstein/ Alice Jarre
Light & Render: Christian Mills/ Richard Moss / Stuart Hall / Adrian Russell/ Patrick Kraftt/ Alex Holman/ Roxanne Martinez/ David Watson/ Nikolay Kulishev/ Simon Maddocks/ Francois Pons
Compositing: Johnny Still/ Andre Bittencourt/ Raphael Theolade/ Valeria Romano/ Javier Cid/ Alex Grey
Animation Supervisor: Jay Boose
CG Coordinators: Joost Zoetebier / Suzanne Forward
Post Production Services: Technicolor Postworks NY
Colorist: Max Horton
Music Producer: Blake Mills
Music Performance: Brittany Howard, Jim James