Best of Stash 2015: Honda "Paper"
Take a peek at four months of intensely detailed work by Oscar-nominated stop-motion star PES and his team of animators and illustrators as they recreate the evolution of Honda products with thousands of hand-rendered drawings on real live paper with pre-vis and VFX/finishing by a52.

From issue 114 of the Stash Permanent Collection:
Director PES in Santa Monica: "[The brief was] to tell the evolutionary history of Honda, from the very first generator engine that Soichiro Honda placed on a bicycle, up through the latest Honda/Acura NSX, one of the coolest cars in the world.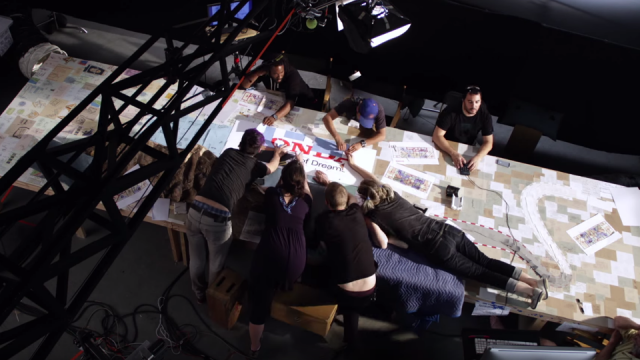 "The vehicles, robots, and engines were all to be hand-drawn on pieces of paper and those physical illustrations were to be manipulated by hands (metaphorically the hands of Honda engineers) in front of the camera using stop-motion animation. How exactly that happened was largely up to me.
"How to keep it exciting the whole time [was challenging]. It's a two-minute film, so that's a long time and you've gotta keep it fresh and unexpected.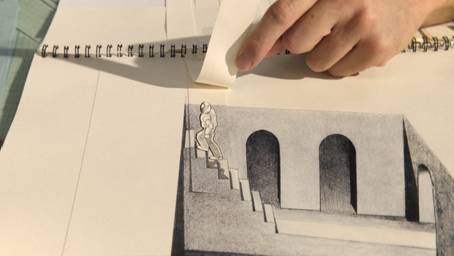 "As far as animation goes, coming up with a different paper manipulation technique for nearly every sequence was a big challenge, but I thought it was absolutely critical to creating a compelling piece. Around every corner I wanted the viewer to find some new surprise, so the film is constantly changing, shifting, evolving just like the Honda engine.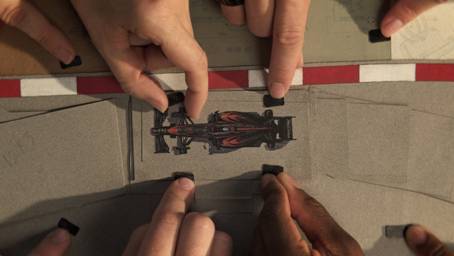 "There are dozens of different animation techniques featured in the film – from paper folding to paper flipping to paper sliding, timed exposures and blurred frames, optical illusion drawings that can only be seen properly from one camera angle, traditional flip book style animation, hands holding drawings in mid air, replacement animation…the list could go on.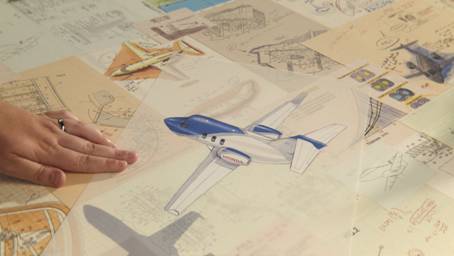 "[The main challenge technically was] how to pull the entire thing off in camera, all in one continuous shot. How to create nearly 3,000 separate images in less than a month, and to figure out exactly how they should come to life in animation. It was without a doubt the most intense production of my life."
Watch the making of Honda "Paper"

Schedule: "One month of detailed CGI pre-vis (June 2 – July 2); one month of animation testing, illustration creation, board construction and set dressing, and motion control testing/programming (July 3 – August 3); shoot seven days (between August 4 -14); edit, post, and sound design (August 17 – September 17)."
Watch the finished spot:

For RPA
Chief creative officer: Joe Baratelli
Executive creative director: Jason Sperling
Creative director/art director: Ken Pappanduros
Creative director/copywriter: Chuck Blackwell
Senior copywriter: Chris Bradford
Art director: Laura Crigler
Copywriter: Josh Hepburn
Chief production officer: Gary Paticoff
Executive producer: Isadora Chesler
Producer: Matt Magsaysay
For Reset
Director: PES
Managing director: Dave Morrison
Executive producers: Jen Beitler & Jeff McDougall
Head of production: Amanda Clune
Producer: Stan Sawicki
Director of photography: Eric Adkins
Production designer: John Joyce
Motion control operator: Mark Eifert
Motion control Asst: Calvin Frederick
Animation supervisor: Eileen Kohlhepp
Animators: Amy Adamy, Sihanouk Mariona, David Braun, Julian Petschek, Javan Ivey, Jen Prokopowicz, Brandon Lake, Ranko Tadic & Quique Rivera
Illustrators: Jerrod McIlvain, Nicole Cardiff, Vincent Lucido, Arwen King, Meghan Boehman, Monica Magana, Kei Chong, Trevor Brown & Alex Theodoropulos
Set dresser/painter: Veronica Hwang
Illustration coordinator: Evan Koehne
Art department: Nate Theis, Ellen Ridgeway, Melissa Quezada
For a52
Executive producer: Patrick Nugent
VFX supervisor and lead Flame: Andy Raphael Barrios
Producer: Lusia Boryczko
Pre-vis: Ranko Tadic, Ingolfur Gudmundsson
Colorist: Tommy Hooper
Online editor: Dan Ellis
Editorial: Rock Paper Scissors, Santa Monica
Editor: Stewart Reeves
Sound design: Factory UK
Sound designer: Phil Bolland
Head of production: Lou Allen
Mix: Lime Studios
Re-recording mixer: Dave Wagg
Executive producer: Susie Boyajan
Toolkit
lots of paper and almost every kind of paint and drawing materials imaginable, nails, glue and lots of tape, Nikon D810, Maya, Photoshop, Illustrator, After Effects, Dragonframe, Kuper Controls, Avid, Pro Tools, Flame