Valentine's Treat for Those Trapped in the Friendzone
In their playful animated short "Chickens," UK director George Wu and Taiwanese illustrator Meng-Chia Lai capture the singular awkwardness of unrequited love most of us will feel at least once in life.
Director George Wu: "The film is named after being too chicken to say how you feel and is a mix of both our experiences and the anecdotes of two friends. Everything in the film has happened to someone we know.
"We had never made a 2D animation before, so the whole process was a big challenge! Thankfully we had an amazing producer Greet Kallikorm and a brilliant team of animators who walked us through it.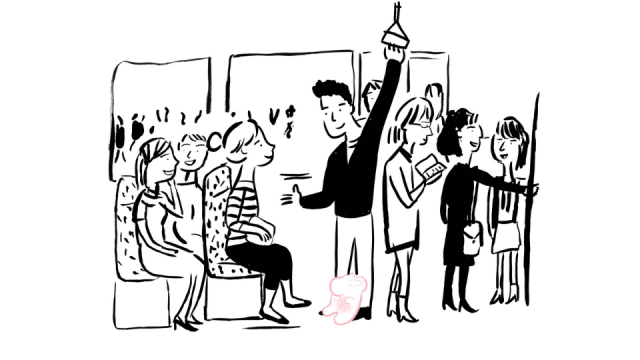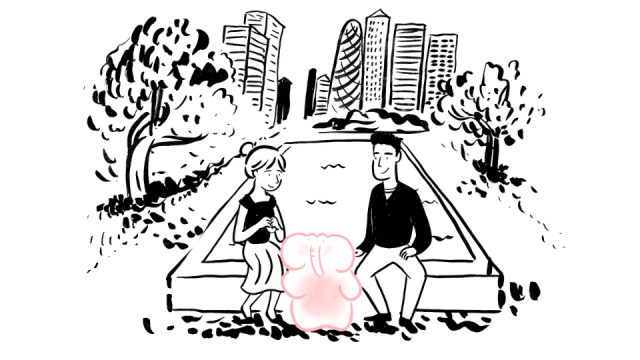 "The other challenge was that Meng-Chia lives in Taiwan. I flew over for about a week of intense storyboarding and writing and then the rest was done by endless scans through email.
"We naively thought simple line drawings in black and white, would be quite fast to animate. However, the way Meng-Chia draws is quite like calligraphy: it's very minimal and depends on the pressure of the brush.
"This was intensely hard to replicate in order to control the boiling. It was a low budget film so I did the majority of the clean up. It became a zen-like practice, three weeks hovering over a Cintiq tablet."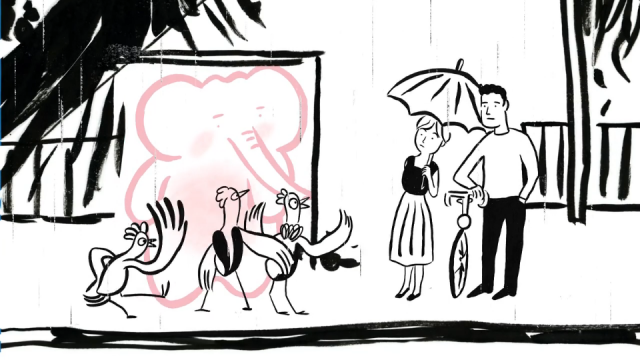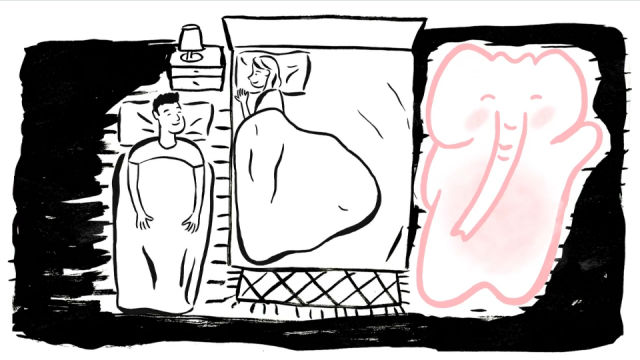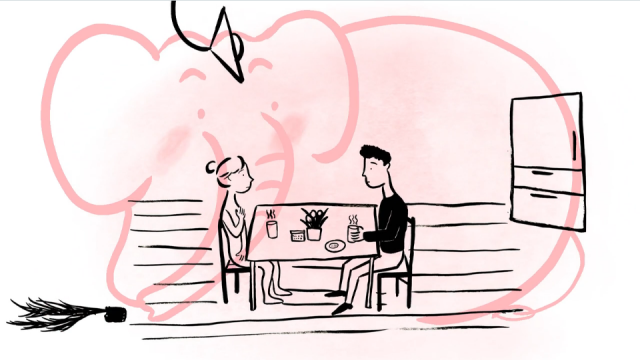 Commissioned by Random Acts
Writer/director: George Wu
Design: Meng-Chia Lai
Producer: Greet Kallikorm
Development Producer: Claire Cook
Executive Producers: Chris O'Reilly and Charlotte Bavasso
Production Manager: Rebecca Archer
2D Animators: Maki Yoshikuro, Andrew Clarke, Jamie Hobbs, Ivyy Chen, Krisi Zhupali
Editing: George Wu
Compositing: Aled Matthews
Additional Compositing: Antoine Foulot, Daniel Symons, Andy Hague
Intern: Will Smith
Music Composition: Athos Tsiopani
Sound Design: Brains and Hunch