Tulips and Chimneys: Cerebos "Snow"
South African directors Tulips and Chimneys (formerly Shy the Sun) re-team with Cape Town animation/VFX house BlackGinger to meld CG with stop motion miniatures in this spot for Cerebos salt thru FCB Durban.
Tulips and Chimneys director Ree Treweek: "It took a team of three people four weeks to put together the miniature set, as just building the lounge required 24 different types of material and 31 loose items were created just to dress the kitchen.
"The textured ground was a mixture of sand, tiny pebbles and tea. We then added hundreds of tiny sprigs of rosemary that lead up to the larger bushes that were created with moss dyed different colors.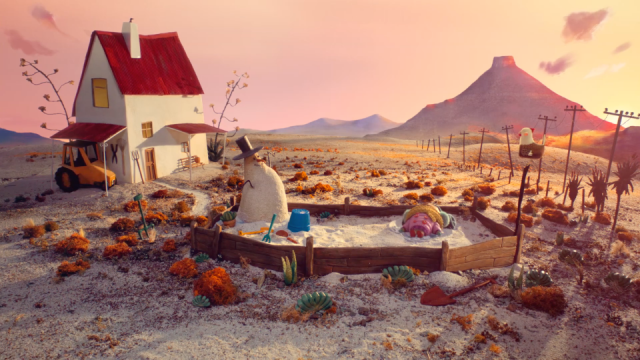 "We also put a lot of thought into the shape of the characters. Mpho is shaped like an upside-down triangle, her cuteness factor largely comes from her having such a big head in relation to her body and her tiny feet.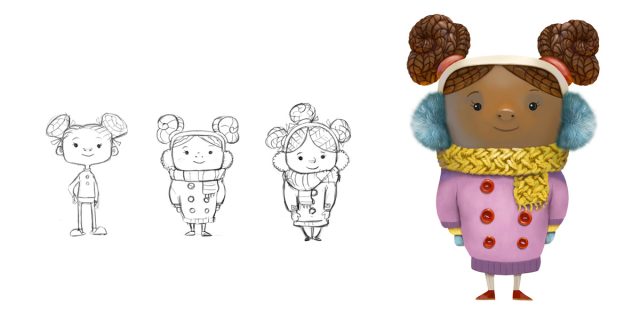 "Her grandma on the other hand is bell-shaped, completely the opposite or rather the reverse of Mpho. Her shape is an ode to her larger-than-life personality. She is definitely the matriarch of the family.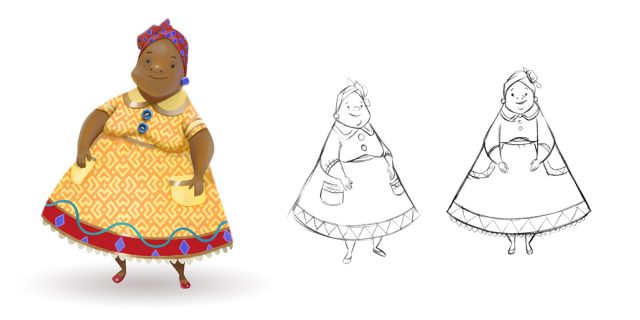 "Gramps on the other hand is a skinny bean of a man. He takes up very little space in the house and is quiet and unassuming. However, he observes everything so closely and in the end it's his patient tinkering and exquisite mind that brings so much joy to Mpho and Grandma.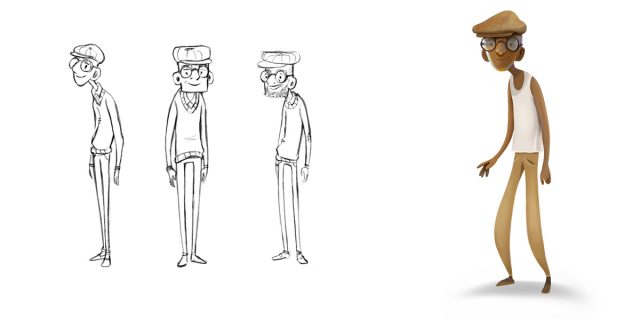 Client: Cerebos
Agency: FCB Durban
Creative Heads: Declan Sharp and Brandon Govender
Group Account Director: Karen Stephenson
Pre-Production: Tulips and Chimneys
Concept and Script Development : Ree Treweek
Concept Art: Daniel Clark, Sasha Perdigao, Ben Winfield, Marc Moynihan
Storyboards: Marc Moynihan
Animatic: Jannes Hendrikz
Character Development: Darren Macpherson
Animation Studio: Blackginger
Executive Producers: Marc Bloch and Marco Raposo de Barbosa
CG Supervisor: Darrin Hofmeyr
Project Lead and Animation: André de Villiers
Producer: Leigh Human
Studio Coordinator: Ruth Molteno
VFX Editor: Stephanie Traut
Colourist: Terry Simpson
Scanning: Wayne Davison
Modeling / Texturing: Roelof van Wyk, Marcello Adams, Adrian le Roux, Hein Oosthuizen, Louis Rossouw
Rigging: Ruan Myburgh, Melikhaya Ntlageni
Tracking: David Silberbauer, Douw van Niekerk, Wayne Davison
Visual Effects: Jason Slabber, Matthew Kearney,
Lighting: William Harley, Ruan Rosslee
Compositing: Byron Tofas, Chris Bekker, Michael Hlatshwayo
Production and Design Studio: Tulips and Chimneys
Director: Ree Treweek
Executive Producer: Nina Pfeiffer
Production Assistant: Dianne Makings
Shoot Production Consultant: Bernice Purdham
Production Design: Ree Treweek and Ben Winfield
Character Design & Colouring: Ree Treweek, Ben Winfield and Sasha Perdigao
Matte Painting: Ben Winfield
Set Building and Shoot: Tulips and Chimneys
Director of Photography: Johan Horjus
Camera and Lighting Assistant: Bee Retief
Dragon Rig Operator: Ken Mehrtens
Art Director: Cristina Salvoldi
Lead Model Maker: Tania Lee
Model Maker: Lungisa Kala
Sparks: Gael Kazadi and Saul Calvo
Runner: Tamlyn Nunes
Catering: Krafty Kos
A special thanks to Panalux for helping facilitate the shoot
Audio & SFX:
Markus @ Honeymoon Studios