Travelers "Unfinished Stories: The Tree House" by Guilherme Marcondes
In an effort to reduce traffic fatalities caused by distracted drivers, Travelers Insurance and TBWA\Chiat\Day New York commissioned a series of animated films imagining unfinished chapters in the lives of actual victims.
In one these films called "The Tree House," LOBO director Guilherme Marcondes uses a mix of stop motion and digital animation to detail the heart-wrenching story of 61-year-old Howard Stein who was struck on the side of the road by a driver tending to her GPS.
Not-so-fun fact: Distracted driving kills at least nine people and injures over 1,000 more each day in the US alone.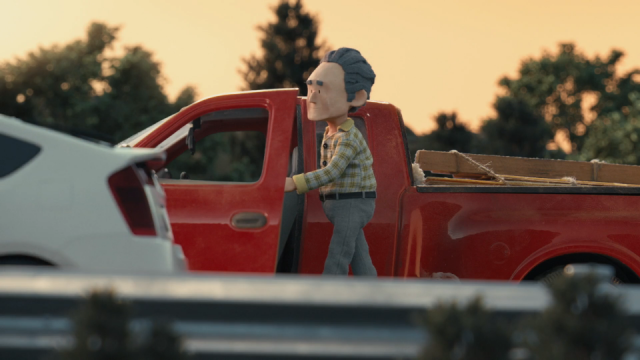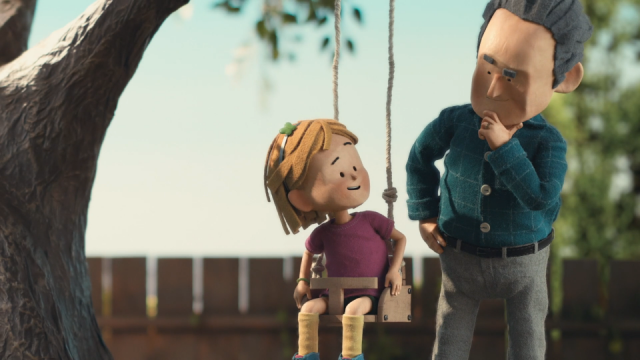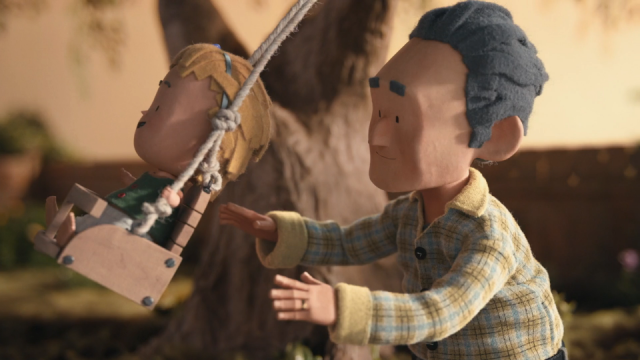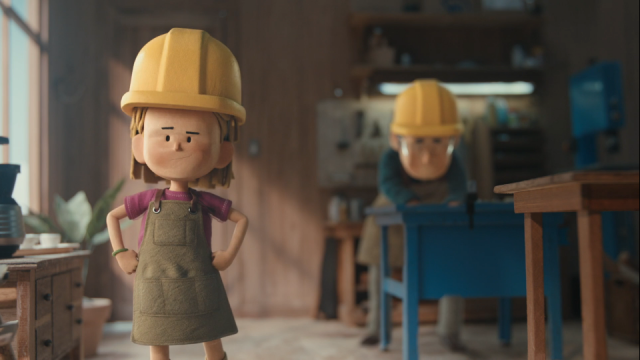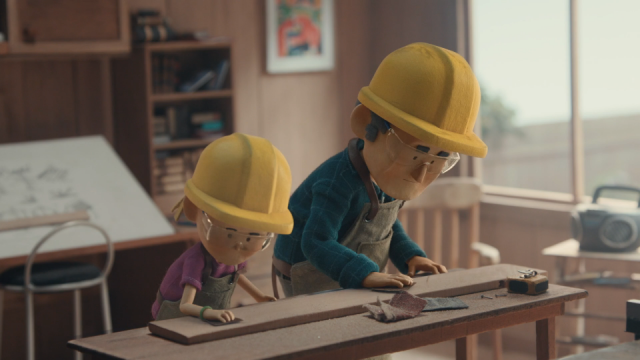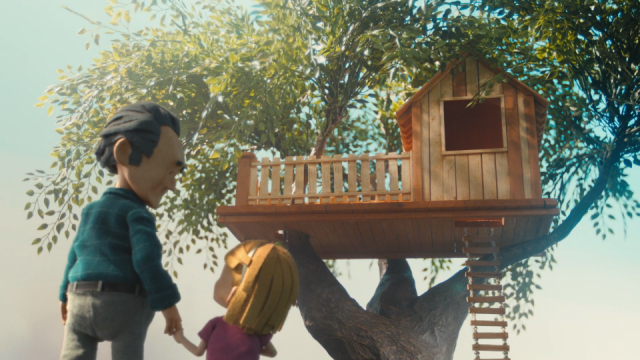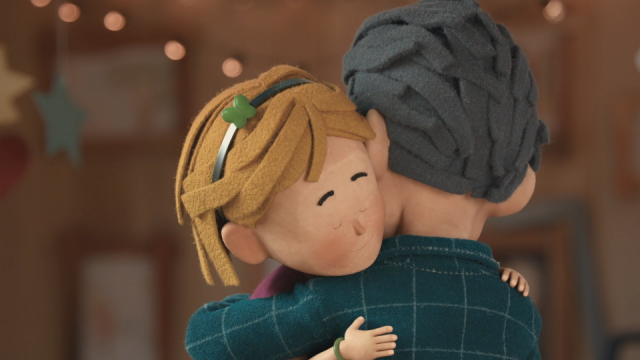 Client: Travelers Insurance Company
Agency: TBWA\Chiat\Day New York
Chief Creative Officer: Chris Beresford-Hill
Executive Creative Director: Walt Connelly
Senior Art Director: Alex Holm
Senior Copywriter: Avi Steinbach
Executive Creative Director/Head of Design: Chris Rowson
Motion Graphics Designer: Seokmin Hong
Senior Designer: Robyn Makinson
Head of Production: John Doris
Executive Producer: Chris Klein
Producer: Kelly Sutton
Producer: Sarah Haroldson
Editor, RedSlash: Andrew Nethery
Post Producer, RedSlash: Pietra Cangialosi
Production: LOBO
Director: Guilherme Marcondes
Executive Producer: Luis Ribeiro
Producer: Gabriela Leal
Head of Production: Clara Morelli

Coordinators: Helena Jardim, Rosângela Gomes

Art Director: Felipe Jornada

Concept Artists: Felipe Jornada, Fernando Heynen, Wilson Panassi Storyboard: Libero Malavoglia
CG Director: Mauricio Lobel

Modeling: Eiti Sato, Bruno Sader, Marcel Nilo, Cristiano Porfirio, Nathalia Curi, Frederyco Martins

Lead Rigging: Flavio Castello

Rigging: Alexandre Marassá, Felipe Gimenes, Lucas Magalhães Costa, Henrique Ribeiro Animation Supervisor: Leonardo Cadaval

Lead Animator: Marcio Nicolosi

Animators: Michael Maron, Chris Mayne, Luke Randall, Caleb Lemotte, Nathalia Lemotte, Matt Sackley, Detuco, Norman Lemes, Hannry Pschera, Jerome Saravas, Jannaina Bonacelli, Raphael Vinicius, Ronaldo Brito

Lookdev: Marinho Silva

Textures: Bruno Sader

Render: Marinho Silva, Alexandre Agostini, Rafael Braga

Lead Compositor: Diogo Girondi

VFX 2D: Mauricio Reis

VFX/Simulation: Luis Duarte

Color Grading: Mikey Rossiter

Editor: Bruno Carelli and José Eduardo Ambrosio

Tracking: Mauricio Lobel, Leandro Pena
Director of Photography: Lucas Andrés Barreto
1st Assistant Camera: Caio Nigro

2nd Assistant Camera: Rodrigo Guerra da Silva
Motion Control: Drive Motion Control
Stop Motion Animation Director: Lee Peffer
Electrician: Cleber Almeida da Silva
Assistant Director / Line Producer: Adriana Oda
Producer: Chélide Teixeira

Assistant Producer: Jeferson Tiago Lopes
Driver: José César de Queiróz Mazzei
Art Director: Fabiana Fukui

Set Designer: João Cunha

Model Makers: João Cunha, William Pereira, José Paulo da Silva, Zsazsa Fernandes, Vermelho Steam

Assistant Model Maker: Arthur Araujo

Seamstress: Zsazsa Fernandes

Assistant Art Director: Michelle Chuang

Art Interns: Luiza Faria, Marina Rosa
Live-action production: Variable
Director: Steve Hoover
Director of Photography: Daniel Stewart
Executive Producer: Tyler Ginter
Executive Producer: Alex Friedman
HoP/Supervising Producer: Paige DeMarco
Producer: Jon Simonetta
Production Coordinator: Rocco Campanelli
AC/DIT: Jeff Levine
Gaffer: Michael Winn
Sound Mixer: Owen Bradford
HMU: Melissa Martin
Edit: Cartel
Editor: Chris Catanach
Executive Producer: Lauren Bleiweiss
Producer: Joanna Hall
Assistant Editors: Zach Kaigler, Dan Gutterman
VFX Production: The Mill
Executive Producer: Heath Raymond
Producer: Lauren Orban
Production Coordinator: Roberto Herrera
2D Lead Artist: Drew Maloney
Color: The Mill
Colorist: Michael Rossiter
Color Producer: Evan Bauer
Color Assist: Nate Seymour
MUSIC
Song: "You're My Best Friend" Andrew Simple
Music Consultant: ELIAS Music
EP: Joey Netter
Music Producer: Matt Phenix
Creative Director: Eric Ronick
Mix: Zach Golden
Sound Design: Evan Wood
Live Action Track: Sea Of Love (No Groove)
Artist: Adi Goldstein
Music Library: FLIKTRAX