Verizon 5G "The Reset" by Doug Liman with MPC
The irksome artifacts of laggy video gaming take on a surreal life of their own in this work from American director Doug Liman (Swingers, The Bourne Identity, etc.) thru Brooklyn agency Madwell with substantial VFX support from MPC.
The two-minute spot toting the potential benefits of Verizon's 5G Ultra Wideband for gamers, involved a massive and multi-continent MPC crew who built and composited over 250 CG assets.
Madwell Co-founder and CCO, Chris Sojka: "Our goal was to depict life in the style of the omniscient wandering camera you might experience in a video game, then completely and successively subvert it until everything was falling into pieces.
"We used cameras in ways you don't, we did effects in ways you otherwise wouldn't, all to complete the illusion of a universe slowly and steadily degrading, unable to find the power necessary to render its own reality. The result needed to be confounding and captivating."
Madwell CD, Ryan Howard: "We knew from the start this was an ambitious project. We needed to run a safe shoot during a pandemic and complete post-production remotely, and despite those challenges, we had to create something that felt extremely authentic to a varied and diverse audience of gamers."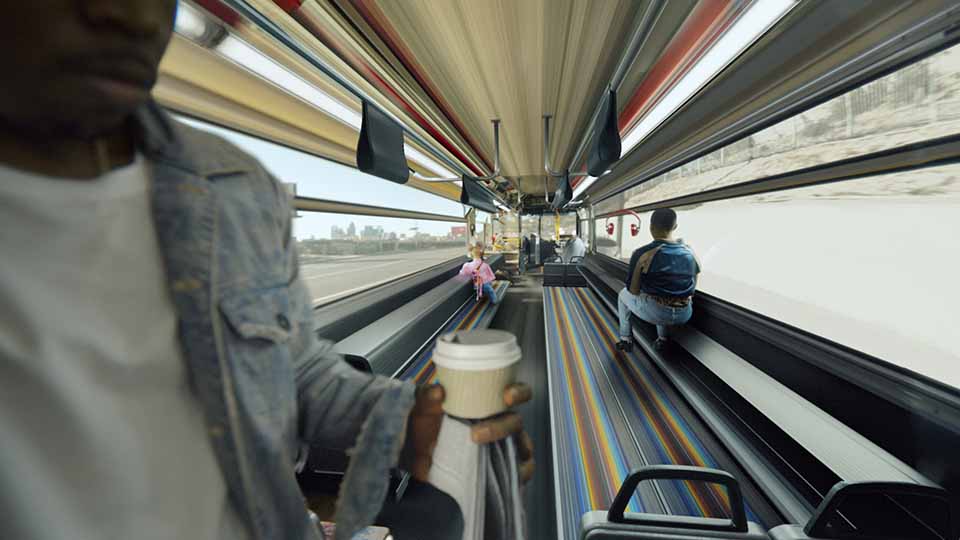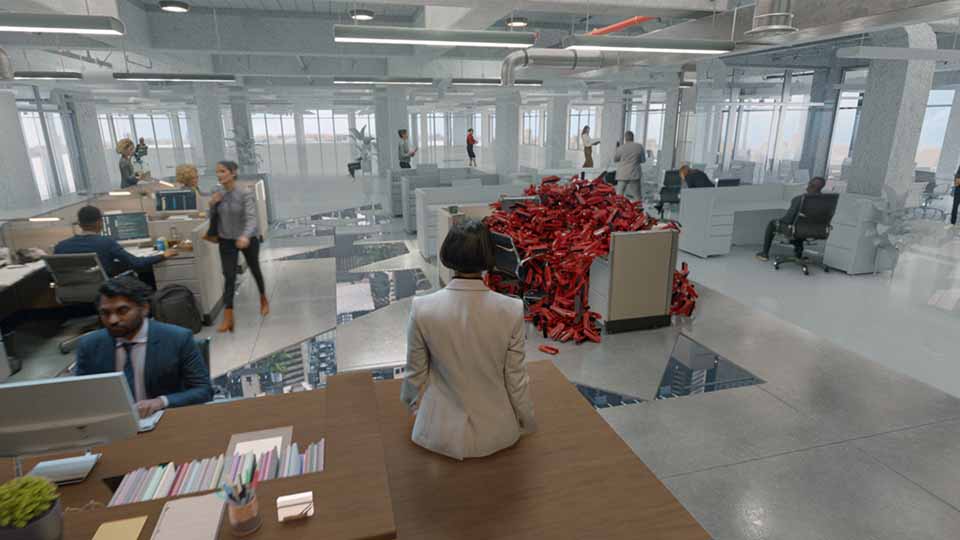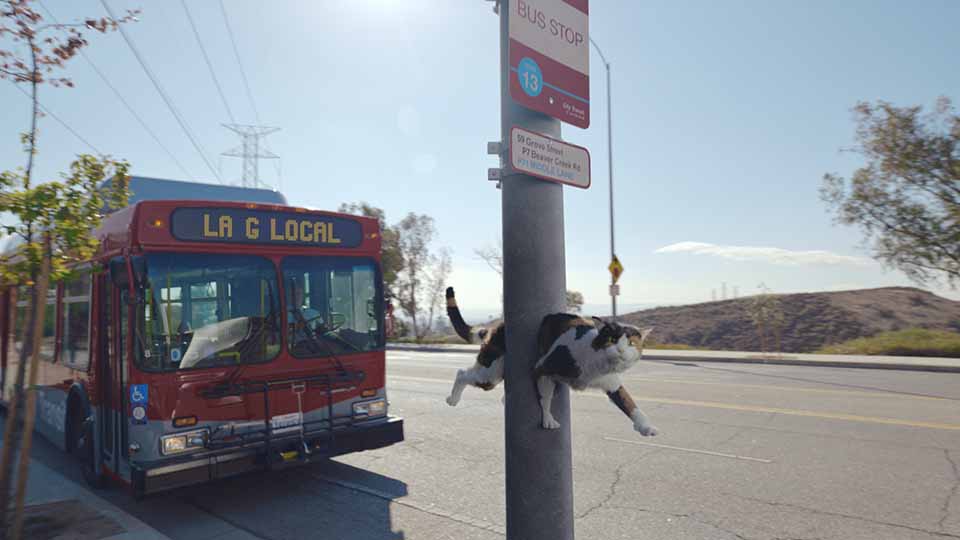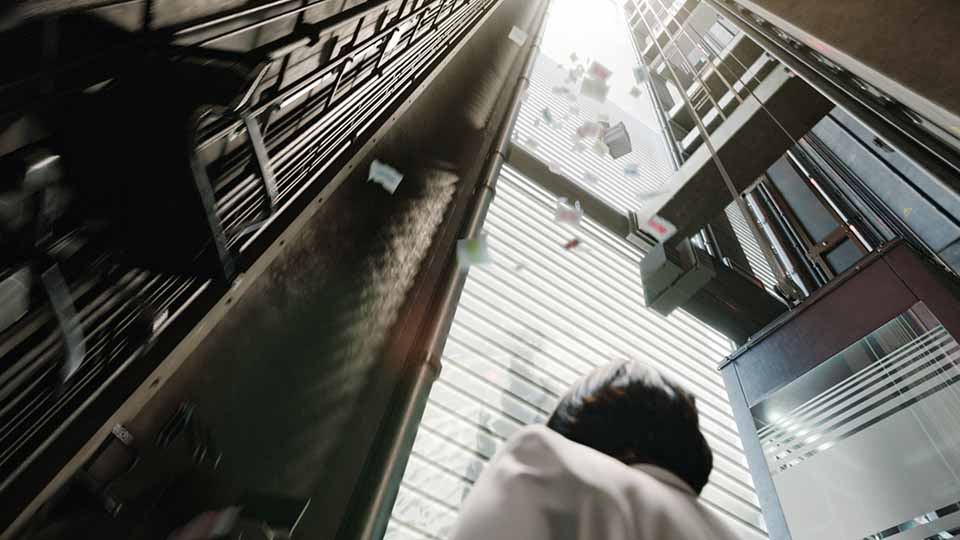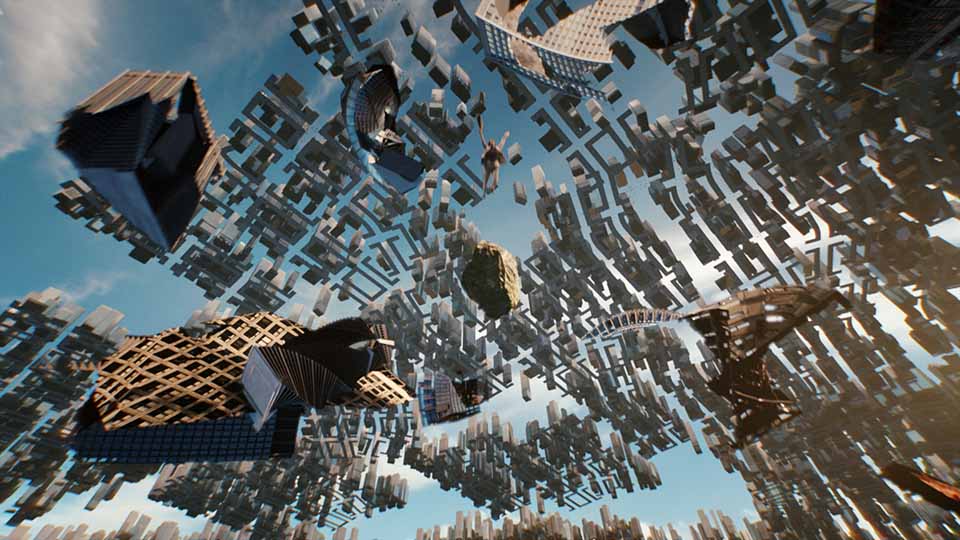 Client: Verizon
Agency: Madwell
Co-founder/CCO: Chris Sojka
Creative Director: Ryan Howard
Copy Director: David Salisbury
Associate Creative Director: Micky Treutlein, Matt Fry, Alex Kaufman
Chief Operating Officer: Sandy Sherman
Senior Producer: Jacquelyn Maloney
Creative Producer: Hilary Krishnan
Production: Independent Media
Director: Doug Liman
Executive Producer/Managing Director: Susanne Preissler
Executive Producer: Liam Ahern
Head of Production: Jeanne Stawiarski
Line Producer: Paul Ure
Director of Photography: Hoyte Van Hoytema
VFX/post: MPC
Creative Director: Alvin Cruz
2D Lead: David Piombino
3D Lead: Chris Bernier
Colorist: Kristopher Smale
Producer: Gwen Frey, Nicole Melius
Managing Director: Angela Lupo
Executive Producer: Matthew Loranger
Production Coordinator: Stephen Dierks
On-Set VFX Supervisor: Alvin Cruz, Brandon Thomas
2D Team: Tim Crean, Chris Green, Esther Song, Renato Carone, Todd Sarsfield, Mazyar Sharifian, Dylan Nett, Kyle Andal, Gerard Andal, Michael Glen, Chris Gereg, Jeen Lee, Dan Giraldo, Mayank Shekar Tiwari, Satya Narina, Dilipan J, George Gijo Peter, Hanuma Hanumath Prasad, Malligeswaran K, Manideep Sanisetty, Shalwin Shaiju, Vipin Tripathi,
Bangalore Compositing Supervisor: Rashabh Ramesh Butani
Bangalore Compositing Lead: Rajesh Kumar Kaushik
3D Team: Chris Wachter, Roberto Maki, Andrew Boccio, Lucy Choi, Jessie Amadio, Jemmy Molero, Ash Yee, Brandon Thomas, Mirelle Underwood, Andrew Ortiz, Jean Choi, Maximilian Mallmann, Bibin Balin, Richard Morton, Arun Ramkrishna Sharma, Kuntal Kanti Bera,
Bangalore 3D Supervisors: Jacob T Oommen, Kunal Sarkar
Bangalore Assets Lead: Bibin Balan P
Bangalore Assets Team: Jyoti Prakash Panda, Sandeep B K, Sandeep Grover, Ullas Thunga k, Gangadhar Durga Molleti
Concept Art: Roger Hom
Lead DMP Artist: Daniel Bayona
Bangalore DMP Lead: Radhakrishnan R
Bangalore DMP Team: Joyett Granfred Fernandes, Sachin Dhapudkar S, Shanmugavel V
Design: Stéphane Rodriguez, Farid Ghanbari, Gianna Yarull Urena
Previs Artist: Simon Halpern
Head of Visualization: Patrick Smith
Production Manager: Kristen Aasen
Previs Producer: Mary Loibl
Visualization Coordinator: Max Read
Color: Kristopher Smale
Color Assist: Taylor Pool
Color Producer: Caitlin Forrest
Color Associate Producer: Phoebe Torsilieri
Color EP: Meghan Lang Bice
Bangalore Line Producer: Chanakya Chander
Bangalore Production Coordinator: Sahil Sunil Wadhwani
Matchmove Lead: Elangovan Ganeshan
Matchmove Team: Ankit Dheraj Toppo, Konduru Achiraju, Rais Pinjari, Shakti Jadhav, Smijumon Viswanathan
Roto & Prep Supervisor: Silambarasan RP
Prep Team: Anand Prakash Singh, Anilkumar Madhavan, Guthikonda Venkateswara Rao, Irshad Abdulla, Jagadeesh Dasari, Putta Mahesh
Roto Team: Abhijith Sekhar, Dibin Dharmendran, Gurram Srinivasulu, Hemanth Munithimma Reddy, Manjunatha Narasimmaiya, Noti Malakondareddy, Saloni Mehta, Selvakumar Somasundaram, Thota Ramaseshu, Vadiraj Kupaneshi, Raghvendra Singh
Edit: Lost Planet
Editor: Saar Klein
Assistant Editor: Danny Conner + Steven San Miguel
Editorial Executive Producer: Krystn Wagenberg
Editorial Producer: Casey Cayko
Sound Design: Machine Head
Sound Designer: Stephen Dewey
Mix: Lime Studios, Santa Monica
Mix Executive Producer: Susie Boyajan
Mix Senior Producer: Kayla Phungglan
Mixer: Jeff Malen + Matt Miller
Mix Assistant: Meg Ochs + Ian Connie
Music: Joe Walsh "A Life of Illusion"