weareseventeen: Feeling Good about Sandwiches
London design and motion house weareseventeen help spread the word about UK charity The Feel Good Bakery who employ disenfranchised youth to make the sandwiches they cater to local businesses with all profits going to feed children in Africa and Romania as well as helping the recent wave of Europe-bound refugees.
Steve Simmonds CD and co-founder at weareseventeen in London: "When we met Andy from Regenerate UK and found out about The Feel Good Bakery and the great work they do, we immediately wanted to use our skills to help get more awareness for the charity.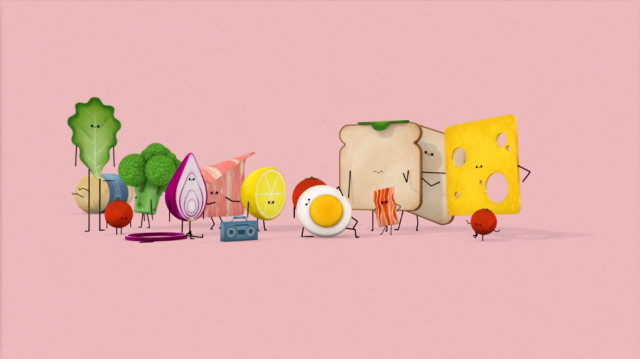 "Instead of setting out to create an overly worthy piece that explains everything about the charity; we decided to create a film which would simply embody the essence of feel good and bring a smile to everyone who watches is – hopefully resulting in more sharing and more awareness.
Client: The Feel Good Bakery
Concept, Design & Direction: weareseventeen
3D Animation: Cesar Pelizer
3D Modeling: Cesar Pelizer
Character Development:Cesar Pelizer, Kajsa Råsten
3D Texture: Kajsa Råsten, Adam Brandon
3D Rigging: Jesper Lindborg
3D Cloth Simulation: Joe (Darren) Maker
Compositing: Cesar Pelizer
Music & Sound Design: Tom Fisher
Big thanks to: Doug at Velocity Partners