Aardman's "Turtle Journey" Underway for Greenpeace
Director Gavin Strange unites the stop-motion and CG animation teams at Aardman for this Greenpeace call to action highlighting the pressures of climate change, plastic pollution, oil drilling, and overfishing on the world's oceans.
The turtle family was built and animated with physical puppets then composited into 3D underwater environments while the characters are voiced by actors Olivia Colman, Dame Helen Mirren, Bella Ramsey, David Harbour, Jim Carter, and comedian Ahir Shah.
Director Gavin Strange in Bristol, UK: "I wanted to tell a personal yet universal story of family, loss and hope to best connect with audiences around the world.
"It was an absolute dream to work with such a talented crew of animators, artists and creators here at Aardman, manipulating clay and pixels to make such a nuanced and delicate piece of animation.
"Brought to life by a stellar cast of world-class voice talent, topped off by a simply sublime score from Arthur Jeffe's Penguin Cafe and with Greenpeace's hard-hitting call to action, I am immensely proud of what we've all made together."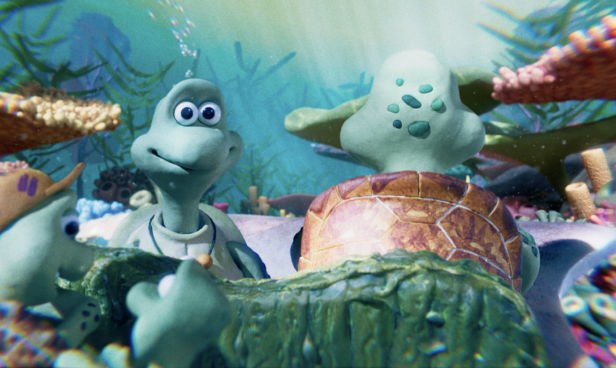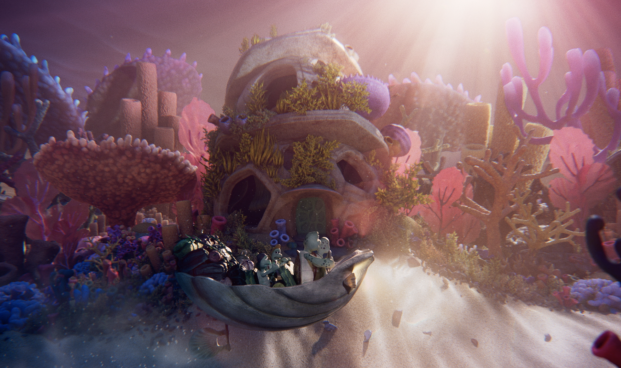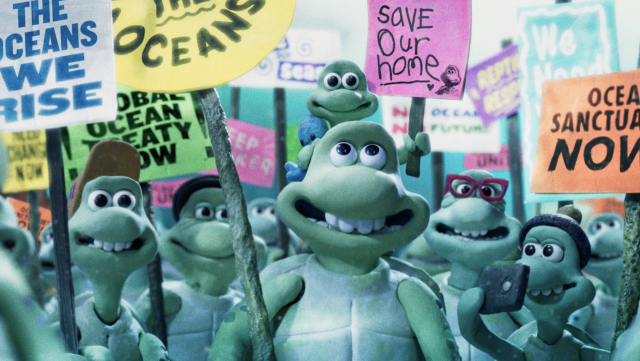 Client: Greenpeace
Production: Aardman
Director: Gavin Strange
Production coordinator: Emily Stone
Writer: Sam Morrison
Storyboard artist: Maya Wilson
Character designer: Sylvia Bull
Environment and background design: Davide Mastrolonardo
Set dresser: Thomas Sewell
Modelmakers: Chris EntwistleTandie LangtonBronwen SalterGeorge Watson
Props: Mangostone Ltd, Helen Javes
DoP: Simon Jacobs
Animators: Alison Evans, Gareth Love Lee Wilton, Inez Woldman
Assistant animator: Louis Mcnamara
Electricians: Damien GrayGuy HolmeNat Sale
Rigger: Sam Holland
Camera assistants: Erica PownallAdam Cook
Sound recordist: Miles Cumpstey
Dopesheet editor: Christopher Stock
Photoshop artist: James Grant
Producer: Sami Goddard
CG supervisor: Rich Spence
CG artists: Martin Blunden, Trine Sorensen Coolidge, Helen Duckworth, Nathan Guttridge, Ben Toogood, Chuen Tsang, Signe Tveitan
CG lighters: Tessa MappLuke Tickner
FX artist: Joseph Thornley-Heard
Additional FX: Owain Peake
Previs artist: Rebecca Rose
CG animators: Marta Arisa Clotet, Eva Bennett, Dom Rayner, Mat Rees
Comp supervisor: Fernando Lechuga
Compositors: Hugh Brazier, Paule Quinton, Spencer Cross, Jim Lewis
Colorist: Bram Ttwheam
Composer: Arthur JeffesPenguin Cafe
Editor: Dan Williamson
Sound design/mix: Matt Loveridge, Will Davies
Voice artists: Jim Carter, Olivia Colman, David Harbour, Giovanna Lancellotti, Calyssa Miller, Helen Mirren, Bella Ramsey, Ahir Shah