Balenciaga Spring '22 Clone Collection by MPC
CD Marcus Dryden and the MPC crew combine deepfake AI/machine learning, a real-time game engine, and hands-on VFX work to clone American artist Eliza Douglas and wrap her in every look from Balenciaga's Spring '22 collection.
Marcus Dryden: "In Pre-production, we were able to plan the whole show. We used a games engine to previsualize which looks could be body doubles vs. which one needed to be the real Eliza. Also, the pre-viz defined the scale of the set for the art department and allowed production to choose the best lens, angles, and positions needed to run the multiple cameras in sync whilst on location.
"During the shoot, MPC on-set supervisors Carsten Keller and Damien Canameras captured photogrammetry of Eliza's face and oversaw a variety of in-situ plates to extract her face and transpose it onto the body doubles shot on the catwalk.
"We also used a CG scan of Eliza's head and on-set photo reference to build a proxy Eliza head to help visualize the face replacements. This allowed our compositing team to study and analyze each shot, each face to define the best process to achieve the highest-quality clone.
"The team then applied the best technique to create the face replacements: Planar tracking, roto animation, Keen Tools (a 3D tracking and modeling tool inside Nuke), and Machine Learning (AI/deep fake).
"Once we began attaching Eliza's faces, we matched light, textures, and motion artifacts using compositing. Using the references and the scan of the head, we made sure each clone's face was as pixel-accurate to Eliza's face as possible while still retaining the nuance of the specific Balenciaga design aesthetic.
"The final film shows all the clones with Eliza's photogrammetry-captured and CG-scanned face as they march down a minimalist runway to a sci-fi-inspired soundtrack composed by BFRND, which includes an AI voice narrating the lyrics of La Vie En Rose."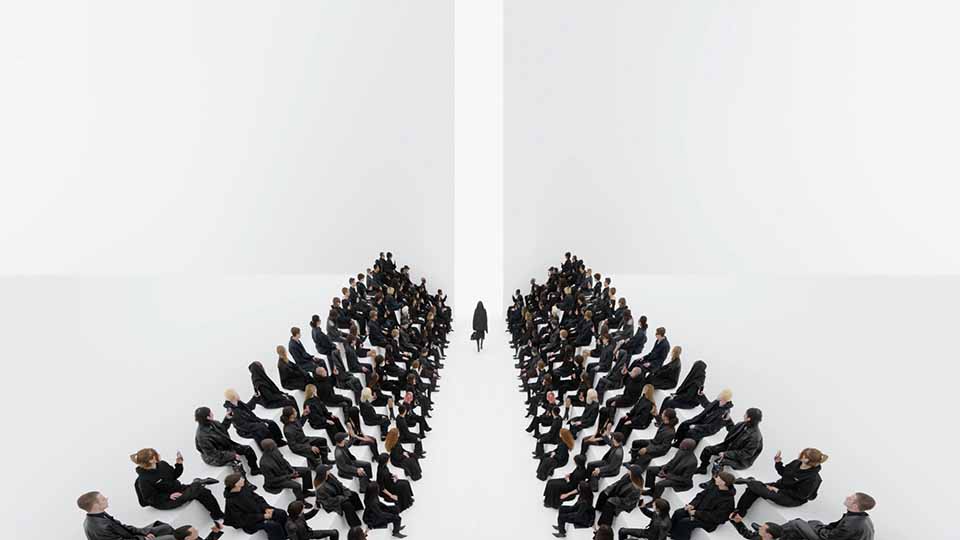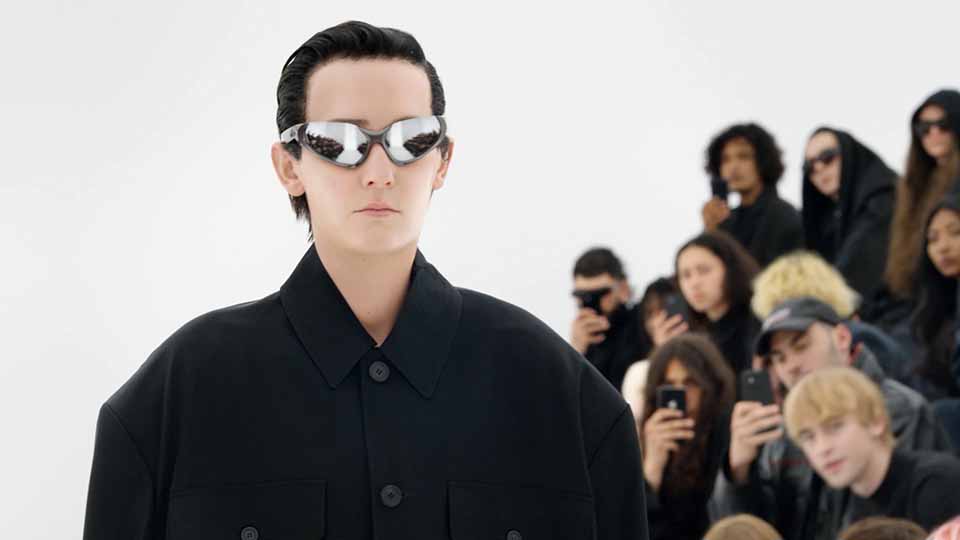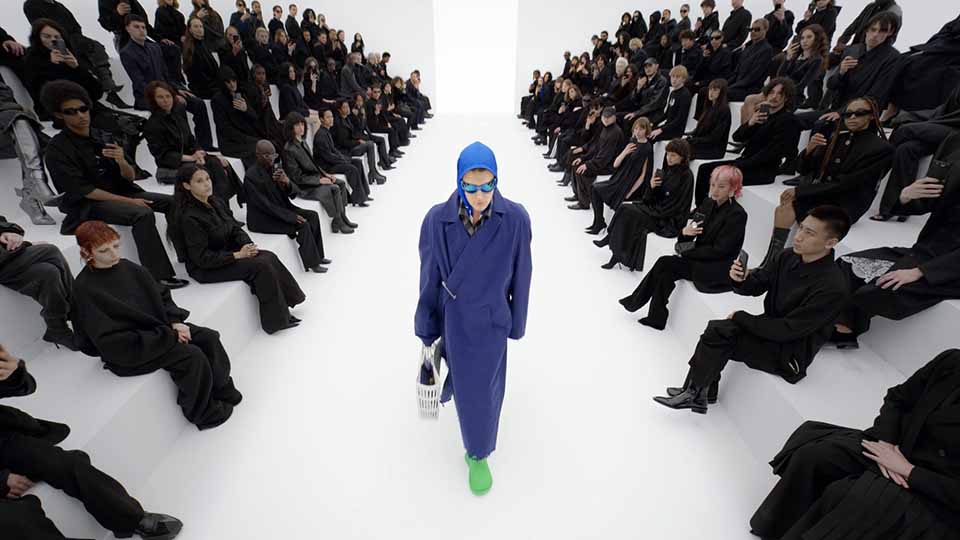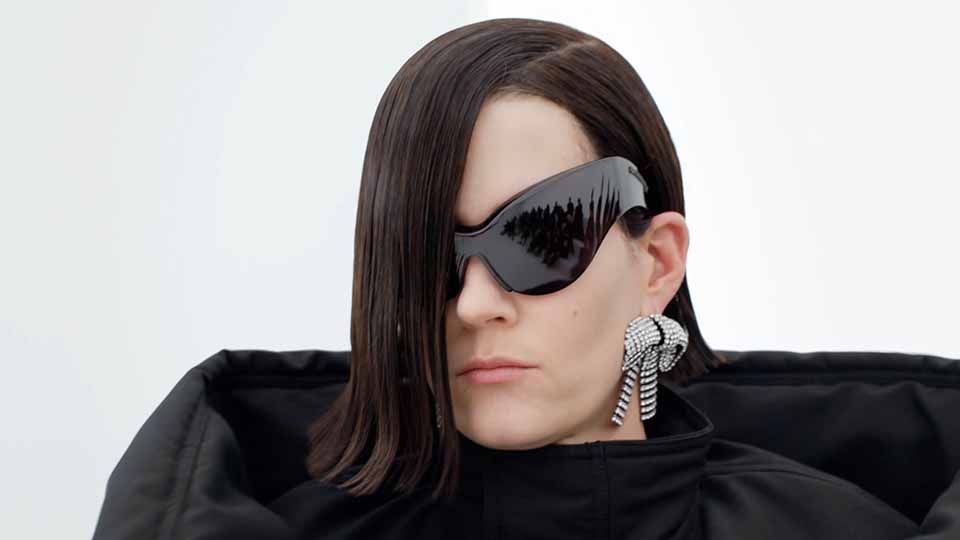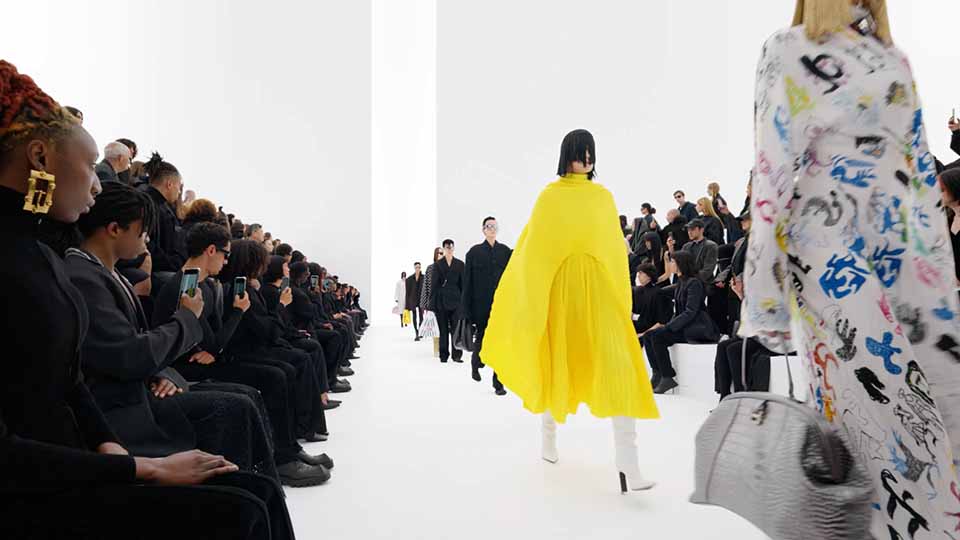 Client: Balenciaga
Creative director: Demna Gvasalia
Director: Quentin Deronzier
DOP: Phillipe Lesourd
Producer: Anna Roudaut @LAPAC
Production: MPC
Creative Director: Marcus Dryden
Flame Lead: Anthony Jarvis
2D Supervisors: David Filipe, Guy Lubin
Shoot Supervisors: Carsten Keller
Executive Producer: James Niklasson
VFX Producer: Jaz Rongokea
Colourist: Matthieu Toullet
For MIKROS
2D & Shoot Supervisor: Damien Canameras
Executive Producer: Fabrice Damolini
VFX Producer: Nicolas Huguet
Soundtrack: BFRND