Exode: The Pain and Hope of Moving On
Tracking the exodus of a desert people forced to abandon their dying habitat, this visual spectacle of scale and light by five students at Supinfocom Arles takes on added weight as it releases to the online world amid the refugee crisis in Europe and the Middle East.
Full-screen viewing highly recommended.
Created using ZBrush, Marvelous Designer, Maya 2014, Mari, Nuke, Adobe Premiere and plugins Golaem Crowd, Qualoth, FumeFx, and Arnold.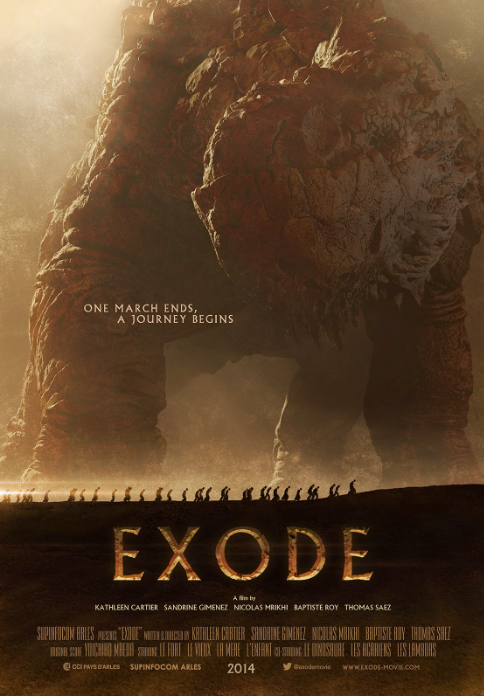 Director/animators: Kathleen Cartier, Sandrine Gimenez, Nicolas Mrikhi, Baptiste Roy, Thomas Saez
Music: Yuichiro Maeda.
Festival Selections:
SIGGRAPH, 2015 – Los Angeles, USA
Animago AWARD, 2014 – Potsdam, Germany
Courts Devant, 2014 – Paris, France
Festival International du Court Métrage, 2014 – Lille, France
ANIMAFEST, 2015 – Zagreb, Croatia
Festival du Cinéma Européen, 2015 – Lille, France
Monstra Festival, 2014 – Lisbon, Portugal
Future Film Festival, 2015 – Bologna, Italia
Cutout Fest, 2014 – Querétaro, Mexico
Festival du Film Court, 2014 – Villeurbanne, France
International Animation Film Festival, 2015 – Tehran, Iran
FILMETS, 2015 – Badalona, Spain
© Supinfocom Arles (MOPA) 2014 – ecole-mopa.fr