Framestore: M&S "Paddington & The Christmas Visitor"
The holiday ad season launches this year with Framestore translating their feature work with Paddington into a snowy and heart-warming 90-second romp for Marks & Spencer called "Paddington and The Christmas Visitor."
Pablo Grillo, animation director at Framestore in London: "It's been wonderful to experience such seamless integration between the Film and Advertising teams, as we shared both pipeline and creative knowledge and techniques essential to maintaining consistency in this very special character across platforms.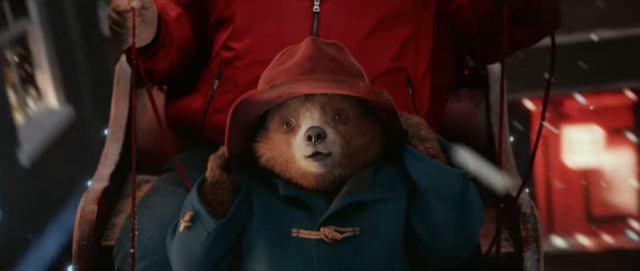 From Framestore: "The VFX team was acutely aware of the weight of responsibility in working with a character so imbued with emotion, tightly tied as he is to childhood memory.
"The Paddington asset – our bear himself – was baton-passed from Film to Advertising at a near-finalised stage. Framestore's Geraint Wright led the team in hand animating the many nuances of his star performance, with input from Film Animation Director Pablo Grillo.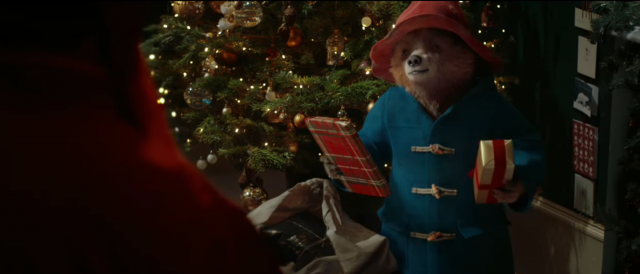 "The film's dramatic turn – and the most technically intricate shot of the piece – in which the foiled 'Father Christmas' embraces Paddington, saw the team perfect a seamless digi-double to matchmove the burglar, in order to painstakingly dramatize the emotional pull of this iconic character.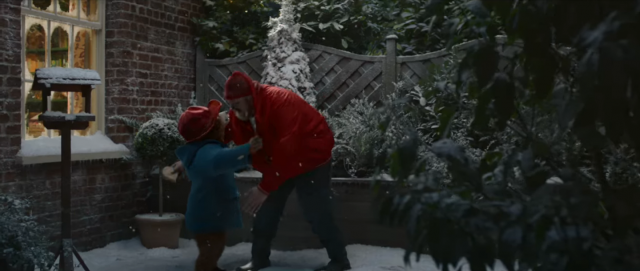 "Framestore's Effects artists were responsible for the many festive CG assets which decorate the ad's shots, and the array of difficult interactions between furry creature and snowy scenes. Down to the types of snow created, and the 'behavior' of each snowflake in such effects, every element of Framestore's VFX contributed to an overarching love for magical narrative.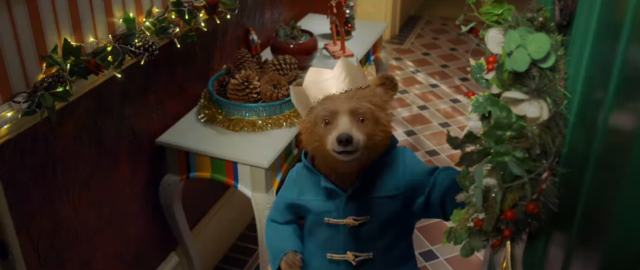 "Significant environment work also fell to Framestore, with many of the film's 45 shots extended; digital matte paintings helping to place the action in a suitably festive location that would best serve the story.
"Of that total too, only two shots remained fully live action, demonstrating the incredible weight of the VFX produced by Framestore's Integrated Advertising artists in only twelve weeks of production."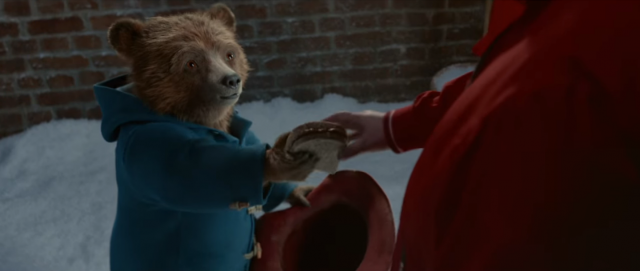 Client
Marks & Spencer
Agency
Grey London
Executive Creative Director
Vicky Maguire
Creative Director
Henrik Ridderheim, Jonathan Marlow
Agency Producer
Thea Evely
Production Company
Rattling Stick
Director
Daniel Kleinman
Producer
Johnnie Frankel
DOP
Ben Smithard
Production Designer
John Ebden
Costume Designer
Verity Hawkes
Casting Director
Greg Kyle
VFX:
Framestore
Creative Director, VFX Supervisor
Ben Cronin
Creative Director
Jordi Bares Dominguez
Executive Producer
Helen Hughes
Senior VFX Producer
Christopher Gray
VFX Coordinator
Alexia Paterson
CG Supervisor
Charles Bayliss
Compositing Supervisor
Leonardo Costa
Modeling
Ismael Rodriguez, Izaak Pardey, Tim Gregson
Texture Artists
Aaron Hunwick, Aaron Smith, Judit Somogyvari, Xuan Prada Gomez
Lead Rigging
Greg Martin
Rigger
Leo Schreiber
Animation Lead
Gez Wright
Animators
Ashley Reemul, Harry Smith, Joseph Henson, Joseph Kane, Steve Townrow
Creature FX TDs
Abdelkader Nouar, Aleksandr Uusmees, Emma Thorpe, Hervé Siorat, Matteo Antona
FX Lead
Rafael Rey Camacho
FX TDs
Deniz Cinar, Luis Fos
Lighting TDs
Andrea Biferi, Henrique Campanha, Emily Yang, Erasmo Torallas, Jorge Sanchez Ramirez, Mathias Cadyck, Robert Stipp, Uzma Curtis, William Alexander, Yifan Hu
Lead Environments
Dave Early
Digital Matte Painters
Gerard Dunleavy, Lee Matthews
Compositors
Samantha Meisels, Heidi Dahle, Jack Fisher, Jacqui Lockley, Kane Herd, Matthew Thomas, Simon Stoney, Christian Baker
Paint and Roto
Jonathan Williams, Reece McFarlane
VFX Editor
Richard Gao
Flame Artists
Paul O'Brien, George Roper
Colorist
Steffan Perry