All Hail Megaforce and MPC for Keeping Burberry "Festive"
Extreme weather event meets precision dance and sartorial finesse in this holiday spot for Burberry by Riff Raff directors Megaforce with icy VFX support from the crew at MPC.
Choreographed by French collective (LA)HORDE and held together by a cover of "Singin' In The Rain" by London hip-hop artist Dreya Mac, the spot "is about that fearless spirit and imagination when pushing boundaries" according to Burberry chief creative officer Riccardo Tisci.
MPC Creative Director Alex Lovejoy: "We always knew the Burberry 'Festive' film was going to be a special project. A key element was building the falling ice blocks, to do this successfully it was essential to capture data on set.
"So we took detailed photogrammetry of the streets [and] set up an element shoot and dropped ice of varying sizes onto the floor to see how it would react on film. That ice provided an accurate reference to re-create in CGI, matching exactly with the live-action."
"It was a huge challenge to make the dancers interact with the ice, we roto-animated every dancer in 3D to provide us with the correct movement and velocity of each move."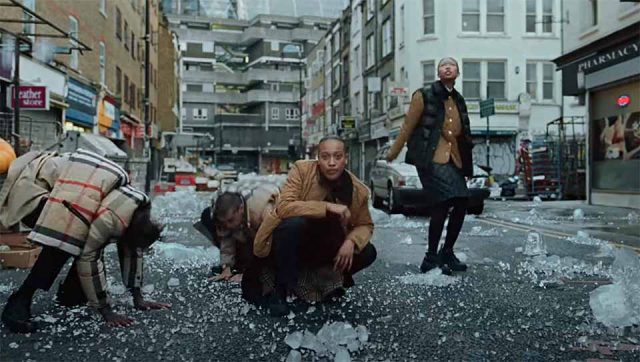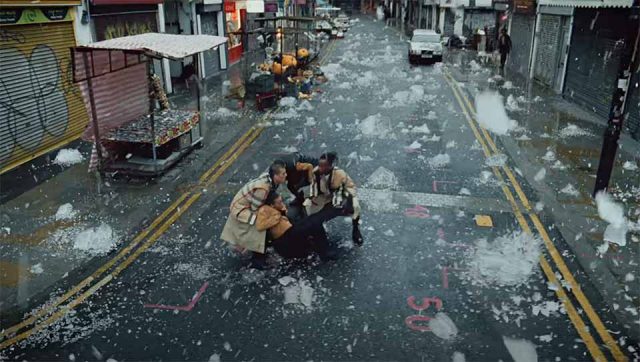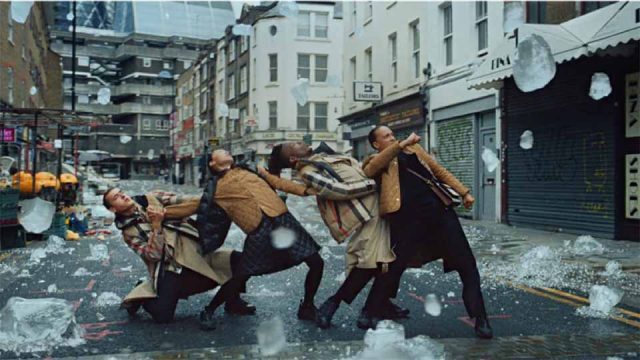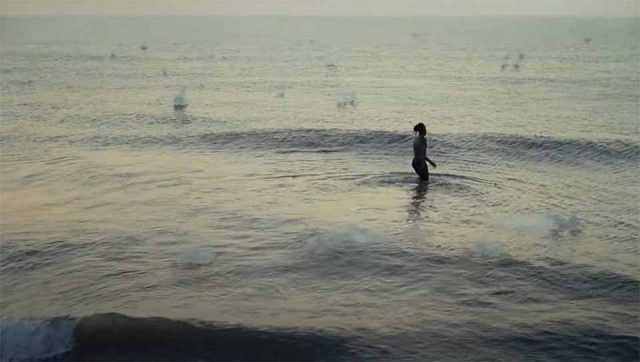 Client: Burberry
Chief Creative Officer: Ricardo Tisci
Chief Marketing Officer: Rod Manley
VP Creative: Rachel Crowther
Art Directors: Al Watts, Sean Bell
Director of Production: Rose Percy
Senior Producer: Asha Joneja
Producer: Cara Gillies
Production Coordinator: Rebecca Haddaway
Post Production Senior Manager: Luke Stazaker
Styling Editor: Susie Miller
Junior Styling Editor: Fran Dyke
Assitant Stylist: Jack Clements
Agency/Production: Riff Raff Films
Director: Megaforce
Executive Producer/Owner: Matthew Fone
Producer: Nick Goldsmith
Production Managers: Hannah Fowles-Pazdro, Georgia Mills
Choreographer (LA): Horde
1st Assistant Director: Ben Gill
DOP: Katelin Arizmendi
Gaffer: Richard Oxley
Stylist: Ib Kamara, Lucy Fewell
Production Designer: Marco Puig
SFX: Paul Mann, Neil Gawthrop
VFX: MPC
VFX Producer: Ryan Hancocks
2D Lead: Alex Lovejoy
3D Lead: Fabian Frank, Rob Richardson
Colorist: Matthieu Toullet
3D Artist: Miquel Corominas, Ronald Anzenberger, Alican Gorgec, Gareth Bell, Hodei Garcia, Stephane Ranaldi, Alessandro Granella, Flavia Minone, Mike Little, Lewis Orton & Radu Ciubotariu
2D Artists: David Filipe, Mithun Alex & Lucie Brant
Music: EMI Music Publish Ltd
Song: "Singin' In The Rain" by Nacio Herb Brown, Arthur Freed
Vocals: Dreya Mac
Produced/Arranged: Lank and Tank, Twenty Below Music
Music Producer: Emily Pritchard, Twenty Below Music
Sound Design: Sam Ashwell 750mph
Dancers: Zhane Samuels, Kevin Bago, Robinson Cassarino, Chantel Foo