Modern Love for Armadillos
In a pivot from their daily output of animated TV spots, director Kirk Kelley and the HouseSpecial crew apply their talents to a new wildlife documentary detailing the complex mating rituals of Dasypus novemcinctus.
A seamless mix of CG and live action, "Armor del Amor" is the latest in a series of fun short films from HouseSpecial.
Back in 2014, shortly after spinning off from LAIKA, the studio released a mini comic-masterwork called "A Tale of Momentum & Inertia" to universal acclaim.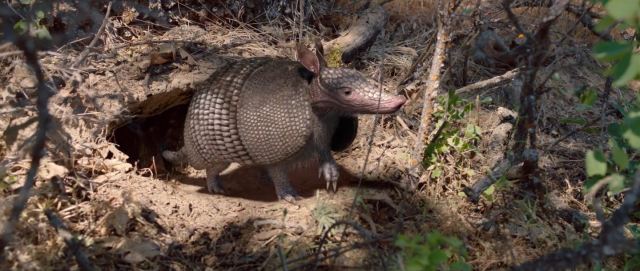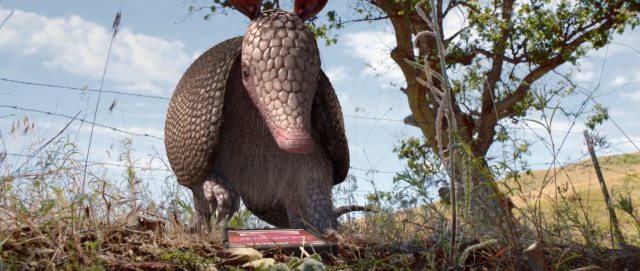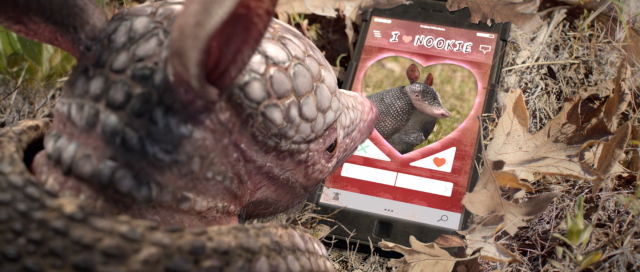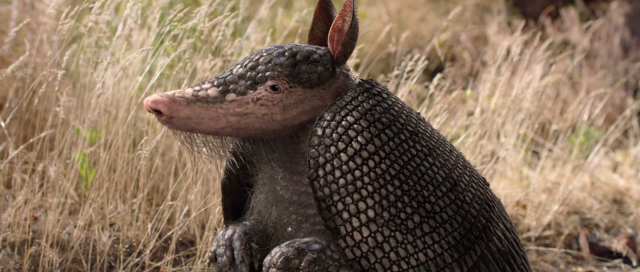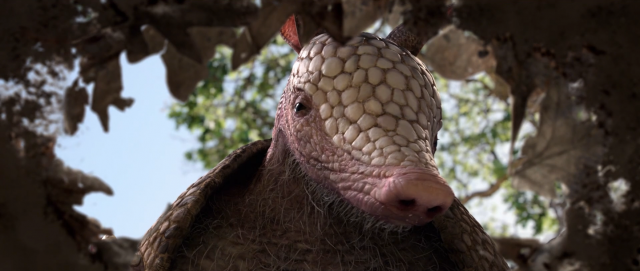 Production: HOUSE SPECIAL
Director: KIRK KELLEY
Executive Producers: LOURRI HAMMACK, KIRK KELLEY, ALVARO CUBILLAS
Producer: KARLY RICHTER
Editor: CAM WILLIAMS
Director of Photography: ERIC EDWARDS
VFX Supervisor: REX CARTER
Art Director: GEE STAUGHTON
Line Producer: ELLIOT FREEMAN
1st Asst Camera: NOEL ADAMS
Grips: CLAY CONNALLY, JAKE HAUSWIRTH
Wind Whisperer: CLAY CONNALLY
Stage DP: JOHN NOLAN
Prop Fabricators: KATIE MELLO, MARGARET MEYER
Set Fabricator: ROBERT MELCHIOR
Art, Stage Dept Manager: ERICA JOHNSON
CG TD, VFX Artist: KARL RICHTER
Animators: BEAVAN BLOCKER, GREG KYLE
Modeling Artists: JOSH TONNESEN, KENDRA PHILLIPS
Texture Artist: NIKIE MONTELEONE
Lighting Artist: MATT RESLIER
Rigging Artist: TERENCE JACOBSON, JOHN LALLY
VFX Artist: WALTER BEHRNES
Compositor: JOHN CORBETT
Texture Artist Intern: TYLER BAY
Lighting Artist Intern: JOHNNY NAM
Title Designer: STEPHEN BODIN
Storyboard Artists: AARON SORENSON, TOM PRICE
Graphics Artist: ALAN COOK
Graphics Intern: OLGA SOKAL
Production Assistants: EMMA VAN HALSEMA, ALEX WEBSTER
Editorial Assistant: DINO COONS
Assistant Editor Intern: RYCHELLE BEDALOV-VALDE
Music Composed & Performed: DAVE DEPPER
Narrator: EDMUND STONE
Sound Design, Mix: LANCE LIMBOCKER
Camera Package: KOERNER CAMERA
Dead Armadillo On The Side Of The Road, Tad Denson
Toolkit:
Compositing and Camera Tracking: Nuke, Flame
HDRI panorama stitching: PTGui
Rendering and lighting: Maya with Arnold
FX and fur: Houdini
Textured with: Mari, Substance Painter
Modeled with: ZBrush, Mudbox & Maya
Photoshop
A Short Stuff Production
©2018 HOUSE SPECIAL, LLC