Monster on a Mission: "Opportunity Roars"
Jerk bosses meet your nemesis, the towering purple-haired monster created by MJZ director Matthijs van Heijningen and The Mill's New York VFX crew thru agency KBS for Monster.com.
From the Mill: "The CGI team built a full muscle system under the monster's fur in order to simulate the weight in his body whilst moving. This heightened the level of realism in the character's movements and interactions.
"The team meticulously crafted each wrinkle, pore and hair, which were carefully simulated to interact with his surroundings, from lighting to wind changes.
"The spot features several fully CGI environments, including streets, alleyways and office spaces, which are seamlessly integrated with live action shots captured in Toronto and augmented to mirror the streets of New York with matte paintings and digital assets."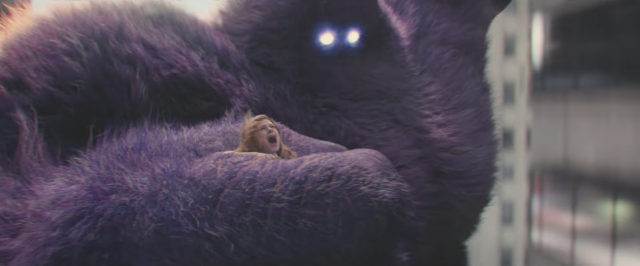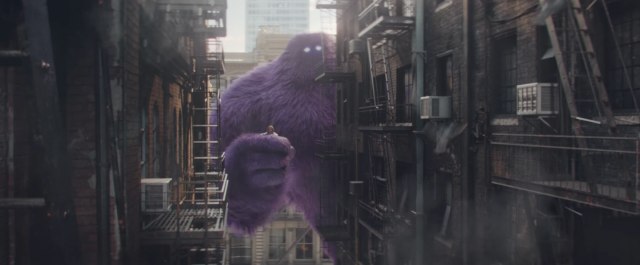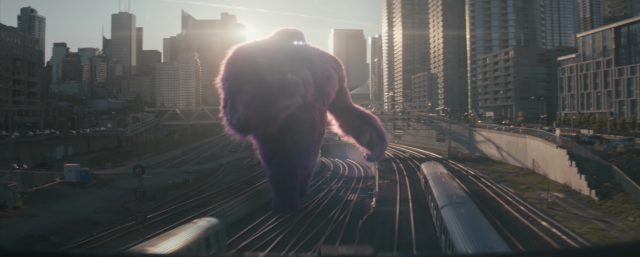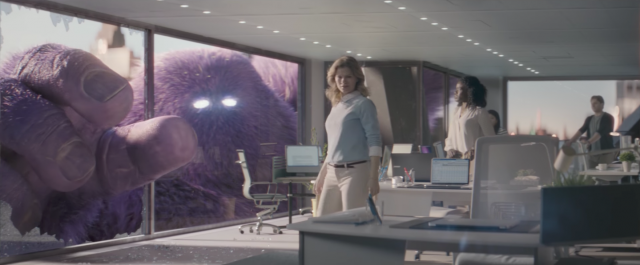 Client: Monster.com
Agency: KBS
Global Chief Creative Officer: Patrick Scissons
Executive Creative Director: Michele Kunken
Creative Director / Copywriter: Mike Abell
Creative Director / Art Director: Kevin Gentile
Executive Producer: Karen McKibben
Assistant Producer: Isabelle Vrod
Production Company: MJZ
Director: Matthijs van Heijningen
Executive Producer: Eriks Krumins
Producer: Donald Taylor
VFX & Design: The Mill
Executive Producer: Melanie Wickham
Senior Producers: Clairellen Wallin, Anastasia von Rahl
Production Coordinators: Zack Franciose, Jalisa House
Shoot Supervisor: Ruben Vandebroek
2D Lead Artist / Shoot Supervisor: Kyle Cody
3D Lead Artists: Ruben Vandebroek, Kevin Ives
2D Artists: Kshitij Khanna, Molly Intersimone, Dae Yoon Kang, Yoon-sun Bae, Rachel Moon, Dhruv Shankar, Taner Besen, Rob Meade, Sung Eun Moon
3D Artists: Adam Dewhirst, Todd Akita, Nick Couret, Jackie Liao, John Wilson, Emily Meger, Jeff Lopez, Seon Crawford, Arman Matin, Ren Hsien-Hsu, Lauren Shields, Tyler Heckman, Sewang Kim, Jonathan McCoy, Incheol Jeong, Justin Hammond, Anna Cardillo, Jimmy Gass, Constance Bensen, Hannah Lee, Krystal Sae Eua, Jeffrey Lee, Blake Guest, Tom Graham, Juan Zavala, Nole Murphy, Ziming Liu, Sivasubramanian, Vitaal Kuntla, Leela Shanker, Sendil Kumar J, Karthik Viswanathan, Murali Krishna Reddy, Muthyala Krishnaiah, Gokul Navaneethan, Sathyaraj A, Karthick Karuppaswamy, Sandeep Patil, Mehrose, Jai KIshan, Tarun Kumar, Chaitali Shah, Nijesh, Giri Prasath S
Matte Painting: Cedric Menard, Charles Lee