Nike Badge of Honor "Football"
It's Zombies versus the Fire Wolves for the Underworld Cup in this frenetic animated adrenaline rush from Le Cube thru Passion Pictures Australia and Wieden+Kennedy Shanghai for Nike's line of kid's bandages.
Le Cube director Mariano Russo: "When I was a kid, I was obsessed with Sarah Michelle Gellar and zombies. I grew up and ended my relationship with Sarah, but not with the undead. I couldn't explain why. I just loved all things zombie.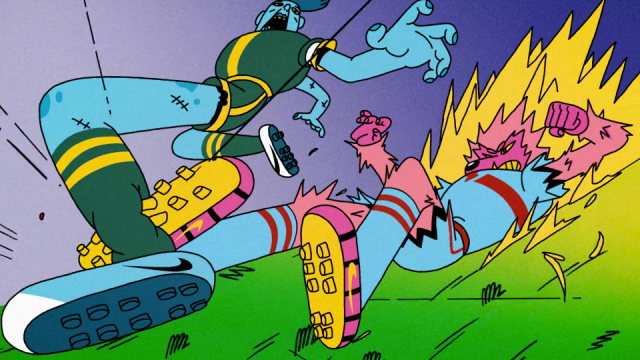 "The biggest challenge was telling the story in under 60 seconds. We had to work the storyboard carefully and make several cuts to achieve the right balance between what we needed to show and what we wanted to show.
"I knew we had two possible ways of telling this story: as a dense social drama or as an adrenaline packed turbo flight. Daniel Day-Lewis wasn't available to voice the Fire Wolf captain, so we went with the second option."

Watch the animatic:
Client: Nike
Agency: Wieden+Kennedy Shanghai
Production Company: Passion Pictures
Executive Producer: Katie Mackin
Producer: Fiona Fry
Animation Studio: Le Cube
Creative Director: Ralph Karam
Director: Mariano Fernandez Russo
Executive Producers: Juan Manuel Freire, Gustavo Karam
Animation Director: Daniel Duche
Line Producer: Juliana Millán
Original Artwork: Wassim Boutaleb J.
Art: Matheus Muniz, Juan Barabani, Delfina Perez Adán