Get Ready for Pictoplasma Berlin 2018
On May 2, the Pictoplasma Festival returns to Berlin to celebrate the art and craft of character design – an electric and eclectic gathering of over 700 artists, illustrators, filmmakers, plus game, graphic, and product designers.
"Creators and producers gather for the central conference to hear 20 speakers and exchange strategies for figurative aesthetics, while the festival invites the public to immerse themselves in new trends and worlds.
Cutting-edge screenings bring the freshest animation to the big screen, a string of exhibitions throughout the city present outstanding works, while performances confront characters with audiences face to face."
Get your tickets and more info here.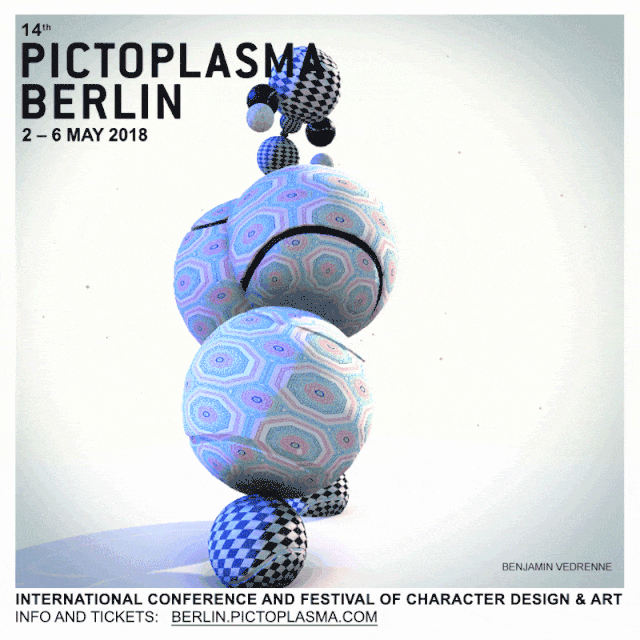 2018 Speakers:
Alberto Vázquez (SP)
albertovazquez.net
Alex Norris (UK)
webcomicname.com
Benjamin Vedrenne (FR)
glkitty.com
Cachetejack (SP)
cachetejack.com
Charlotte Mei (UK)
charlottemei.com
Danette Beatty (US)
danettebeatty.com
Darren Dubicki/Aardman (UK)
aardman.com
Edel Rodriguez (US)
edelr.com
Encyclopedia Pictura (USA)
encyclopediapictura.com
James Curran (UK)
slimjimstudios.com
Kévin Gemin (FR)
k-eke.tumblr.com
Ged Sia (LT)
gedsia.com
Jim Stoten (UK)
jim-stoten.com
Marika Makaroff (FIN)
gutsy.fi
Réka Bucsi (HU)
rekabucsi.tumblr.com
Smithe (MX)
smitheone.tumblr.com
Sophia Jansson (FIN)
moomin.com
Tartaruga Feliz (BR)
tartarugafeliz.com
Victor Castillo (CL)
victor-castillo.com
Alex Jenkins/Nexus Interactive Arts (UK)
nexusinteractivearts.com