Smith & Foulkes: Slack "Animals!"
Following on the heels of Giant Ant's fabulous 1930's animation update, Slack pivots 180 degrees in tone and technique for this frenetic :60, opting for a cast of collaborative CG animals from the masters of such things, Nexus directors Smith & Foulkes, thru TBWA \ CHIAT \ DAY.
Smith & Foulkes: "Our intention for "Animals!" was to create something serious but surreal. We treated it almost as a documentary, allowing the oddness of the animal cast to deliver the innate humor.
"We wanted to make sure that each of the character profiles were as human as possible so that an audience could recognize each role within a collaborative team. It was refreshing and liberating to work with the Slack client on such an original and exciting project.
The blooper reel: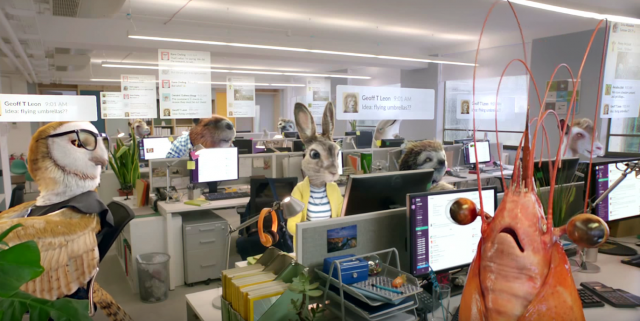 Shot on location in an East London office, Smith & Foulkes used human stand-ins of similar size and proportions to each animal to map their movements and mannerisms. The intention was to capture as many different realistic human office interactions as possible which could then be transposed into the animal kingdom.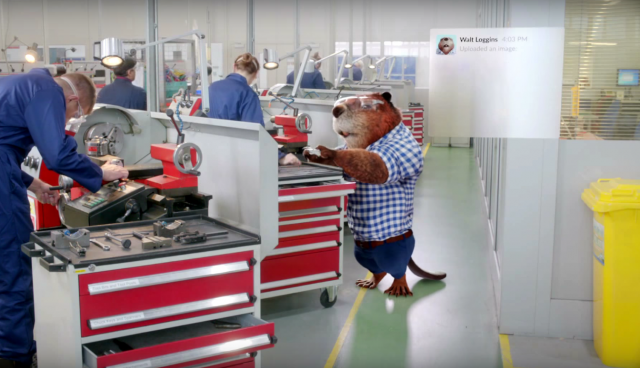 Smith & Foulkes collaborated with TBWA \ CHIAT \ DAY and the client to write the script, inspired by Slack's tag line "Unimaginable Teams". They were able to develop the client's vision by working closely with them on the project over a period of six months. The story follows the creative process of a team of CGI animals as they collaborate to produce a sensational new flying umbrella.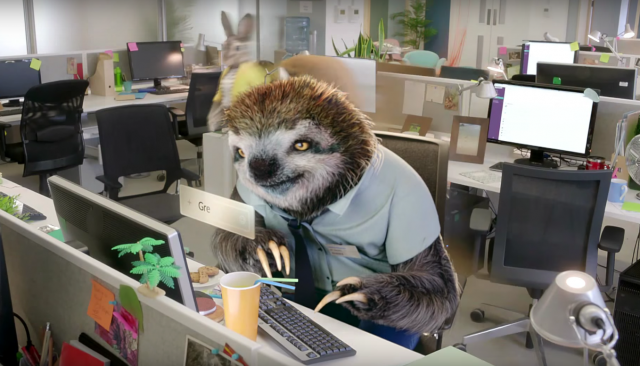 The realistic visual aesthetic of each animal character required a particular emphasis on cloth simulation as well as hair, fur and feathers. Smith & Foulkes used Hairfarm software to generate realistic textures for each animal. These CGI creations were then given distinctive human characteristics which defined their roles within the office.
The finished spot:
Client: Slack
Agency: TBWA \ CHIAT \ DAY
Chief Creative Officer: Stephen Butler
Creative Directors: Liz Levy & Jason Locey
Executive Producer: Sarah Patterson
President, TBWA Global: James Vincent
Production Company: Nexus
Director: Smith & Foulkes
ECD: Chris O'Reilly
Producer: Tracey Cooper
Production Manager: Fernanda Garcia Lopez
Live Action Production Manager: Elizabeth Trustrum
CG Supervisor: Florian Caspar
Live Action CG Supervisor: Ben Cowell-Thomas
Director of Photography: Simon Richards
Character Design: Victor Georgiev & Max Kostenko
Modeling: Denis Bodart, Sunil Kumar, Justi Romero, Carl Kenyon
Texturing: Sebastien Oliveira de Bispo, Julien Romeo, Arkin Esref
Rigging & Pipeline Technical Director: Pete Addington
Rigging: Mark Tsang, Gaetan Borde, Pauline Le Bris
Animation: Stuart Doig, Sabrina Lecordier, Eduardo Castells Mateo, Christian Johnson, Benoit Moranne, Dominic Griffiths, Edward Sherwood, Benjamin Tron
Matte Painting: Adam Leary
Tracking: Peanut FX
VFX: Hugh Johnson, Camille Fourniols, Corentin Charron, Denis Bodart, David Penfound, Eaton Crous, Liviu Berechet, Jayson King
Lighting & Rendering: Patrick Macdonald, Carl Kenyon, Wesley Roblett, Sebastien Oliveira de Bispo
Motion Graphics: Rob Ward & Alex Dobbin
Compositing: Rafal Kaniewski, Bence Varga, Sandro De Barros Henriques, Stanislav Kolev, Elliott Kajdan, Arnaud Dumeyni
Editor: Paul Hardcastle @Trim, David Slade @Nexus
Grade: Jack McGinity @Time Based Arts
Sound Design Producer: Lou Allen @Factory
Sound Design: Anthony Moore & Tom Joyce @Factory
Music Composer: Alex Baranowski C/O Siren
Executive Music Producer: Sean Atherton @Siren
Voice Over Artist: Scott Schiller