BBC #LetsGoThere Tokyo Olympics Spot by Factory Fifteen, Nexus, and The Mill
BBC Olympics promo spots are always a grand visual treat and this 60-second VFX extravaganza by Nexus directors Factory Fifteen is no different as it sweeps viewers into an obsessively detailed, sports-infused Tokyo.
Nexus: "The spot reimagines Tokyo with Olympic athletes and events embedded into its fabric and culture. Street signs, shops, arcades, gashapon parlors, and homes are all authentically augmented with sports, and their stars thrust center-stage.
"Shot to feel like a single continuous camera move, each frame in the one-minute sequence is flooded with an array of original artwork designed by Nexus director and contemporary artist, Fantasista Utamaro. Repeat viewing is rewarded with over 50 carefully planted easter egg moments."
Factory Fifteen (directors Kibwe Tavares, Jonathan Gales, and Paul Nichols): "Collaborating with the BBC to reimagine Tokyo for the 2020 Olympic Games has been a dream project. We love bringing places to life with a heightened sense of reality and fantasy, often using the environment as a character.
"It was amazing to re-interpret evocative Japanese scenes with the world's biggest sports and athletes woven into the city through authentic design and storytelling."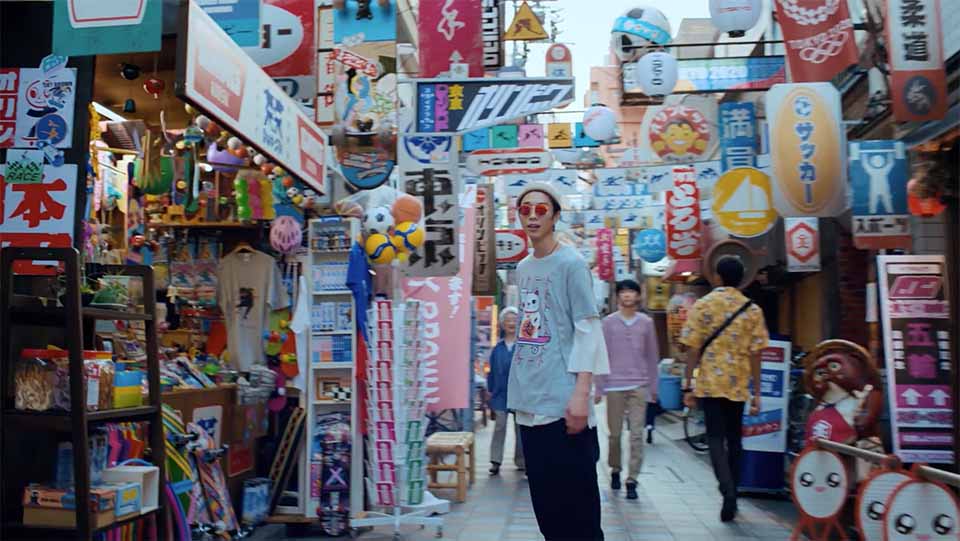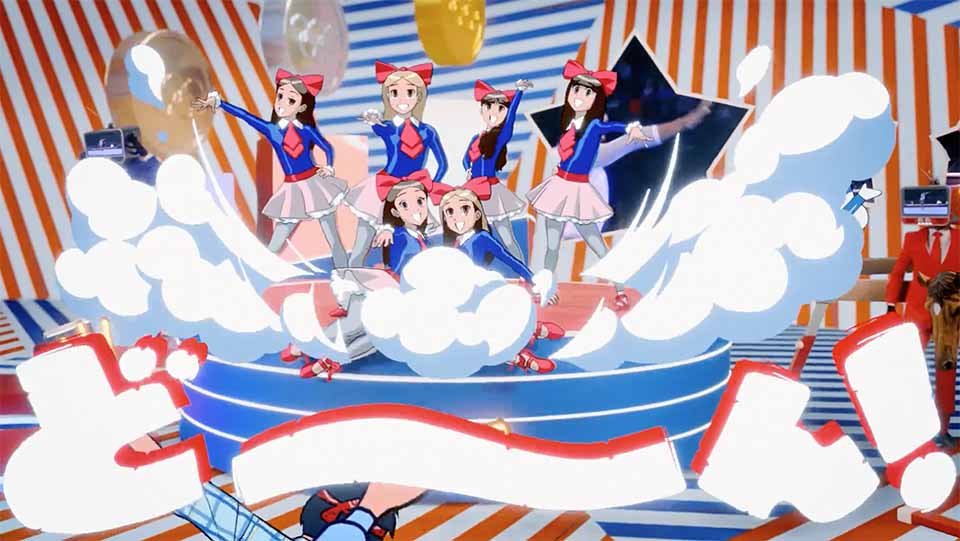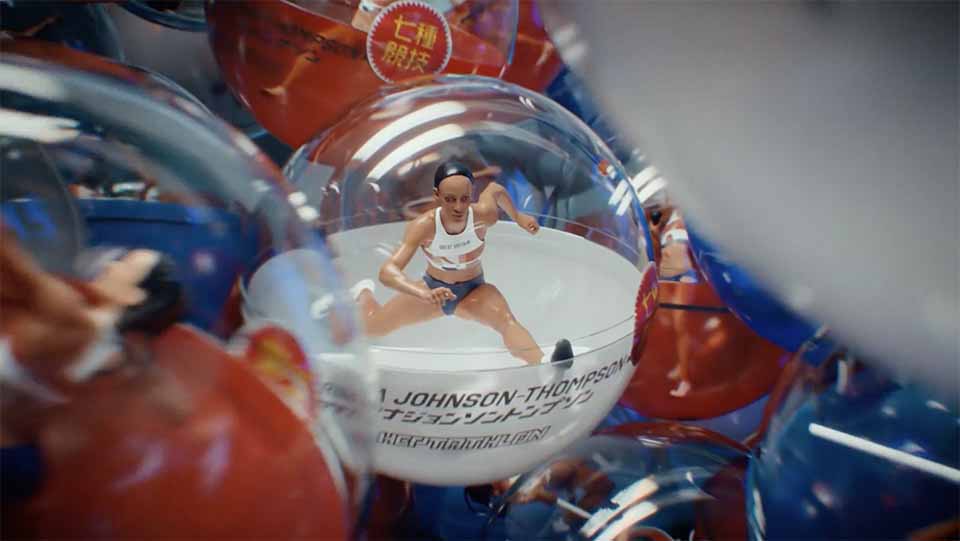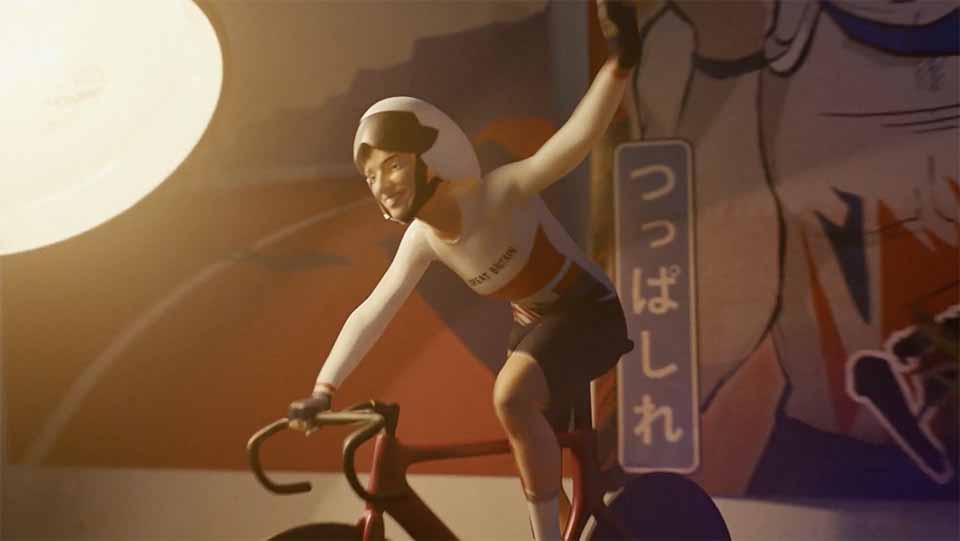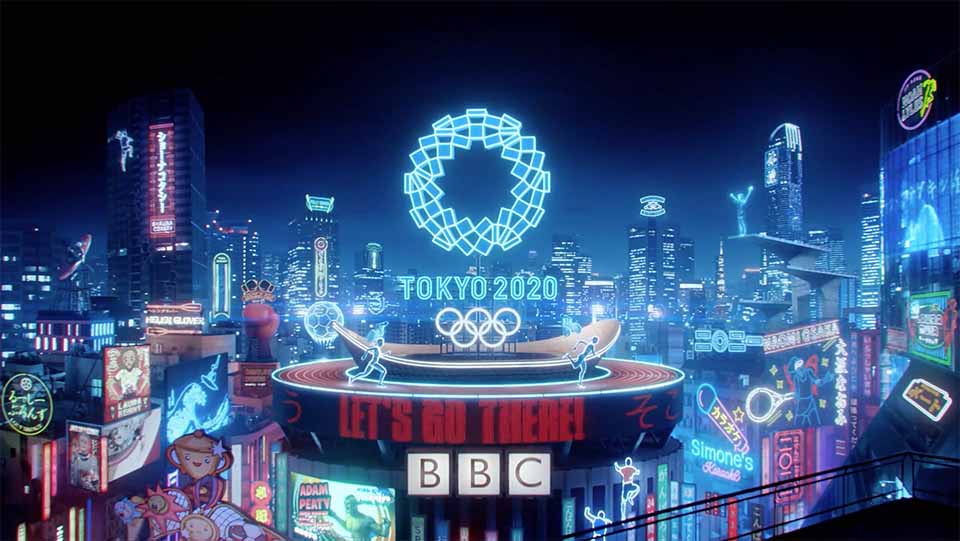 Client: BBC
ECD: Helen Rhodes
Head of Planning: Mike Lean
Head of Production: James Wood
Creative Director: James Cross, Tim Jones
Creative: Rachel Miles, Michael Yik Xing Tsim
Producer: Sarah Bradbury
Junior Production Manager: Jess Fenton
Audio: Kate Dinsdale
Pictures: Sam Ratcliffe
Project Manager: Matt Totterdell
Production: Nexus
Director: Factory Fifteen (Kibwe Tavares, Jonathan Gales, Paul Nicholls)
Creative Director: Fantasista Utamaro
Executive Producers: Mike Bell, Judy Hill
Senior Producer: Isobel Conroy
Shoot Producer: Alan Traquair
Shoot PM: Janine Carter
DP London: Tony Miller
Production Designer London: Sean Hogan
DP Tokyo: Christopher Nicholls
Tokyo Line Producer: Gaku Narita @ Indochina Productions
J-Pop Sequence:
Studio 2D Lead: Dylan White
2D Animators (J-Pop): Sylvain Magne, Sim Marriott, Chiara Sgatti
2D Clean Up: Duane Uba
3D Generalist: Nico Domerego
Additional 2D: Gareth Tredrea, Bethany Levy
Editor: David Slade
VFX: The Mill
Creative Director: Mike Chapman
VFX Supervisor: Fergal Hendrick
Executive Producer: Gemma Humphries
Producers: Elle Lockhart, Kirsty Ratcliffe, TarunMisra, Prithvi Poojari, Sourabh Dharampurikar, Vinay Puranik
Shoot Supervisor: Fergal Hendrick, Ben Blundell
2D Lead Artist: Fergal Hendrick
3D Lead Artist: Ben Blundell
2D Artists: Declan Andrews, Oscar Tornincasa, Rafael Vormittag, Laique Quraishi, Mohit Garg, Dilipan J
Adam Maynard, Richard Payne, Prajeesh E, Anuj Bhandari, Nikhil K M, AVV Suresh
3D Artists: Wesley Roblett, James Hansell, Paul Autric, Joao Pires, Thomas Craig, Vicky McIntyre, Andreas Graichen, Hannah Bahyan, Kate Gabrielova, Rachel Ward Katie Bates, Amit Das, Anil Sarki
Samarendra Lenka
Finish Artist: Holly McLean Jeanette Eiternes
Matte Painting: Tomáš Müller
Designers: David Neale
Motion Graphics: Freya Barnsley
Colorist: Alex Gregory
Color Producer: Elle Lockhart
Composer: Kenji Kawai
Sound: Mark Hills @ Factory