March for Our Lives "The Most Vicious Cycle"
In this music video for March for Our Lives, The Mill/Mill+ crews and McCann New York donate their creative and production talents and join forces with students from Marjory Stoneman Douglas to push for sensible gun laws in the US.
From The Mill: "The film depicts a school shooting and the events that follow. Each event is metaphorically depicted in a Rube Goldberg machine and includes protests, thoughts and prayers social media posts, public debate, and a media circus. We also see representations of those responsible for the never-ending cycle.
"The music in this film is the debut single 'Safe' from artist Sage. Sage wrote the song the day after the tragic mass shooting in a high school in Parkland, Florida.
"He played the first version of the song for his older sister, the music artist Kesha, who instantly felt the power of the track and wanted to help the cause by lending her voice to the song and movement. Chika, an independent female rapper known for her vicious flow and fearless lyrics, contributed verses to finish the song.
"The song is being released in partnership with March For Our Lives, a non-profit organization aimed at ending senseless gun violence, founded by a group of students from Marjory Stoneman Douglas High school in Parkland, FL.
"Together these students and artists are asking Americans to take to the polls this fall to vote for candidates who support common sense gun laws."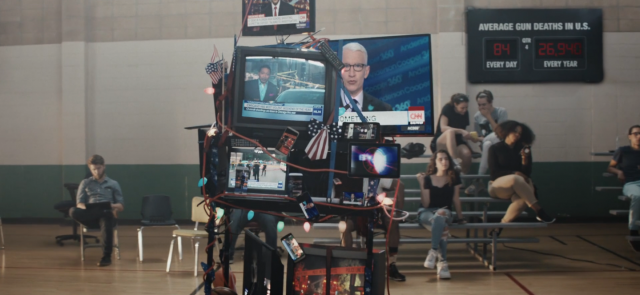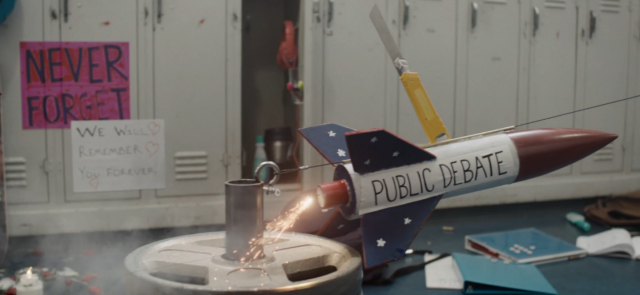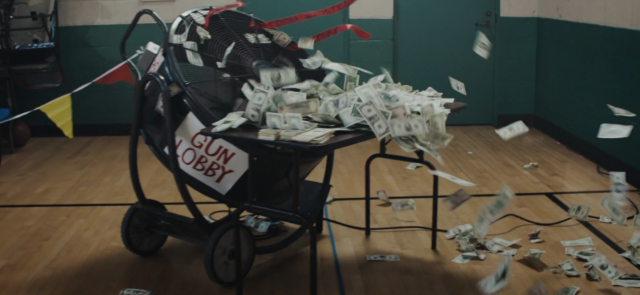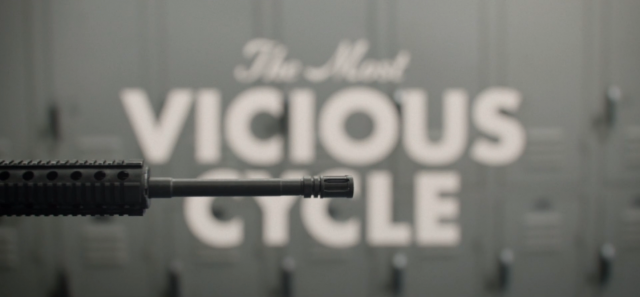 Client: March for Our Lives
Agency: McCann New York
Chief Creative Officer: Joyce King Thomas
Creatives: Andre DeCastro, Nick Larson
Chief Production Officer: Nathy Aviram
Producer: Gabrielle Levy
Production: Mill+
Director: Ben Smith
Executive Producer: Christina Thompson
Producer: Grace Tober
Head of Content, US: Ian Bearce
Content Producer: Tia Perkins
Production Supervisor: Danika Casas
Production Coordinator: Andrew Hollingworth
Shoot Supervisor: Kyle Cody
Director of Photography: Elisha Christian
Steadicam Operator: Grant Culwell
Gaffer: Alex Gaynor
Key Grip: Eddie Apodaca
Production Designer: Ron Beach
Prop Master: Mark White
FX Lead: Ron Matthews
VFX: The Mill
Executive Producer: Christina Thompson
Producer: Grace Tober
Line Producer: Roshni Kakad
Production Coordinator: Umesh Chand
VFX Creative
VFX Creative: The Mill
Chief Creative Officer: Angus Kneale
Creative Director: Ben Smith
Shoot Supervisor: Kyle Cody
2D Lead Artists: Kyle Cody, Venuprasath D
3D Lead Artist: Christian Nielsen
2D Artists: Molly Intersimone, Kieran Hanrahan, Rachel Moon, Heather Kennedy, Taner Besen, Lucia Hill Baroso, Badarinath Chinimilli, Prasanna Bhatt, Rajeshkumar K
3D Artist: Ruben Vandebroek, Tim Kim, Ryan Federman, Todd Akita, Tighe Rzankowski, Dave Barosin, Weichieh Yu, John Wilson, Sam Crees, Johnathan McCoy, Sudakshina Sridharan, Vittal Kuntla, Fazal Khan, Giri Prasath S, Raj Kumar M, Sunil MM, Sendil Kumar J
Finish Artists: Jeff Robins, Drew Maloney, Jamie Scott, Kevan Lee
Animation: Scott McGinley, Alex Allain, John Wilson, Sam Crees
Design: Clemens den Exter, Kyle Leicht, Laura Nash, Wendy Eduarte
Asset Supervisor: Anish Mohan
Tracking Supervisor: Senthil Murugan Balasundaram
Editorial: The Mill
Editor: Ryan McKenna
Edit Assist: Matthew Campbell
Color: The Mill
Colorist: Mikey Rossiter
Senior Producer, Colour: Rochelle Brown
Color Producer: Evan Bauer
Production Coordinator, Colour: Blake Rice
Colour Assists: Nate Seymour, Elias Nousiopoulos, Andrew Ceen