"Sky: Children of the Light" Nintendo Switch Launch Promo by Evan Viera and Illusorium
In a welcome break from the snark and one-note violence of many game films, LA director Evan Viera and the crew at Illusorium Studios in Madrid deliver a tranquil and panoramic teaser for the Switch release of Sky: Children of Light.
Evan Viera: "Last winter, thatgamecompany reached out about directing and producing a short film for their widely successful open-world social adventure game Sky: Children of Light.
"They were months away from launching a Nintendo Switch version and wanted to accompany the release with a promotional video that hinted at the game's mysterious backstory.
"The goal was the introduce a side of the game most players don't see: the civilization that lived hundreds of years before the start of the game.
"This was meant to be both a gift to the lore-obsessed fans but also to share some of the deep mythology and world-building that the game world is built on and rarely gets much exposition.
"Once the project was awarded I brought onboard my longtime writing partners Charley Pope and Liz Ellis to explore the game's backstory and then my friends at Illusorium Studio to produce the teaser. The Illusorium team was responsible for the entire production and visual development of the project."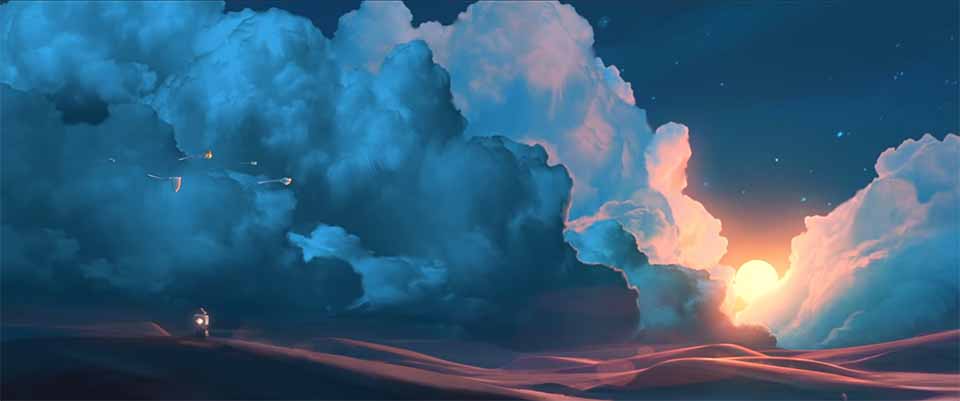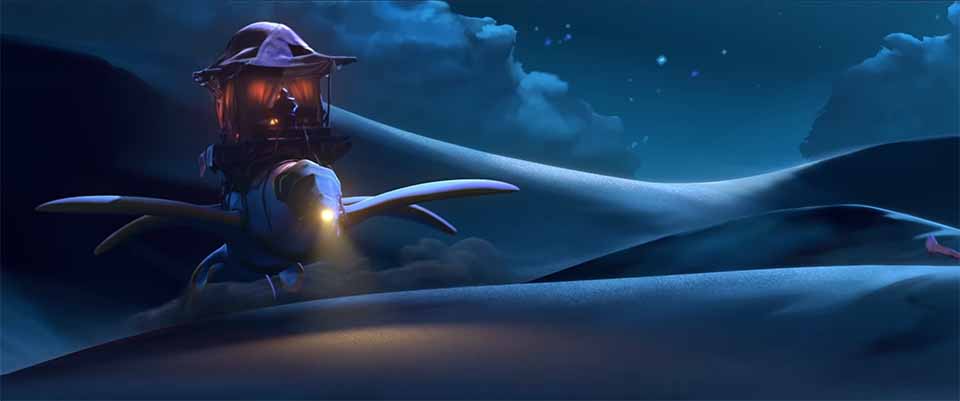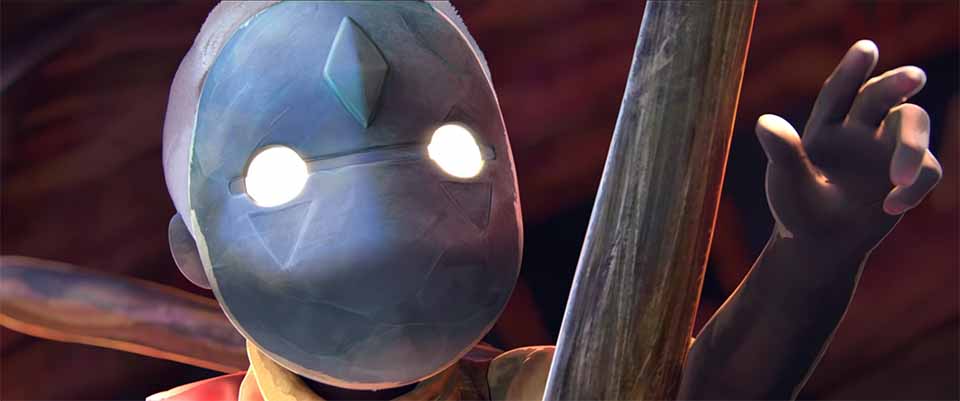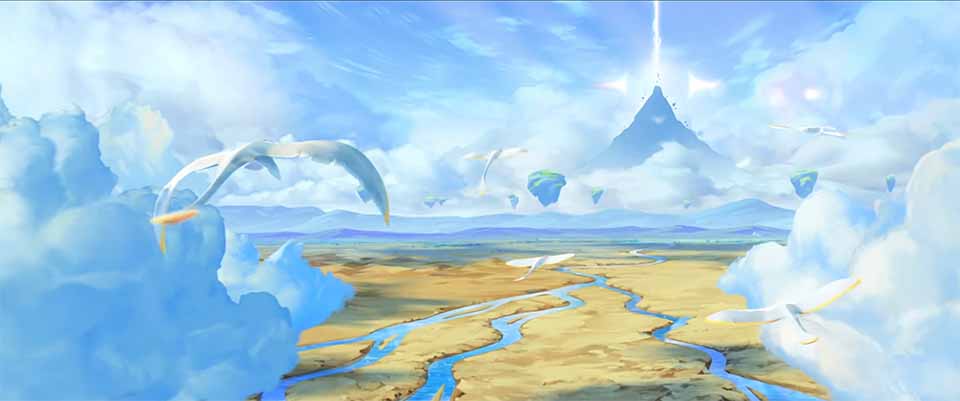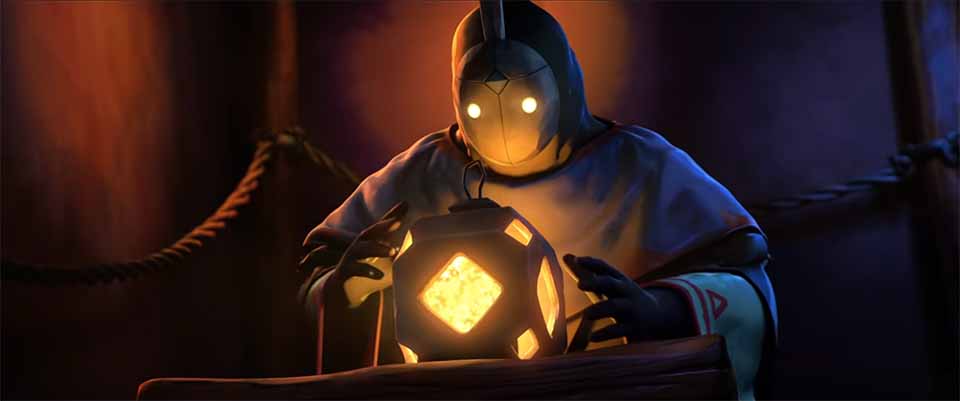 Client: Thatgamecompany
Director: Evan Viera
Production: Illusorium Studio
Executive Producer: Raúl Rocha Regueras
Head of Studio: Belén Sastre Antoranz
CG Supervisor: Carlos Sastre Antoranz
Head of Production: Marta Camón García
Production Coordinator: Lorena Díaz Jodra
Production Assitant: Miriam García González
Edition Assembly: Miriam García González
Director's Assistant/Production Assistant: Jenny Pham
Art Director: Paloma Alperi Fernández, José Manuel Pequeño Munuera
Character designer: Iván Serrano López
Environment designer: Francisco Lobón Leal, Iván Serrano López, Tomé Ricardo Ferreira da Costa
Writer: Charley Pope, Liz Ellis
Storyboard Artist: Justin Wallace, Alan Huynh
Editor: Jeff Picarello
Pipeline TD: Lucas Morante Thomas
Render TD: Daniel Robles Manzano
Character & Prop Supervisor: Carlos Sastre Antoranz, Paloma Alperi Fernández
Prop Modeling: Alfonso Domingo Galisteo, David Escribano Galvez, Jaime Martín Reina, Rodrigo García Rihuete, Miriam Peralta Carrero, María Josefa Aznar Martínez
Character Modeling: Manuel Arroyo Arrebola, Guillermo Rosado Ruiz
Set Dressing: David Fernández Almagro
Textures Supervisor: José Manuel Pequeño Munuera
Shading Supervisor: Álvaro Criado Quero
Texture Artist: Alfonso Domingo Galisteo, Guillermo Rosado Ruiz, María Josefa Aznar Martínez, Miriam Peralta Carrero, Rodrigo García Rihuete
Rigging Supervisor: Tamara Meirás Varela
Rigging Lead: Inés Jiménez Alcalá
Rigging Artist: David Coronado Moncada
Layout Supervisor: Mario de Dios Barbero
Scene Assembly: Lucas Morante Thomas
Layout Artist: Jorge Blanco Pastor, Marta Rodríguez Quintana
Animation Supervisor: Mario de Dios Barbero
Animation Lead: Juan Cralos Brufal Soriano
Animator: Jorge Blanco Pastor, Marta Rodríguez Quintana
Matte painting Supervisor: Daniel López Reina
Matte painting Artist: Tomé Ricardo Ferreira da Costa, Francisco Lobón Leal, Iván Serrano López, Mathias Zamecki
CFX Consultant: Paloma Alperi Fernández
Grooming Supervisor: Inés Jiménez Alcalá
Grooming Artist: David Coronado Moncada
Cloth Supervisor: María Josefa Aznar Martínez
Hair/Cloth Simulation Artist: David Fernández Almagro
VFX Supervisor: Ernesto Tejedor Ruiz
VFX Artist: David Fernández Almagro
2D FX Artist: Miguel Garmendia Albisua
Lighting Supervisor: José Manuel Pequeño Munuera
Lighting Artist: Rodrigo García Rihuete, Valeria Herrera González
Compositing Supervisor: Daniel López Reina
Compositing Lead: Alfonso Domingo Galisteo
Compositing Artist: Miriam Peralta Carrero, Valeria Herrera González
Composer: Austin Wintory
Sound Design: Sam Plattner
Re-Recording Mixer: Owen Granich-Young