Space Walking with Yves Geleyn in "Planimation"
In this expansive and poetic branded content film for Eli Lilly, Hornet director Yves Geleyn draws a parallel between the connectedness of the solar system and the importance of medical sequencing in cancer treatment.
A strategic mix of CG and 2D animation, the film was commissioned by agency Area 23 along with a short documentary for CYRAMZA®, a prescription cancer treatment.
Yves Geleyn: "The idea was to create a poetic metaphor to illustrate the very complex topic and importance of sequencing in gastric cancer. The main thread of the story was how a small interference can un-synchronize an entire universe, and vice versa how step by step changes can have a huge effect on the big picture.
"For me, the technique is always here to serve the story. CGI was used to create a cinematic feeling to help our world feel as expansive as possible, and 2D animation helped create an illustrative painterly look for the characters, a technique that helped make our characters feel organic and even somewhat fragile.
"With the benefit of real lighting from the CG, rich matte paintings, and painted textures throughout, we were able to marry these techniques together in an elegant way to create a rich and unique world."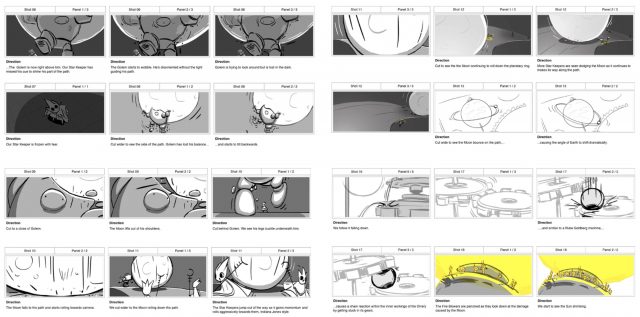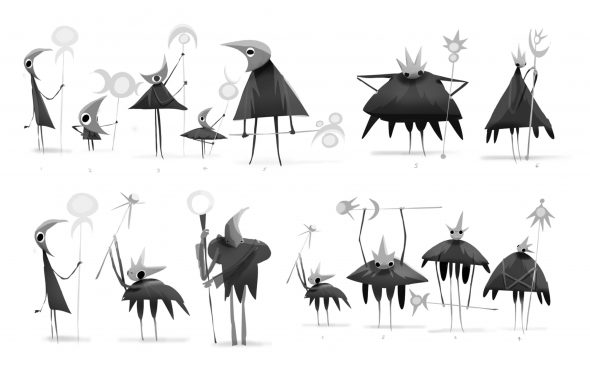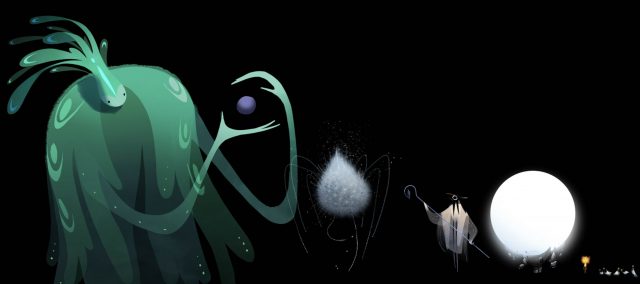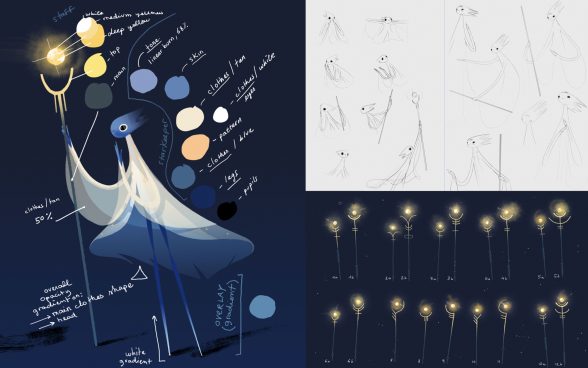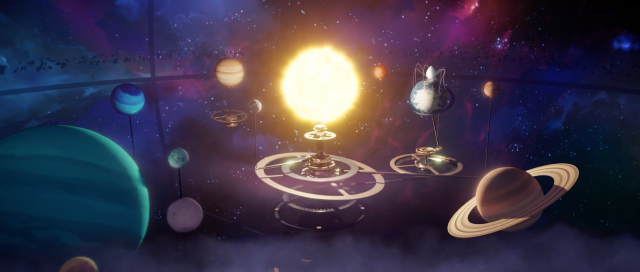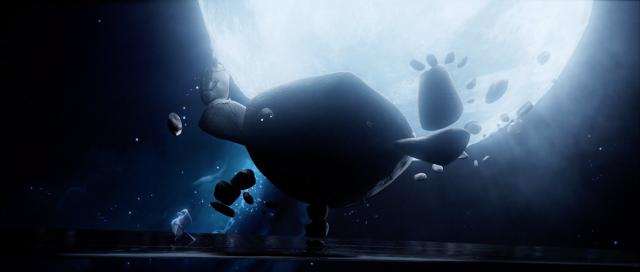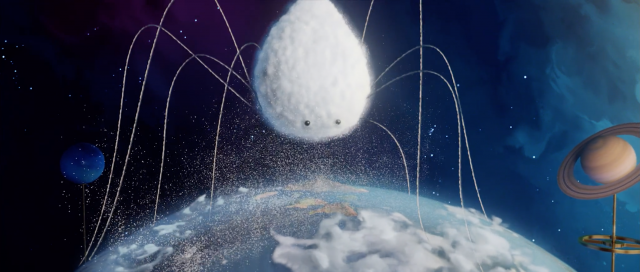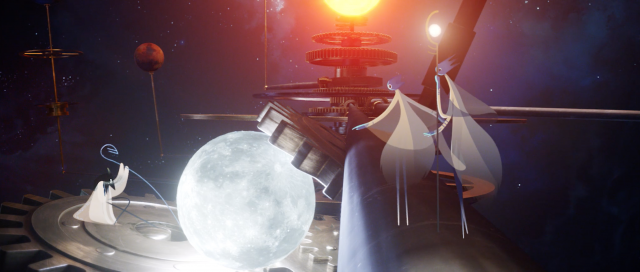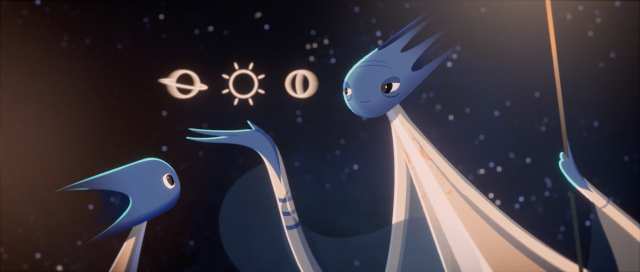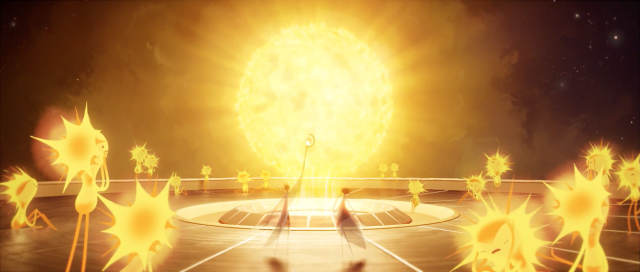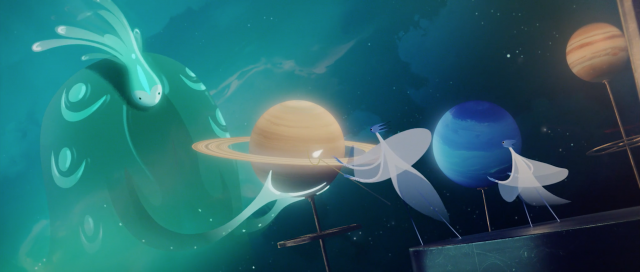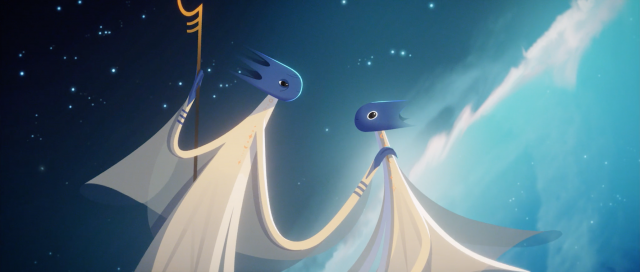 Client: Eli Lilly
Agency: Area23
Chief Creative Officer: Tim Hawkey
Executive Creative Director EVP: Elliot Langerman
Group Creative Director SVP: Michael Kizilbash, Alan Vladusic
Creative Director SVP: Andy Gerchak
Creative Director VP: Lenny Hickey, Melissa Ulloa
Associate Creative Director VP: John Merriman
Associate Creative Director: Takae Takahashi, Ronnie Caltabiano
Group Art Supervisor: Troy Anderson
Senior Broadcast Producer: Ian Davis Smith
Production: Hornet
Director: Yves Geleyn
Executive Producer: Hana Shimizu
Head of Production: Sang-Jin Bae
Development Producer: Kristin Labriola
Producer" Dez Stavracos
Editor" Anita Chao
Production Assistant: Nico Benenati
Storyboard Artist: Jiin Park
Character Designer: Chiara Benedetti, Natalie Labarre
CG R&D: Eric Lane
Art Director/environment designs: Hovig Alahaidoyan, Yves Geleyn
Orrey Designer: Carlos Ancalmo
Lead Animator Natalie Labarre
Animators: Sara Litzenberger, Sami Healy, Hyo Bin Kang, Pengpeng Du, Aran Quinn, Tyler Dibiasio
Clean Up Animator: Josh Brennan, Tyler Dibiasio, Hazel Zheng, Seongjin Yoon
Lead Compositor: Eric Lane
VFX Supervisor/Designer: Eric Lane
Modeler: Eric Lane
Texturer: Eric Lane, Rui Zhu, Natalia Perez
Lighting & Rendering: Rui Zhu, Natalia Perez
Compositors Herculano Fernandes, Eric Concepcion, Manu Gaulot, Jason Tsang, Daniel Rosenberg, Amy Tang
Matte Painter Patrick O'Keefe, Yves Geleyn
Pre-Viz/Additional Lighting: Milford
Animation: Meg Oswalt
Live-Action
Director: Daniel Fries
Line Producer: Sean Roberts
Director of Photography: Adam Sentelli
Audio
Music/Sound Design: David Kamp