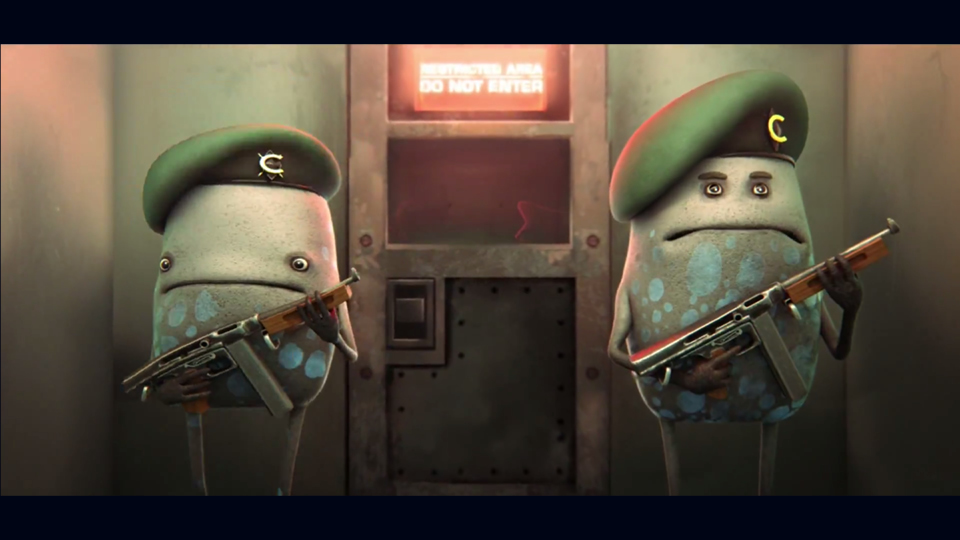 Nexus directors Smith & Foulkes brew up two-minutes of apocalyptic fun for a serious cause in this broadcast and cinema spot boosting awareness for Stand Up To Cancer, the partnership between Channel 4 and Cancer Research UK, billed as a 'killer night of fundraising.'
Smith & Foulkes: "The initial brief was to turn the table on cancer, depicting the disease as a civilization spreading aggressively – unable to prevent its own Armageddon in the style of a disaster movie.
"The main challenge was how to visualize the cancer cells. We wanted to steer away from the obvious route of showing cells as a bunch of grotesque alien germs, but we were also acutely aware of not making them too human or cute."
"We also had to find a way to illustrate the new therapies, drugs and scientific breakthroughs that are fighting Cancer. We wanted their arrival to be initially magical and mysterious. so we used a glowing blue orb, an unexplained light descending upon a shadowy world.
"Disaster Movies rely heavily on vast visual spectacle and a cast of thousands, so working within our time constraints we decided to recreate this using 2D matt paintings to show a sense of the city without having to model every building.
"This gave it an illustrative and richly textured feel. Modeling and animating our cast in 3D gave us the flexibility of performance we wanted, and made them stand out from their environment." [Watch]