Witness the behind-the-scenes tension and ultimate victory as Framestore takes on their biggest project to date pulling in every department in every Framestore location worldwide.
"Project X has been under wraps for months and required the full might of the Framestore renderfarm. It is easily our most realistic and immersive creation. It is so complex that if the project was to be rendered on a single laptop it would need to have been started approximately 2014 years ago, on the first ever Christmas Day." [Read more]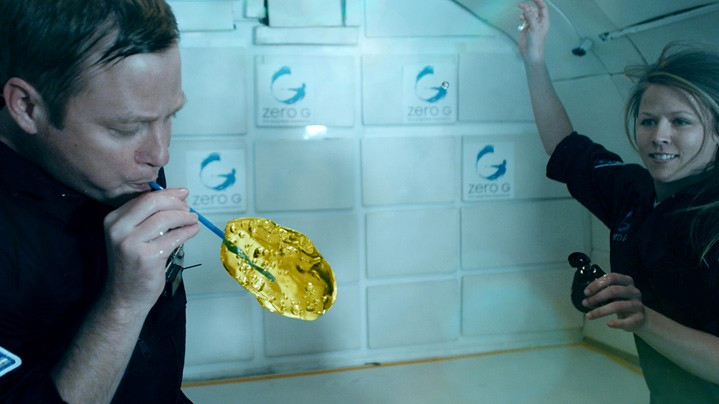 Framestore CD/director Mike McGee leads an intrepid crew into weightlessness aboard a Go ZeroG plane to, well… flavor some water with Robinsons SQUASH'D thru Iris Worldwide.
McGee: "When we were inside the 'vomit comet' things got out of control pretty quickly: bits of our equipment floated away, cables floated up in front of the camera, cameras pointed in the wrong direction and the crew spun around uncontrollably feeling nauseous."
"We had a team of eight up on the plane with a Go Pro camera each and two high-speed cameras shooting at 2K to allow us to slow down and zoom in on the all-important mixing shot. With only 12 takes to get everything we needed and only 15 seconds of weightlessness at a time, it was a formidable task."
McGee: "When we were inside the 'vomit comet' things got out of control pretty quickly: bits of our equipment floated away, cables floated up in front of the camera, cameras pointed in the wrong direction and the crew spun around uncontrollably feeling nauseous."
"We had a team of eight up on the plane with a Go Pro camera each and two high-speed cameras shooting at 2K to allow us to slow down and zoom in on the all-important mixing shot. With only 12 takes to get everything we needed and only 15 seconds of weightlessness at a time, it was a formidable task." [Read more]